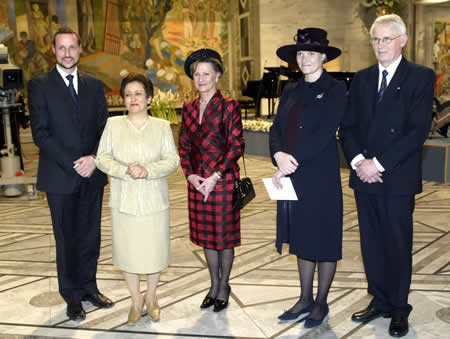 Crown Prince Haakon leads the Norwegian royals as the family joins Peace Prize winner Shirin Ebadi (second from left) and Nobel Committee chair Ole Danbolt Mjos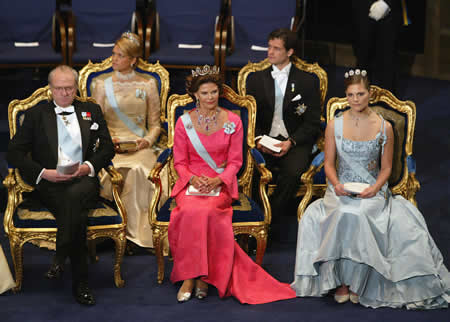 Dressed formally in honour of the occasion, the Swedish royals made for a colourful and striking sight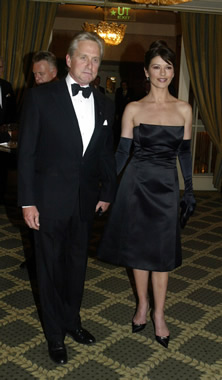 Michael Douglas and Catherine Zeta-Jones, set to host a Thursday night concert in Oslo, added Hollywood glam to the event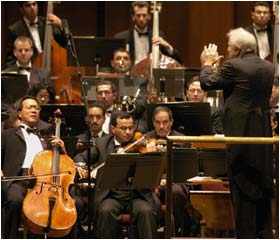 Iraqi National Symphony Orchestra plays at Kennedy Center in Washington D.C.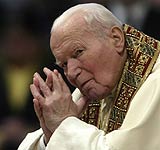 The pontiff, who apparently requested a copy of the film a month ago, was revealed to have enjoyed the Mel Gibson-directed piece focusing on the last 12 hours of Christ's life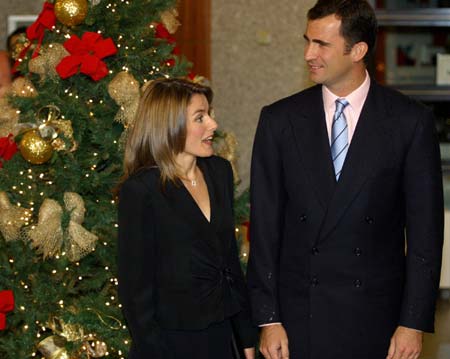 One month after Crown Prince Felipe announced his engagement to newscaster Letizia Ortiz, the happy couple reappeared publicly for the first time this past weekend, joining the rest of the Spanish royal family to commemorate the 25th anniversary of the country's constitution.

The future princess opted to wear an elegant tweed jacket and skirt for the king's daytime address at congress – another first, as trousersuits have been Letizia's preference in the past – changing into a black silk skirt for the evening's celebrations, a concert held in the Royal Theatre in central Madrid.

Letizia has not been seen in public since November 6, when she and Prince Felipe appeared together at their official engagement presentation in the scenic grounds of El Pardo palace. The couple are set to wed at Madrid's Almudena cathedral on May 22.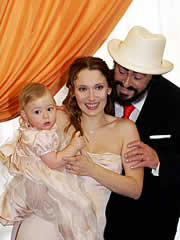 15 DECEMBER 2003
Opera star Luciano Pavarotti has married his former secretary at a theatre in his hometown of Modena. The 68-year-old and his new bride, Nicoletta Mantovani, made their vows in front a large audience of friends and loved-ones.

Onlookers said that Nicoletta looked more relaxed than the groom, waving to the crowds of well-wishers when she arrived. She wore a pale pink Armani dress, matching that of their 11-month old daughter, Alice. Luciano, meanwhile, seemed a little nervous when he entered the theatre in his trademark Panama hat.

He first met the 33-year-old when she came to work for him as a personal assistant in 1994. The tenor was married with three children at the time, but the pair fell in love and two years later he separated from then-wife Adua.

After the ceremony, the newlyweds welcomed a host of celebrity friends to a banquet nearby. Among the guests were Placido Domingo, Jose Carreras, Sting, Bono and Donatella Versace.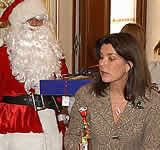 Monaco royals bring Christmas cheer to kids
Prince Rainier of Monaco's three children joined forces on Wednesday, helping kick off the festive season by distributing gifts to children at the royal palace. While Prince Albert, Princess Caroline and Princess Stephanie were on hand to...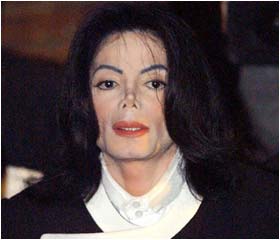 Michael Jackson formally charged of seven counts of child molestation
Haute Couture