Rare Hepburn stamps 'go missing'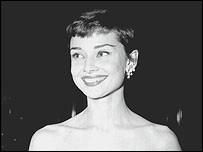 Around 30 extremely rare postage stamps of the late film star and United Nations Children Ambassador, Audrey Hepburn, appear to have gone missing from the German Finance Ministry. The stamps, picturing Miss Hepburn in a large hat, were part of a series commemorating Hollywood stars. They were supposed to appear in Germany in October 2001, but they were ordered to be destroyed after one of Miss Hepburn's sons withdrew the rights to their publication. All proof copies were recalled but one set, given to the German Finance Ministry, has not been traced.
Now a spokesman for the Federation of German Stamp Collectors, has told the BBC that a collector from southern Germany is in possession of one of the stamps, with a postmark dating from the autumn of this year. The German Finance Ministry says it cannot be certain that all the stamps were destroyed. In the hands of a collector, the stamps could be worth around $27,000 (19,839 euros or £13,976) each.

Audrey Hepburn tops beauty poll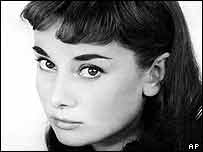 Hepburn was considered the 'personification' of natural beauty
Film icon Audrey Hepburn has been deemed the most naturally beautiful woman ever in a poll of beauty experts.
The diminutive star of Breakfast at Tiffany's was chosen by beauty and fashion editors, make-up artists, model agencies and photographers.
They had to choose their top 10 beautiful women from a list of 100 compiled by water company Evian. US film star Liv Tyler and Australian actress Cate Blanchett were voted second and third. Tomb Raider star Angelina Jolie and the actress-turned-princess Grace Kelly completed the top five, while Princess Diana was placed 12th.

TOP 10 MOST NATURALLY BEAUTIFUL WOMEN
Audrey Hepburn
Liv Tyler
Cate Blanchett
Angelina Jolie
Grace Kelly
Natalie Imbruglia
Juliette Binoche
Halle Berry
Helena Christensen
Elle MacPherson
Source: Evian poll
The women were chosen for their "embodiment of natural beauty, healthy living, beautiful on the inside and out, with great skin and a natural glow to their personality, as well as their complexion", Evian said. "Audrey Hepburn is the personification of natural beauty," said Elle beauty director Rosie Green.
"She has a rare charm and inner beauty that radiates when she smiles. Her skin looks fresh in all her films and her personality really shines through as someone warm and lively." Hepburn was included in the top 10 by more than three-quarters of the beauty experts surveyed.
Aussie trio
Almost half of the icons placed in the number one spot by panel members were brunettes, a third blondes, and about a fifth redheads. Australia scored a hat-trick in the top ten, with singer Natalie Imbruglia, Blanchett and model Elle MacPherson appearing. "People who are confident without a scrap of make-up and look healthy, happy and glowing, seem like natural beauties to me," Eleonore Crompton, of Heat magazine.



The First Lady with some of the 41 Christmas trees that have been erected in her home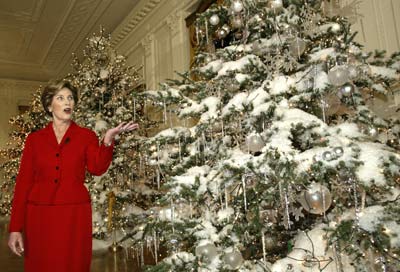 The silver screen diva and statuesque Nicole, who wore a simple brown cocktail dress, showed that the straightforward comments made by Lauren earlier this summer are now just a memory.
During a Venice Film Festival press conference, Ms Bacall cut short a journalist who dubbed co-star Nicole a "legend". "She's not a legend," corrected the 79-year-old star, famous for her no-nonsense demeanour. "She's a beginner. What is this 'legend'? She can't be a legend at whatever age she is."
While the remark was interpreted by many as tension between the two, Nicole, 37, has always insisted that she agrees with the seasoned actress – and actually appreciated the opinion. "I was thrilled that she dismissed the legend stuff," she said later. "To put me into a category I don't belong, burdens me with responsibility I don't want.
"I telephoned Lauren and thanked her for saying that. She always calls it like it is and that's a reality check I adore."

Pope John Paul II meets with Puerto Rican 'three Wise Men' during general audience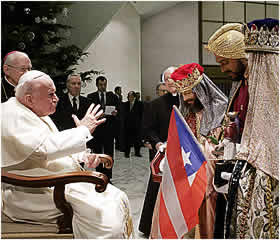 Prime Minister Tony Blair makes surprise visit to Baghdad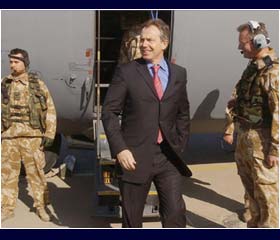 Robin Williams visits U.S. soldiers at a military base in Baghdad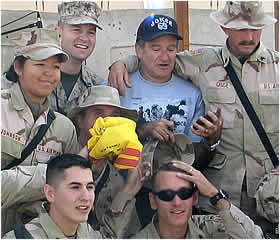 Prince Albert and his sister Caroline get busy with their traditional Christmas giveaway. Their father Prince Rainier was unable to make it along to the traditional event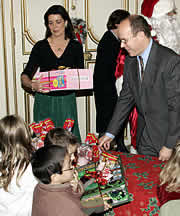 Star concert honours Nobel winner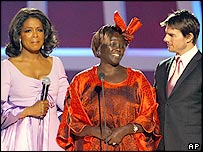 Oprah Winfrey and Tom Cruise introduced Wangari Maathai (c)
Tom Cruise and Oprah Winfrey hosted a concert in Norway to honour Nobel Peace Prize winner Wangari Maathai.
The concert in Oslo featured performances from Joss Stone, Andrea Bocelli and Patti Labelle. Professor Maathai was accompanied to the event by Norway's Crown Prince Haakon and Princess Mette Maarit.
The 64-year-old Kenyan received the Nobel Prize for her environmental work saving trees in Africa and promoting ecological, social and economic reforms. It is estimated her dedication has seen up to 30 million trees planted across Africa. She was the first African women to receive the prestigious Nobel Peace Prize. Teenager Joss Stone was among the performers
Leading a tribute to Prof Maathai, actor Cruise repeated her words: "People fight over water, food and natural resources, she said recently.
"When our resources get scarce, we go to war over them. In managing our resources, and in sustainable development, we plant the seeds of peace." Cruise added that he was "exceptionally proud" to be hosting a tribute to the environmentalist. Winfrey struggled to hold back tears as she was joined on stage by Prof Maathai, who wore traditional dress for the occasion. Other performances on the night came from Cyndi Lauper and Tony Bennett, who all appeared for free at the concert which will be broadcast in more than 100 countries.

Rome's jewish community celebrates Hanukkah, the Festival of Lights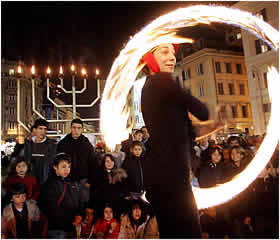 Opera singer Renata Tebaldi dies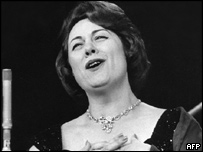 Tebaldi made her debut in 1944
Italian opera singer Renata Tebaldi, who was a great rival to Maria Callas, has died aged 82. Tebaldi died on Sunday at her home in San Marino after a period of illness, her doctor said. Born in Pesaro, she made her debut in 1944 but her career took off after performing at a concert to mark the re-opening of La Scala, Milan, in 1946.

Penelope took home the people's choice award for best European actress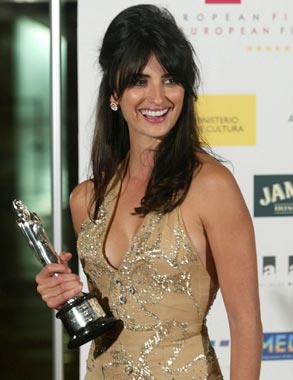 David Blunkett quits as home secretary over allegations that he abused his position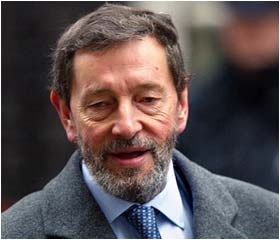 Paris' skating rink in the sky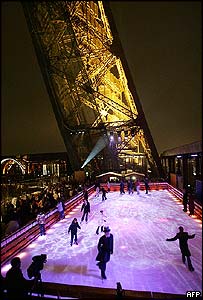 It is unlikely Gustave Eiffel had this in mind when he designed the tower
Visitors to the Eiffel Tower in Paris can now skate 57m above ground while admiring one of the best views in town.
For the first time in the 115-year history of the Paris landmark, an ice skating rink has opened there.

Miss Peru wins world beauty title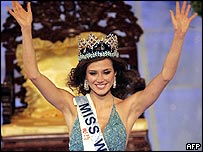 Miss Peru beat more than 100 other contestants
Miss Peru, Maria Julia Mantilla Garcia, has been crowned Miss World 2004 at a glittering event held in China.
Miss Dominican Republic Claudia Julissa Cruz Rodriguez was runner-up, and Miss USA Nancy Randall came third.Miss Peru beat 106 contestants to take the crown from 2003 winner, Miss Ireland, Rosanna Davison, the daughter of singer Chris de Burgh.This was the first time audiences could take part, voting by phone, SMS messaging, interactive TV and online.Wearing a turquoise gown, the 20-year-old winner - who says she wants to be a high school teacher - blew kisses as she collected the crown and a prize of $100,000."I'm very surprised but I'm also very happy," she told reporters afterwards.She said she wanted to do charitable work as Miss World and "help all the people that I can", the Associated Press quoted her as saying.

Tsar's rare vintages sell badly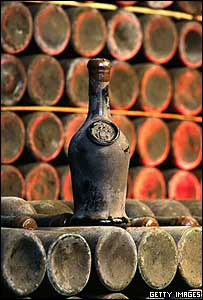 Some of the finest and rarest Russian wines ever to go on sale failed to sell well when they went under the hammer at auction house Sotheby's on Friday. The vintages come from the Imperial winery at Massandra, near Yalta, on the southern coast of Crimea. About 150 fortified and dessert wines made a total of £149,391 - less than half the £500,000 estimate. They were blended to the tastes of Tsar Nicholas II and later Joseph Stalin, who added to the vast cellars.

Romeos to come unstuck in Verona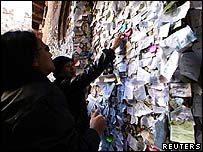 Many notes are written on sweet wrappings and stuck on with gum
Verona's authorities are slapping a ban on Romeos leaving written love notes near a balcony made famous by Shakespeare's Romeo and Juliet.
They say the scribbled messages are being fixed on by chewing gum - making a mess of the 13th century walls.
Lovers will be urged to post their notes by text or online - to be flashed on a screen being erected instead. "It seemed the best solution to us," said a tourism official, adding it would appeal to young people. Tourists in the northern Italian city of Verona make a point of visiting Juliet's house, in reality a former inn. The tiny marble balcony and courtyard has become the place where, in William Shakespeare's 16th century play, Romeo declares his love for Juliet.


The 32-year-old royal accompanied her husband crown Prince Frederik for an evening of classical music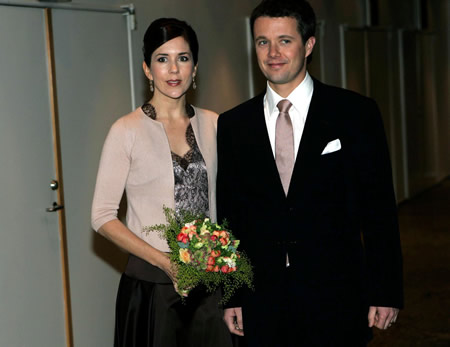 Jordan's King Abdullah has relieved his half-brother, Prince Hamzah, of his title as crown prince.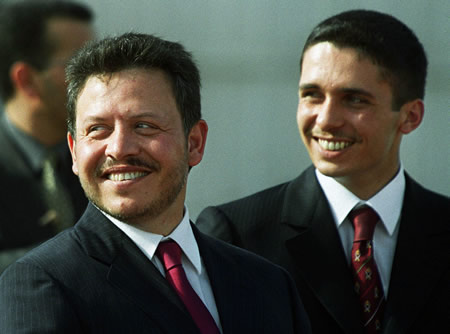 The Jordanian monarch (left) says his half-brother, Hamzah (right), will now be free to play a more significant role in Jordan's political life
Speaking in a televised address on Sunday, Abdullah said the move would allow his sibling to play a more meaningful part in the country's political life. "I chose you five years ago to be crown prince, rather than my other brothers who are older than you," he said. "Your presence in this symbolic post restricts your freedom and restricts our ability to assign you some responsibilities, as its symbolic nature bars you from shouldering some responsibilities you are capable of conducting in the best possible way."
It is not the first time the issue of succession has provoked surprise in Jordan. Just days before his death in 1999, the previous monarch, King Hussein, unexpectedly withdrew the title of crown prince from his brother Hassan, granting it instead to Abdullah. Soon after acceding to the throne, the new ruler elevated Hamzah to the position of crown prince.
It is well known that King Hussein had a special affection for Hamzah, whom he described as "the delight of my eye". The 24-year-old, who is currently studying politics at an American university, has earned a reputation for his progressive views. In the past he has delivered speeches calling for reform in Muslim thinking, but the role of crown prince involves no political duties.



Maria Callas' jewllery on auction!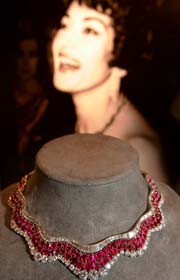 A dazzling collection of jewels once owned by the late American opera singer Maria Callas went under the hammer at a Sotheby's sale in Geneva on Thursday. The assortment of diamond, ruby and emerald earrings, necklaces, and rings fetched over $1.87 million - triple the estimates set by auctioneers.
An eclectic mix, the fine jewellery demonstrated what a discerning collector Maria was. It included a 18-carat gold and diamond evening bag by Van Cleef and Arpels, a serpentine ruby and diamond collar and, the most expensive piece, a marquise-cut 11.7-carat diamond ring.
Maria was given most of the jewellery in the 1950s by her then-husband, the wealthy Italian industrialist and opera lover Giovanni Battista Meneghini. Their marriage came to an end in 1959 when Maria became embroiled in a stormy affair with Greek shipping magnate Aristotle Onassis. After losing her voice in the early Seventies, the diva became a recluse in Paris, where she died in 1977 aged 53.
The jewels, which belonged to an anonymous collector, had previously been on display in Paris and were the highlight of Sotheby's autumn jewellery sale in the Swiss city. Other celebrity items up for grabs included a pair of Cartier ruby and diamond ear-clips, once owned by the Duchess of Windsor.

Count Lennart Bernadotte, who renounced Swedish throne when he married without royal consent in 1932, has died aged 95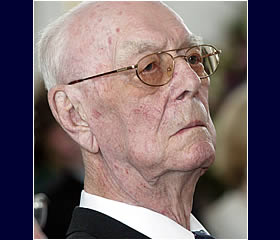 Prince Bernhard of the netherlands - husband of Juliana and father to Queen Beatrix - has died aged 93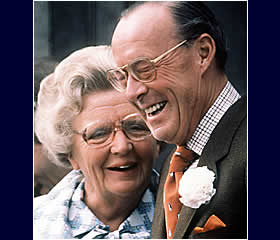 ----------------------------------------
Some of the information/pictures have been taken from Hello Magazine
www.hellomagazine.com