Sections
---

The Dance of the Rose and the Nightingale
---
---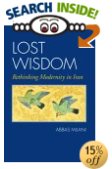 ---
Other pieces/articles in this issue
Book Review
>>>A tale of love
>>>Kaane-y-e Daee Yousef
Here and there
>>>Iranian archaeologists believe they have discovered part of the throne of Darius
>>>Oxford Dictionary of Philosophy places ZARATHUSHTRA number one (#1) in the chronology of philosophers.
>>>Iran's self-styled rapping aristocrat
>>>Iranian immigrant donates $6 million to B.C. hospital
>>>Green Card Lottery Web Site
>>>EXCITING NEWS FROM COLOMBIA PICTURES
>>>David Frost Interviewed Farah Pahlavi, Former Empress of Iran
History
>>>Nader Shah, "The Napoleon of Persia"
>>>The Strangling of Persia
Literature
>>>An Affair of State - Guy De Maupassant
>>>A Child's Christmas in Wales - Dylan Thomas
Opinion
>>>A poem for Dr. Shapour Bakhtiar
>>>Jebhey-e Meli va vagheiyat-e Taarikhi-e on
>>>Zaman-e coup d'etas baray-e I.M.F. fra resideh ast
Women
>>>Iranian woman deported from Canada awaits trial in Iran
>>>Women journalists imprisoned
>>>Save Leila
>>>Iranian Women Warrior in Ancient Iran Confirmed

>>>Ukraine's 'goddess of revolution'
>>>Egypt feminist in presidency bid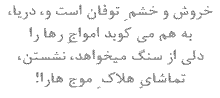 ---
Features
Articles in English
________________________
Cheers to our girls and boys!
UnIslamic Behaviour by Tehran Youth on the Holiest Day in Shiite Calendar
According to Islamic Republic Daily, groups of youth in Mohseni Square and Mirdamad Ave in Tehran, on the eve of Shame-Ghariban, one of the holiest Shiite days in the calendar, were dancing, whistling and clapping rather than observing the sombre mourning rituals.

(Read More)
_________________________
U.S., Europe Headed for Major Split on Iran Nuclear Policy

The United States and Europe are headed towards a major split on how to deal with Iran?s nuclear program, the daily Die Welt quoted one of America?s leading neo-conservative thinkers, Richard Perle, as saying on Saturday.
---
---
Christianity Is The Plagiarized Version of Mithraism
Mithra A Persian Savior – True Origins of Christianity
By: Bahram Maskanian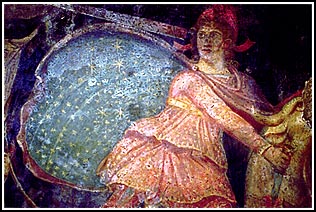 Mithra was a Persian savior. The worship of Mithra became common throughout the Roman Empire, particularly among the Roman civil service and military. Mithraism and Christianity were competitors until the 4th century. Mithra was believed to have been born on December 25. (Read More)
---
A Look At Iran's Christian Minority
By Golnaz Esfandiari
The number of Armenians, Iran's largest Christian minority, was estimated at about 300,000 in 1979. It has declined in recent times but remains culturally important. (Read More)
---
The "Persian Gulf" and the case of the Iranian islands of Greater and Lesser Tunbs and Aboo Moossa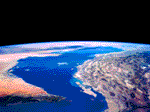 British Government's announcement in January 1968 of the decision of terminating Pax-Britannica in the "Persian Gulf" caused a sense of urgency for closer cooperation among regional states. ( Read More)
---
THE PERSIAN GULF IS THE PERSIAN GULF
by: Dr. Assad Homayoun
Sent by: Shahrokh

"Where is this ship of government heading? In this sea of mishaps, are we facing any perils or not? If we are, how are we prepared for it? What is our plan? Who is our enemy? Where are our friends?.-The ship of government lacking any scheme, design or plan, is perplexed and errant in the sea of politics." (Read More)
---
Is hope for help a distant dream?
By: Amil Imani
The passion for power to dominate, to control and, to rule others is an ancient impulse. It goes back to medieval times when certain characters had the desire to force their will upon those around them. (Read More)
---
Two Articles by Dr. Kaveh Farrokh
Pan-Arabism's Legacy of Confrontation with Iran

Few Iranians (or westerners) have heard of Pan-Arab nationalists such as Satia Al-Husri, Sami Shawkat, Michel Aflaq or Khairallah Tulfah. Their version of Arab nationalism is as anti-Western as it is anti-Persian. The philosophies of these men have done much to inspire generations of Arab leaders such as Gamal Abdel Nasser, who passionately advocated the changing of the Persian Gulf to "Arab Gulf", or Saddam Hussein, who defined his Arabism by the extent of his brutality against Iranians (Kurds, Persians, etc.). (Read More)

Alexander the Great, a Review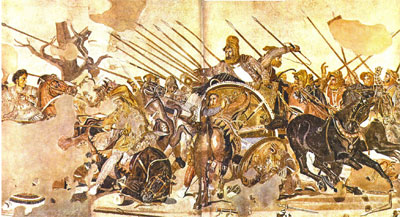 Hollywood has just released one of the latest of its epic blockbusters: Alexander the Great. Directed by distinguished director Oliver Stone, the movie endeavours to recreate the events of the Hellenic conquests and the downfall of the first Persian Achaemenid Empire. It is important to note however, that simply because a movie is high budget, casts high profile Hollywood actors and is directed by top ranking directors, does not make it flawless. (Read More)
---
Quest for a conqueror
Susan Aschoff

Millenniums after Alexander the Great subdued the then-known world, a local professor tracing his route is moved by its ageless wonders and unchanging perils. (Read More)
---
The Iranian Ylada
By Ash Farhang




A chance meeting some years ago with an Iranian scholar who, as fate has it, now lives in Helsinki, Finland, introduced me to an aspect of Iranian history, which to this date is nothing short of a love affair with my ancestors. Though long forgotten, they deserve to be remembered for what they truly were. For this enlightenment, I am forever indebted to this friend. (Read More)
---
Immortal trinity
God, shah, and country
By: Reza Bayegan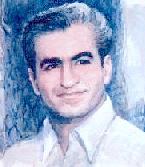 I picked up the telephone to talk to a friend right after a French television station aired an hour-long programme about the Shah*. I asked her how she liked the programme and she broke down crying and could not stop to say anything. (Read More)
---
Iran: A tumultuous time captured in Isfahan's portrait photography
Hundreds of images and thorough research produce a unique documentary of a nation in transition, 1920-1950
Sent by: D.K.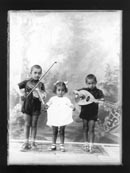 BEIRUT: In one picture, a young woman strikes a playful pose in a photographer's studio. With lustrous black hair and a coy smile, she wears a man's suit jacket over a full-skirted white dress. She has one hand plunged rakishly into her pocket and one hip extended suggestively toward the camera. Exaggerating the feminine and masculine attributes of body language, her stance is that of a dancer and gangster at once. (Read More)
---
Street Children in Iran
by: Mori Aminmansour
Street children are primarily an urban phenomenon; poverty drives people in search of better opportunities to urban areas, where family ties are looser, adult supervision less, and social safety nets often nonexistent. In an effort to escape hardship, children leave what served as home and walk, hitchhike. (Read More)
Our blog: Your Comment
---
Iran and the Polish Exodus from Russia 1942
Ryszard Antolak
Sent by: ShAhin

A chapter of forgotten History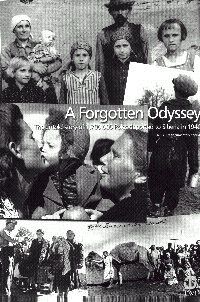 "Exhausted by hard labour, disease and starvation - barely recognizable as human beings - we disembarked at the port of Pahlevi (Anzali). There, we knelt down together in our thousands along the sandy shoreline to kiss the soil of Persia. We had escaped Siberia, and were free at last. We had reached our longed-for "Promised Land". - Helena Woloch. (Read More)
---
---



Articles in Persian
Two articles about Reza Shah from Talash
Sent by: Shahrokh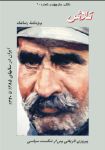 Click on the titles to read



---
Sayeh Sirjani
(Persian)
---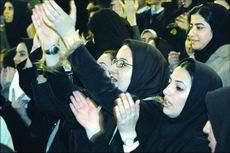 S. Moeen
(Persian)
---

by Shahab Shabnavard
(Persian)
---
---
American playwright Miller dies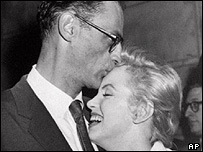 Playwright Arthur Miller, the creator of The Crucible and Death of a Salesman, has died at the age of 89. Miller died on Thursday evening, having battled with cancer, pneumonia and a heart condition.
---
By: Darius Kadivar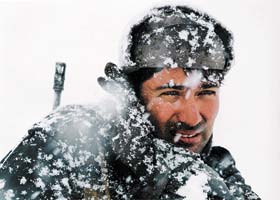 Our Blog: Your Comment
---
More on Cinema
Aviator wins top Globes accolades
The Aviator has been named best film at the Golden Globe Awards,
with its star Leonardo DiCaprio named best actor.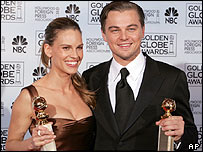 ---
"Academy Award" for Jasmin :-)
News - 14 January 2005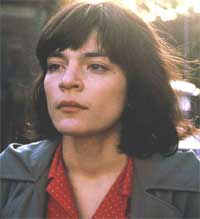 It's true that up to now in the course of her career, Jasmin Tabatabai has received quite a few awards, such as for example the German Video Award (now called "DIVA" Award) as best junior actress, the Bavarian Film Award for the best music in the film, as well as the Golden Record.However, on Sunday, March 27, 2005, she will be honoured with a very special award which no artist has ever received before: For her life's work as an actress and a musician, Jasmin Tabatabai will receive the newly created Persian Academy Award. After all, Jasmin Tabatabai is one of the most famous female artists world-wide with a Persian descent.
http://jasmin-tabatabai.com/english/
---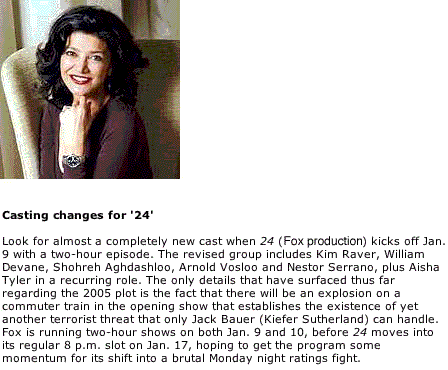 Copyright © Shirin Tabibzadeh, Cupertino, 2000 -2003
Rozanehmagazine is not responsible for the opinion expressed throughout its pages
and/or the content of the Sites to which it is linked.