Rozaneh
September/October 2004

Editor and Web Designer: Shirin Tabibzadeh, English Lit., Comparative Lit. and Computer Sciences.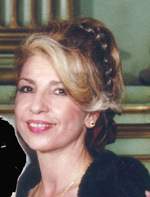 Associate Editor::
Ahou Tabibzadeh, Freelance Editor.

Associate Editor:
Maryam Tabibzadeh, J.D. (Esq.)
Co---
Contributors
With Our Sincere Gratitude

Aminmansour, Morteza
Bayegan, Reza
Doostkhah, Jalil
Farhang, Ash
Hambastegi-e Melat
Homayoun, Assad
Imani, Amil
Kadivar, Cyrus
Kaveh, Farrokh
Mahin
Maskanian, Bahram
Shahrokh
ShAhin
Sirjani, Sayeh
Tabibzadeh, Shirin
Write to Us
**************************************
Copyright © Shirin Tabibzadeh, Cupertino, 2000 -2003
Rozanehmagazine is not responsible for the opinion expressed throughout its pages
and/or the content of the Sites to which it is linked.