SABERI, Pari
Tavoos

Pari Saberi wins the Badge of Knight of French Literature and Art
Pari Saberi, the well-known Iranian drama director is the first Iranian female artist who won the badge of knight of the French literature and art. She will receive her award on October, 13, 2004. Abbas Kiarostami, Mohammad Ali Sepanlu, Reza Seyed Husseini received the same prize before Saberi.
After the performance of two plays in France during the last years of 2003, Pari Saberi received Ibn Sina (Avicenna) award from UNESCO which is considered as one of the most important cultural awards of France.

Born in 1922 in Tehran, Paris Saberi spent her youth in France and graduated from Vaugirard Cinematography College which is one of the famous cinematographic higher education institutes of France. She returned to Iran in early fifties, founded the Apadana Drama Group with Hamid Samandarian, translated and directed a few important foreign plays.

After the Islamic Revolution, she turned her attention to adaptation, dramatization and performance of Iranian literary texts and figures. On one hand, she produced several theatrical adaptations of some old Persian mystical and literary writings and on the other hand, she produced several biographical performances on the life of Persian (Iranian) artists, poets and mystics.

In her work called "I (went) to the Garden of Mysticism," Saberi deals with the philosophy and life of Sohrab Sepehri, one of the most well-known contemporary Iranian poets and painters. Then with the performance of "Atar's Love Story," extracted from Atar's famous poetry book "Logic of Birds," she presented a theatrical reading of Atar's mystical school.

She then turned to Ferdosi and his great epical work Shahnameh. Two plays, "Bijan and Manijeh," and "Rostam and Sohrab" were the fruits of her experimentation with this greatest Persian Epic.
The peak of these adaptations was her "Hermit," a play about the life and work of the great Persian poet, Hafez, "Shams, the Bird," about the life of the other great Persian poet, Molana (Rumi), and "Yusef and Zoleikha," an adaptation of the corresponding story recounted in the Koran.
Now after twenty years of continuous efforts in discovering the dramatic potential of various Persian literary texts, Saberi is concentrating totally on Persian works and at present she is doing a research on the existing texts about the life of Imam Ali. Apparently she is also doing some research on the life of the Persian satirical figure, Mullah Nasr-al-din.
Tehran to Host Int'l Cultural Heritage Film Festival
CHN

The Fourth International Cultural Heritage and Tourism Documentary Film Festival titled "Yadegar" (Memorial) will be held in Tehran on May 18-25, 2005, a senior official said.
Following the establishment of Iran's Cultural Heritage and Tourism Organization, it was decided to change the festival from a national event into an international one, said Mohammad Afarideh, managing director of the Center for Promotion of Documentary and Experimental Films.
Doc-makers from various countries are welcome to participate in the festival, which focuses on cultural heritage and tourism issues.
He noted that a selection of the films of the upcoming festival will be screened on the Tourism Day. Afarideh mentioned natural attractions and cultural heritage as the main factors to be taken into consideration in production of such short documentaries.
Fresh Bid to Register Sultanyeh as Heritage Site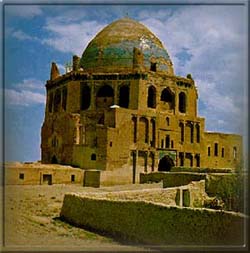 Local officials in Zanjan province discussed ways to protect the area surrounding Sultanyeh Dome.The adobe dome is one of the most unique historical sites in Iran, dating back to the Ilkhanian dynasty. Its dossier has been compiled and sent by Iran to UNESCO to be reviewed for the 2005 session of the World Heritage Committee.
Achaemenid Settlement Discovered in Isfahan, Iran


One of the rarely-discovered settlements of Achaemenids, who used to inhabit Persia some 2,500 years ago, is uncovered in the central city of Naein, Isfahan province.
The Achaemenid era is one of the most archeologically eventful epochs of ancient Persia, though few telltale settlements have been so far discovered.
"While demarking the boundaries of the Dar Castle in Naein just a few weeks ago, archeologists stumbled upon an Achaemenid settlement," said Mohsen Javery, an archeologist in Isfahan.
Covering an area of 2.5 to 3 sq hectares, the dwelling is littered with Achaemenid potteries, making experts hopeful they would discover new points about the lifestyle of people living in that era.
The Achaemenid Dynasty was a dynasty in the ancient Persian Empire, including Cyrus II the Great, Darius I and Xerxes I. At the height of their power, the Achaemenid rulers of Persia ruled over territories roughly encompassing some parts of Iraq, Egypt, Syria, Pakistan, Jordan, Israel, Lebanon, Armenia, Central Asia, Caucasia and the Asian portion of Turkey.
At different times, the Achaemenids also ruled Egypt, although the Egyptians twice regained their independence from Persia. After the practice of Manetho, Egyptian historians refer to the period in Egypt when the Achaemenid dynasty ruled as the Twenty-seventh (525 - 404 BC) and Thirty-first Dynasties (343- 332 BC).
The last Achaemenid king was Darius III (336 BC - 330 BC), who was defeated by Alexander III of Macedon. After the Macedonian conquest, the Persian Empire was annexed by Alexander.

Behind Every Man Is A Smart Woman
Humor
Barbara Walters of "20/20" did a story on gender roles in Kabul several years before the Afghan conflict. She noted that women customarily walked about 5 paces behind their husbands.
She returned to Kabul recently and observed that women still walk behind their usbands, but now seem to walk even further back and are happy with the old custom.
Ms Walters approached one of the Afghani women and asked,
"Why do you now seem happy with the old custom that you used to try to change?"
"Land mines," said the woman.
BEHIND EVERY MAN IS A SMART WOMAN!

Persepolis Recreated
Many of you on your visit to Iran's Historic site, Persepolis, have wondered how the ruins looked like when they were at their glory! Well, through the effort of a handful of dedicated individuals, you may now get a simulation of what Persepolis may have looked like.

Sunrise Film Productions Presents: "Persepolis Recreated". You can view a demo of it if you click on this link:
http://www.sunrisefilmco.com/p3book.htm
Green Card Lottery Web Site
This is Lottery Green Card web site that
you can get information:
http://www.travel.state.gov/visa/
immigrants_types_diversity3.html
This is the application form site.
http://www.dvlottery.state.gov.
You have time until January 7th 2005,
but my suggestion to you is to apply 10 days before.