French Role Model : Eternel Immigrant Charles Aznavour ...
Paris Report Darius KADIVAR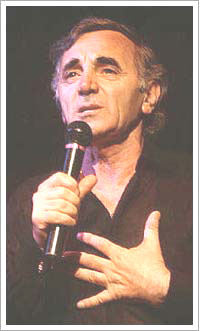 A year ago, I had the oppurtunity to see French Singer crooner Charles Aznavour on French TV talk Show Vivement Dimanche dedicated to former Empress of Iran Farah Pahlavi. Azavour sang a touching song "Voyages" aka "Trip" with his second daughter Katia and shared souveniers with the Empress.
I have been listening to Charles Aznavour since I was a kid thanks to my own parents who loved his songs. He is certainly THE quentessential French Crooner known internationally for his appearances along other Great Singers: Frank Sinatra (who considered him as his only rival), Liza Miinelli who introduced him to the Americans, Greek singer Nana Mouskouri, or British TV host and singer Shirley Bassey. He was also often shown on Iranian TV in the 70's.
Yet Aznavour never had the so-called great Voice or the good Looks as his American counterpart Frank Sinatra. However he had what Sinatra didn't a talent to compose and write his own lyrics and also for other singers. In a career that expands over 60 years it would seem surprising to note that he was ignored by critics for more than 20 years often playing in movies some of which are considered today as milestones in French Cinema like François Truffauts "On a tiré sur le pianist"  or Interesting portrayals in European co-productions like the film adaptation of Agatha Christies  Ten Little Indians  shot in Iran's Shah Abbas Hotel. He gained fame through hard work and determination composing for such great Stars as Edith Piaf or Rock Star Johnny Hallyday before going solo and singing on his own. His talent was confirmed and revealed to the French precisely thanks to the Americans, and  to numerous appearances as the new French Crooner on Johnny Carson's show. 
Aznavour's first daughter born to his marriage has also the name of Seda which means Voice in both Persian and Armenian. It was therefore not a surprise to see him on the show dedicated to the former Empress whose Biography was a bestseller in France. Farah Diba as she is known in France, greeted Aznavour in Armenian while paying tribute to another great Armenian singer of Iranian origine who had just passed away  ... Vigen.
Finally recognized : Aznavour in Paris 1959
It was touching  to hear Aznavour say that he always felt at home in Iran and considered that Iranians and Armenians had alot in common: sharing often a common history, heritage and even food. He also remembered with humor and nostalgia a private meeting at Niavaran Palace with the former Shah. The latter expressed his interest in the French Armenian's career. The two spoke in French for at least an hour but Aznavour noted that the Shah was contrary to general knowledge a very shy man in private. When time was up with the meeting, the Shah did not push him out and Aznavour who had not been in the private company of an Emperor kept waiting and sipping his coffee when the Court Chambellan came into the room hinting to Aznavour that it was time to go ...
Strange destiny that of Charles Aznavour.  Born Chahnour Varinag Aznavourian in Paris in 1924 to Armenian Parents (his father was the Georgian cook of Russian Tzar Nicolas II) stopped in their migration to America due to visa problems, and who years later is propelled to international stardom as the singer that best impersonates France.  Songs like "Hier encore", "Les Comediens", " Sa Jeunesse " or " Les plaisirs démodes " continue to be sung by the younger generations of French singers including Rap singers proving, if needed, that Aznavour words are timeless and eternal. A role model  to many aspiring artists as the son of poor Armenian immigrants who made it to the top, Aznavour is not alone in paving the way to foreign artists. Yves Montand who also attmepted a small Hollywood career with Marilyn Monroe is also another reference in French music history along with Belgian Johnny Hallyday, Italian Egyptian Dalida, North African, Pied Noir Enrico Macias  or Hungarian Sylvie Vartan.
Recent riots in France that have caught world attention leading to the first military curfew in the country since the Riots of '68, certainly give even more meaning to Aznavour's success story. France's melting pot has been surfacing in the French Media more than ever before with such singers as Laam or Faudel (who happens to be Aznavours son in law)  of north african muslim backgrounds.
Aznavour never forgot his Armenian roots although he considers himself as a French of Armenian roots. He dedicated a song Pour L'Armenie to Armenia after one of the countries most tragic earthquakes in 1989. An ardent defensor for the recognition of the Armenian Holocaust (which is still being debated by the Turkish government as essential to Turkey's  integration to the European Union) Aznavour also played in Canadian Armenian director Atom Egoyan's great movie Ararat as a tribute to this memory. 
Recently Charles Aznavour celebrated his 80tth birthday on French Television and was joined by many other artists,thus confirming France's attachment to one of its greatest singers.
Chapeau Monsieur Aznavour ....
Authors notes:
Collector item : For unconditional fans only the entire collection of French songs is available on amazone. It does not include the foreign songs including in English, Japanese, German, Spanish ...
Aznavours Official Website: http://www.c-aznavour.com/SITE/accueil.html
And liten to song Mourir d'Aimer aka Dying from love : http://www.malhanga.com/musicafrancesa/azenavour/mourrir.htm

 Darius KADIVAR is a freelance journalist in France