Publicly Financed Enlightening Entertainment
- Shackles - Womankind Enchained - Press Release -
For Immediate Release: - January 1, 2006


My Dear Fellow Humankind,
My name is Bahram Maskanian and I am a Persian American man. Early 2004 I became aware of a few alarming reports about the existence of a highly active slave trade within and around Iran / Persia. I began researching the issue and soon found out that not only the barbaric and tragic problem of human trafficking and slavery exists in Iran, but that the criminal mullah's regime profits on the sacrifice of defenseless young Iranian women and men. Based on my research, and also on the testimony of a few survivors of this heinous practice, I wrote a screenplay for a feature film entitled: - Shackles - Womankind Enchained - with the objective of shocking the world while shaming and exposing the bastards involved in this savage practice.
We can all agree that the need to publicly finance our social and political governing system and activities to prevent corruption are as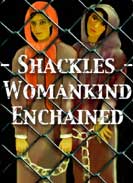 realistic as the need to also publicly finance our truth-telling enlightening entertainment programming and film production. By the same token, we can all agree absolutely, that without public oversight, unchecked increase of economic and political power will certainly lead to greedy, criminal and destructive conduct, instigating corruption at all levels of our society. - Power Tends To Corrupt, Absolute Power Corrupts Absolutely -.
It is a well-known fact that our social, economic and political governing system and our mass media have been bought and paid for and are controlled by the greedy, selfish and corrupt ruling elites. All of whom are under the false assumption that not only they own the world, they also own the people as well, in their eyes we are all slaves with different degrees of freedom. The ruling elites whose attitude towards slavery, human suffering, and war is to make money from it, cover it up and never reveal the truth at all costs.
For nearly seven (7) months, since May of 2005, I have written - 4867 letters, to the gatekeepers of entertainment industry: lawyers, agents, corporate producers, electronic mass media and the editors of major newspapers about the - Shackles - Womankind Enchained - screenplay, to no avail. If you like to read the initial cover letter introducing - Shackles - Womankind Enchained - screenplay please click here.
Concerning - Shackles - Womankind Enchained - screenplay and movie treatment, I have directly communicated, contacted and wrote to, - 568 lawyers, - 482 journalist, - 1446 VIPs, - 2371 CEOs, EVPs, VPs, of giant nation-less corporations, such as Warner Brothers, HBO, MGM, Disney, NBC Universal, Sony, Paramount, Miramax, Columbia, Twentieth Century Fox, Viacom and many other production companies who have been gobbled up by the entertainment nation-less corporations. (I do have all correspondence.)
Those who did bother to read the - Shackles - Womankind Enchained -, screenplay and the movie treatment, almost unanimously made the following interesting, but sad statement below:
- - A genuinely heartfelt, truthful and very powerful story, I learned a whole lot from it. It made me cry, made me think and I even laughed. A controversial and thought provoking story indeed, but due to today's political climate in the US it would be tad risky to produce - Shackles - Womankind Enchained - screenplay into a feature film. - - They all said.
Only through publicly financed production efforts one can attain the ability to freely create an original and uncompromising work of art, reflecting life's realities, without any fear of reprisal and censorship. I am hopeful and enthusiastic that we, the ordinary people, can all come together and make the production of - Shackles - Womankind Enchained - film possible, to shock the world into the realization of this widespread tragic problem, also expose and shame those who are shamelessly profiting from human misery, by supporting and encouraging slavery.
We, the humankind, must not allow - truth, human suffering and healing to ever become controversial. Only ordinary people, like us, who recognize that one's salvation as a human being is directly linked to the salvation of the world community in which we all live, can specialize in doing what seems to be impossible at the time.
If you agree and feel the same, please consider buying an advance ticket for ten dollars ($10) in order to help fund the production of - Shackles - Womankind Enchained - film. You shall receive your ticket(s) as soon as the film production is completed via US mail.
Make sure to provide accurate information when purchasing your ticket(s). We are going to need your name, last name, mailing address and e-mail. We do know and understand how valuable one's privacy really is, therefore we shall never share your private information with any third party, company, or anyone.
For more information and to purchase your ticket please visit - http://www.pbcfilms.com/ - Click on the - Buy Ticket - button.
Look forward to your comments, suggestions and questions.
Sincerely,
Bahram Maskanian
Founder of PBC Films
http://www.pbcfilms.com/

P.S. - Please forward the information found here to as many people as possible in this campaign against slavery and human trafficking. Those of you who own and operate website(s) could help by placing the - Shackles - Womankind Enchained - banner on your web pages, please click on the link below for more information.
http://www.pbcfilms.com/shackles_spread.html
Planet Blue Communications, Inc. (PBC Films)
P.O. Box 607 - New York, NY 10021-0013
- - Those who profess to favor freedom and yet depreciate agitation, are people who want crops without ploughing the ground; they want rain without thunder and lightning; they want the ocean without the roar of its many waters. The struggle may be a moral one, or it may be a physical one, or it may be both. But it must be a struggle. Power concedes nothing without a demand; it never has and it never will. - -
FREDERICK DOUGLASS