This is the first article on a series of articles on Amir Nezam Garrousi a prominent 19th century Persian statesman a distinguished military leader and an educational scholar, who served in various important administrative as well as military positions during the reigns of Mohammad Shah, Naser Eldin Shah and Mozafaredin Shah Qajar. He also served as tutor and mentor to Crown Princes Mozafaredin Mirza and Mohammad Ali Mirza during his years of stay in governorship of Azerbaijan. Hassan Ali Khan Amir Nezam Garrousi was born in 1236 H. GH.1 (1821 A.D.) in one of the oldest and most respectful families of Persia. His ancestors, who were the head of Kaboudvand 2 tribe in Garrous, had continuously held influential administrative positions since the beginning of the 16th century during the reigns of Safavid (1501-1722), Afshar (1729-1747), Zand (1750-1794) and Qajar (1795-1925) dynasties.
They ruled in the province of Kurdistan for long periods of time and were always one of the most influential landowners in Western Persia. Amir Nezam's 5th ancestor Lotf Ali Khan was the governor of Ghom and Kholjestan during the reign of Shah Solieman Safavi. His 4th ancestor Hossein Ali Sultan had a high-ranking position during Nader Shah's era. His 3rd ancestor Amir Khan was the governor of Kerman during the reign of Karim Khan Zand. His grand father Najaf Gholi Khan was the governor of Ardabil and one of the military commanders in the Perso-Russian war and his father Mohammed Sadegh Khan was the governor of Garous for 19 years. In this article a summary of Amir Nezam's private and public life, his contributions and achievements are presented
Hassan Ali Khan studied well between the ages of seven to eighteen under his father's supervision and became competent in writing, composition, Persian Literature and Arabic. During the reign of Mohammed Shah Qajar in 1253 (1838 A.D.) he entered the military services and advanced to the level of Colonel in the army and the head of the Garrous regiment and later participated with his army in a battle for the surrender and capture of the city of Herat in Afghanistan. 3
After achieving a number of important military positions including the head of Royal Guards of Tabriz and governorship of Kermonshah, due to his father's death in 1260 (1843 A.D.) he resigned from his post and returned to Tehran and stayed there without any administrative post until the death of Mohammed Shah in 1264 (1847 A.D.) 4
After Mohammed Shah, during Naser Eldin Shah's reign and his grand Vazir Mirza Taghi Khan Amir Kabir, Hassan Ali Khan once again entered the political scene and was selected as the head of the Garrous Army.5
In 1265 (1848 A.D.) when Hassan Ali Khan defeated the Mashhad riot caused by Hassan Khan Salar and returned to Tehran, king's brother Hessam Saltaneh, who was in command of the operation, promoted him to a General in the army.
Few months later, in his next military mission he succeeded in eliminating the Zanjan riot caused by Molla Mohammed Ali Zanjani and his Garrous troops reached Ali Morad Khan's castle and conquered it. As a result of this achievement he was promoted to king's special General.
In 1272 (1855) Amir Nezam traveled to Mashhad with Sultan Morad Mirza Hessam Saltaneh in order to preserve the peace in that important eastern city of Persia. Later on, in the same year, Hessam Saltaneh was ordered by Nasser Eldin Shah to attack the city of Herat (presently in Afghanistan.) Hassan Ali Khan was in military command of the mission. The conquest of Herat was completed in the year 1273 (1856) and Hassan Ali Khan was left there with his military troops in charge of the city.
Few months later under heavy pressure from the government of Great Britain and signing of the infamous agreement, Hassan Ali Khan against his will left Herat for Tehran. In the following years of 1273 to 1275, he was in charge of Royal Treasury.
In 1276 (1859) after a year of traveling to Royal Courts of Europe including London, Paris, Berlin and Brussels, Hassan Ali Khan was finally appointed as Persia's ambassador to Paris.6 He served in that post for seven years and was ordered back to Persia (Iran) in 1282 (1865). After a year of stay in Iran, he was ordered back to Paris to his old post. He was in Paris for only one year when he requested to be relieved of his post in 1283 (1866) due to illness and personal reason and return to Tehran. In the year 1283 (1866) after returning from Paris, Shah appointed him to the membership of the High Council of Ministers. He held that position for five years and participated in reorganizing the government agencies. In 1288 (1871) he replaced Haj Mirza Hossein Khan Moshir El Doleh in Istanbul and stayed there as ambassador for fourteen months. In 1289 (1872) when Haj Mirza Hossein Khan became Grand Vazir, he was ordered back to Tehran to take the post of Minister of Finance and Public Affairs. During his ministry, he improved Persia's northern roads particularly in the Mazandaran providence and gained a lot of popularity among the public.
Amir Nezam was among the few elites of his time who accompanied Nasser Eldin Shah on his first trip to Europe, which was considered a very high honor.7Amir Nezam had an important role in cancellation of Reuter Concession. In a telegram from Manjil, north of Tehran, he called the concession nullified on the ground that Reuter Company had not held on to its part of the agreement.8In 1297 (1879) Amir Nezam was assigned to put down an uprising, which had started, by some of the Kurdish leaders Sheikh Abid Allah Naghesh Bandi and Hamzeh Agha Mangur who were conspiring against Persian government. After putting an end to this uprising, Amir Nezam was appointed to govern the cities of Urumieh and Khoie, which were added to his governorship of Garrous, Savoj Balagh and Saein. In 1299 (1881) he was honored with the high military rank of Salar Asghar9 and was appointed to head the military of Azerbaijan and in 1300 (1882) he was once again promoted to Salar Lashgar.10 After the death of Mohammed Rahim Khan Alao Doleh chief of staff (governor) to Azerbaijan, Hassan Ali Khan was appointed to this important position of governorship of Azerbaijan and in 1302 (1884) he was granted the title of Amir Nezam.11 It was first arranged for Firouz Mirza Farmanfarma to take over Azerbaijan's governorship, but Mozafaredin Mirza Crown Prince  did not accept his appointment. 12Mohammed Hassan Khan Etemad Saltaneh was Nasser Eldin Shah's chief Editor. He would inform Shah of important daily domestic and foreign events. In his daily memoirs he has written:" Thursday 17th of Jamady Elaval 1302 (1884): Salar Lashgar Hassan Ali Khan Garrousi became Crown Prince's chief of staff (Pish-Kar). Farmanfarma was not accepted."
He also wrote on Wednesday 4th Jamady Alsani 1302 (1884), " Hassan Ali Khan was given the title of Amir Nezam. He is such a prominent and competent administrator that all people in Crown Prince's circle and even Crown Prince himself fear his authority and respect him immensely."13 His governorship in Azerbaijan lasted ten years 1299-1309 (1881-1891). In 1309 he resigned and after staying in Tehran for two months, he was appointed to the governorship of Kurdistan and Garrous. He appointed his son Abdul Hossein Khan Salar Elmolk to administer Kermonshah. A year later the administration of cities of Malayer, Toysergan, and Hamedan were added to his governorship.
After the assassination of Nasser Eldin Shah and crowning of Mozafaredin Shah many thought that Amir Nezam would be the next Grand Vazir, or minister of foreign affairs due to his experiences in politics, administration, finance and military affairs. However, the influential Mirza Ali Asghar Khan Amin Elsoltan with his strong domestic and foreign ties got the Grand Vazir position and not only stopped Amir Nezam from achieving them, but through out his premiership tried to keep him out of the capital. In 1896 Mirza Ali Khan Amin Eldoleh replaced Amin Elsoltan and invited back Amir Nezam to the governorship of Azerbaijan and attending to the affairs of Crown Prince Mohammed Ali Mirza. After two years in 1316 (1898) and return of Amin Elsoltan Atabak Azam and his sour relationship with Crown prince, he resigned for the second time from the governorship of Azerbaijan and traveled to Mashhad on a religious trip. After returning to Tehran in 1317 (1899) he was appointed to governorship of Kerman and Baluchestan, where he stayed until his death at the age of eighty and is buried in Mohan Kerman. 
Lord Curzon who was the British governor to India 1899-1905 and foreign minister between 1919 to 1923, in his book by its title " Persia and the Problem of Persia," 1 states that "Hassan Ali Khan Amir Nezam Garrousi, who was the Persian ambassador to France for few years and resided in London for a period of time, spoke French quite fluently, had progressive thought and favored Western way of thinking. He was a man with strong character and determination. During his governorship of Azerbaijan, he put down a number of uprisings. He is the best Persian administrator present. Between Eastern statesmen one can rarely find a person with modern administrative qualities. In all Persia, if one searches for a man with deep understanding of European culture, it could be found In Amir Nezam Garrousi. Although he is seventy-six years old, he is a strong healthy man. There is a good possibility that he would fill in the position of foreign minister and during the reign of the new king he would be the Grand Vazir. Whenever, this happens, it would be a good fortune for Persian people."14
Dr. Feuvrier Shah's special doctor and the author of the book "Three Years in Persia," describes Amir Nezam during his trip back from Europe and arrival in Tabriz on 1307 (1889) as an intelligent, wise and experienced old man, who has his special place with the Crown Prince. Doust Ali Moayer El Mamalek in his book "Statesmen During Naseri Era" describes Amir Nezam as "a respectful and charismatic person. He attracted everyone around him. Everyone feared him even the Grand Viziers. Atabak Amin Elsoltan respected him greatly and would rise up on his feet, go toward him and greet him whenever Amir Nezam was present and walked with him shoulder to shoulder. Other ministers and statesmen were not allowed to sit in his presence without his permission. Whenever, he entered the Palace the members of the Royal Court gave him the same respect that they gave the Grand Vazirs. Amir Nezam was not an ambitious man and at times that opportunity presented itself, he did not take advantage to become Grand Vazir. He always remarked that one could serve his country and government in any position."15 
Note: In Qajar era the governorship positions of major cities were reserved for the members of the Royal family and the governorship of Azerbaijan was reserved for the Crown Prince, but experienced statesmen who had experience in running the affairs of the government would accompany them. In the case of Crown Prince tutoring him was an additional responsibility.
"Hassan Ali Khan Garrousi was a well-educated statesman that not only possessed exceptional administrative and military skills and experience; he highly valued education and learning. He had an exceptional handwriting, which is named after him under the title "Monshaat Amir Nezam."
In 1858, Prince Ali Gholi Mirza Etezad Saltaneh the minister of education decided to send forty Dar Elfonoon16 students to Europe for university studies. During the same time Amir Nezam was appointed as ambassador to France and England. Minister decided to send the students, who were under the supervision of Abdul Rasoul Khan, with Amir Nezam to Europe."17 
During his stay in Europe Amir Nezam Continuously followed up with students' progress and prepared and sent reports to Shah. On Friday May 18th 1859 he wrote; " Mr. Alexander serves students with utmost sincerity and receives salary from the government. However, if HIM18 would order a letter of recognition on his behalf for his services, it would be very encouraging and would make him very proud of his efforts. Mirza Reza and Mirza Hossein who have just completed their studies presented their thesis, which was based on discovery of a new treatment for a disease. There were two gathering sessions for their presentations. Number of distinctive University professors and doctors along with Embassy personnel and myself were present at the gatherings. This was not only a great honor for students but also a memorable time for all HIM's subjects, who thanks God witnessed glory for Persia and Persian people under the wise guidance and directives of HIM." 19  
"In his letters to Shah, he continuously requested extra pay for personnel who were putting extra efforts in helping students in their daily chores. He would also request financial aids for graduating student's return expenses to Persia." 20 His attention to education was not limited to students abroad. Through out his life he continuously gave guidance, counseling, advice and educational lessons to his children and those who were under his supervision. One could easily observe these in his writings, private letters and Pandnameh Yahyavieh. One of the individuals with a very distinct career who was under his supervision was the famous poet Iraj Mirza. " A person whose impact on Iraj Mirza's mental growth and development of thought was as important as Iraj's father was Hassan Ali Khan Amir Nezam Garrousi."21  Under his father's supervision and private tutoring, Iraj Mirza mastered the Persian language. He further continued his education at Dar Elfonoon of Tabriz, which was the French branch of Tehran's Dar Elfonoon. He also studied logic, comprehension and speech at Hozeh Ashtiany. Amir Nezam, who at the time was the governor of Azerbaijan, realized the exceptional talent of Iraj Mirza who had just turned fourteen years of age and decided to send him to the same school that his son attended and study literature with Mirza Aref and French and sciences with Mr. Lamper. "At age fourteen Iraj Mirza wrote poetry and Amir Nezam encouraged him and gave him prizes. When Amir Nezam founded the Mozafari School in Tabriz under the supervision of Mr. Lamper, he appointed Iraj Mirza to be the school assistant super intendant."22 Iraj Mirza Lost his father in early age and being the eldest son he had to shoulder his family's responsibilities. He relied heavily on Amir Nezam's assistance and being exceptionally intelligent, Amir Nezam helped him through out his education and growth. "While very kind-hearted and helpful to individuals, he was very restrict and disciplinary. He would severely punish servants for wrong doings"23 He was an experienced man who had traveled extensively and was acquainted with European cultures and languages. He admired European life style, which he considered as democratic and progressive. He was a master of Arabic and Persian literature with an outstanding handwriting, which is known as Monshaat Amir Nezam and is still considered as one of the most beautiful styles of writing in Persian. "His style of writing is in every way, beauty, clarity, grammar and order comparable to those of Ghaem Magham and Haj Farhad Mirza. His expressions, slang and interpretation of folk's language combined with his writing could even put him ahead of Ghaem Magham and Motamed Doleh and in this respect he could be considered precedent to Deh Khoda. If one would go as far as to claim Amir Nezam as Deh Khoda's teacher might very well be correct; since Deh Khoda's famous book 'Charand Va Parand' was written under the influence of Amir Nezam's style of writing"24 In his writings Amir Nezam has combined Poetic expressions, verses from Koran, Prophet's Hadith and Arabic expressions and turned them beautifully into easy, smooth and elegant readings. It would not make a reader tired from reading such a mixture of opposing concepts. He was very fond of poetry and his eloquent handwriting known as "The Style of Amir Nezam," as an expression, was compared in beauty to the feather of a peacock. During his lifetime he found a number of followers who took after his style in writing. Iraj Mirza who had a very beautiful handwriting copied Amir Nezam's style of writing. His good fortune in his youth was to come in contact with Amir Nezam, who discovered his exceptional intellect and learning ability and gave him all the learning opportunities. In Iraj Mirza's Collection of Poetry (Divan Sha'er) a large number of poems are about Amir Nezam. In one occasion Iraj Mirza sent a few verses of poems to Amir complaining about his lack of attention. Amir Nezam immediately replied with a very kind letter and gave Iraj Mirza assurances and encouragements. Through his recommendation Shah gave Iraj the title of Fakhr El Shoa'ra. The kind words combined with prizes and continuous support encouraged Iraj Mirza to complete his work and achieve great stature in Poetry. He learned Arabic and French and mastered Persian literature, poetry and writing under Amir Nezam's direct supervision. While Amir Nezam was living, Iraj Mirza relied continuously on his approval in all aspects of life and is reflected in his poetry. If he would feel a bit of doubt in Amir Nezam's approval toward his ideas, it would be clearly reflected in his poems. In the following a translation of some of Iraj's poems and his appreciation is presented:
"A true man is one whose origin and roots are proud of him,
 and not one who constantly boasts about his origin and roots.
A true man is one, whose social position gains credibility by him,
And not one who tries to gain credibility through his position.
Amir Nezam full of knowledge, art and ethics,
Desires no power or grandiose, rather power and grace follow him.
On the first day of New Year, I send the generous Amir a selection of poems,
Hoping to be pleasant and be rewarded with gold and silver.
But not appealing to your taste and not believing the poetry was mine."25
In another part of his poetry Iraj Mirza refers to Amir Nezam's follow up and examining him in writing and speech.
"Amir examined me on writing and speech on the first day after the month of fasting,
With confidence, I passed my exam and was elevated with his praising."
After Amir Nezam's departure from governorship of Azerbaijan, Iraj Mirza got very depressed and wrote these poems:
"Amir went and with him the mines of gold and silver, the bread and water,
Amir went and with him the science and insight, giving and kindness.
He left tears in the eyes of all people in town,
He went and left depressed the entire town."26
Amir Nezam's attention to education was not limited to government students abroad or to his followers such as Iraj Mirza. He spent a great deal of time preparing and sending letters of advice and educational guidance to his children, when they were not accompanying him on his trips or he was traveling alone or on special missions. Among the extensive amount of work the most important ones are his condensed letters of Advice and Guidance to one of his sons under the published title "Yahyavieh." His private letters of advise and guidance to his only daughter Salma "Mofarah EL Doleh," and to his both sons Yahya Khan and Abdul Hossein Khan "Salar El Molk," are mostly preserved among family members and his descendents.
Through a closer look at the contents of Yahyavieh and his private letters one can find a better understanding of his thoughts and philosophy that guided him through out his life and helped him develop into an outstanding military and administrative leader and at the same time a literary scholar and a unique educator. If one were to apply the Plato's four pillars of leadership, "Wisdom, Courage, Justice and Moderation," it would not only fit Amir Nezam's character well but one could add kindness and Humility to it as well.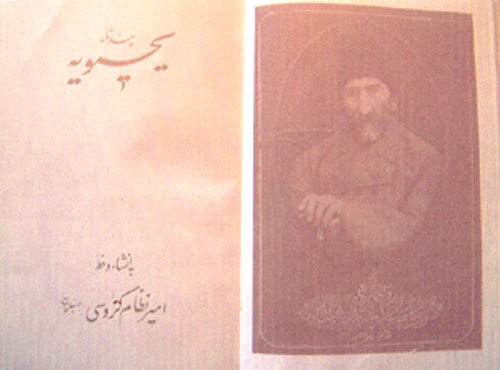 In Yahyavieh, he advises his son,
,,,,,,,,,,,"To stay away from people who stay away from God and not get close to those who associate with scum and wretched.
-- --Stay away from jealousy and stinginess.
.-Do not spoil your giving and kindness by bringing to their attention.
....-Spend more time with the learned individuals, aim at important works and always have a purpose in life.
..- Avoid wrong phrases and unfamiliar sentences and be a pleasant and competent speaker.
- Study literature effectively and make a great effort in improving your handwriting. - With regard to your professional work, after finding out -about its vice and virtues, do not hesitate to pursue it and do not leave today's work till tomorrow.
- Be generous and avoid jealousy.
- When your enemy is pursuing peace accept it and do not insist on war and animosity against him.
- In all circumstances acting without use of brain is wrong. However, during battle one should not always follow his mind, since it would direct an individual to choose safety. Once mind overcomes spirit weak heartedness and fear would prevail and one looses advantage against the enemy. Eventually, he will abandon the battlefield and escape.
- Among men dying with honor is better than living with shame.
- An enemy that doesn't bow to peace offering and friendship must be defeated and eliminated.
- To delay conquering an enemy's base would create difficulties at a later time. The army would get frustrated and the enemy's fear would disappear.
- Do not waste any time in leisure and accustom yourself to delicious food at all time.
- Leave your body's health to power of nature and do not take any drugs or medicine unless necessary.
-Try to associate with elites and leaders of society.
- Try to choose a spouse who is beautiful, well-mannered, soft spoken and virtuous. - Keep in mind that appearing beauty is acceptable when it is matched with a fine personality. And god forbid chose separation, if you ever were stuck with a wrong one.
- Avoid multiple wives as much as possible.
- In any social position and status, avoid praising yourself. Never speak about your ancestors out of praise and boast.
- Always try to do your work with such a competence that everyone praises you for your excellence.
- Do not put your finger on others weaknesses and handicaps.
- Do not insist on discovering the mysteries of life.
- Do not use a fowl language and always keep side with your family and friends.
- Always be loyal and associate more with your family and friends of the family.
- Respect the learned and Sadats.27
- Do not speak to anyone sarcastically and humiliating and in ridicule.
- Do not forget to pay for people's services.
- Be consistent in your behavior toward the poor and rich and make a habit of being graceful and humble in every occasion.
- Always bring your head down in praising God and remember that it is in Islam that all your prayers will be answered."
- Sufi28 like character will keep you in the heart of everyone and arrogance would not get you anywhere.
- Ask only God for help at times of financial difficulty and be patient.
- If you want your loved ones to be safe from others aggressions, avoid being aggressive toward others.
- Stay away from drugs and alcohol in order to avoid community crimes."29
His private letters to his daughter Salma " Mofarah Eldoleh" and his son Abdul Hossein Khan " Salar Elmolk" are spread among his descendants. Some of his letters of advice that were accessible are copied and are attached at the end of this article

Footnotes
1- H.GH is an abbreviation for the Arabic date Hejri-Ghamari that is originated when Prophet Mohammed emigrated from Mecca to Medina, 622 A.D.
2- Kaboudvand means great host. This is a title given to Amir Nezam's ancestor Amir Ezedin, who was the governor of Kurdistan, by Imam Reza the 8th holy Imam of the Shiite Muslims during his passage through Kurdistan on his journey from Medina to Toos. He stayed in Kurdistan and was hosted by Amir Ezedin.
3- Due to its common boundaries with Ottoman Empire, present day Iraq, the region was of logistic importance.
4- This was mainly due to his cold relationship with grand Vazir (prime minister) Haj Mirza Aghassi.
5- Qajar Dynasty ruled Persia between 1795-1925.
6-During his years of stay in Paris he became acquainted with the members of the Royal Court. He was often invited to dine with Napoleon III and queen Eugenie and being a master chess player, Napoleon enjoyed playing chess with him. Among interesting social events of his time in Paris was the Norouz ceremony. As part of the Iranian tradition during Norouz, host offers gold coin to guests for good fortune and prosperity in the coming year. In one of these ceremonies in Persian embassy, Hassan Ali Khan presented a distinct Persian gold coin to a French General, who refused to accept it. Hassan Ali Khan, who was known to hold his honor and integrity dearly, was extremely insulted. In his next meeting at the Palace, he brought up the matter to Napoleon's attention. He explained about the Norouz tradition and added, since he is the official representative of Persia, refusing to accept a present would be a direct insult to the king of Persia. Napoleon demanded to see the coin and Hassan Ali Khan presented it. After examining the coin, Napoleon stated, that our General was quite ignorant not to accept the coin. We shall accept it on his behalf.
7- Doust Ali Khan Moayer Saltaneh, " Political Elites of Iran" Pg 359-360
8- Ibid. 360-361.
9- Salar Asghar is equivalent to a two star general.
10- Salar Lashgar is equivalent to a three star general.
11- Amir Nezam was the highest military rank equivalent to a four star general.
12- During the Qajar's reign Crown Prince was raised, trained and held the ceremonial title of governorship of Azerbaijan. At a same time a prominent statesman would be appointed to govern the region and be responsible for training and mentoring of the Crown Prince.
13- His authority and strict disciplinary actions were out of his respect for law and order. When one reviews his writings during his stay in Europe, his admiration for democracy and social order and openness that existed in Europe is clearly observed. In one of his daily reports to Nasser Eldin Shah, he describes how newspapers reflect government's political views and let the public be aware of the decisions made by the government.
14-This quotation is translated back from the Persian translation of George Nathaniel Curzon's book "Persia and the Problem of Persia," Lord Curzon had a special interest in Asia. He had at least in his early part of his life a meteoric rise in the British Foreign Service and in 1899 he was appointed Governor-General, Viceroy of India.
15- Doust Ali Moayer El Mamalek, "Persia's Statesmen," Pgs 363-367
16- Dar Elfonoon: The first school of Technology established by Amir Kabir the famous Grand Vazir during Naser Eldin Shah's era.
17- Ahmad Ali Khan Vaziri Kermani, "History of Kerman," Pg 654
18- HIM: His Imperial Majesty
19- "Amir Nezam in Embassies of France and England," Ahmad Sohali Khonsari, Pg 7
20- Ibid  Pg 94
21- Mohammed Jafar Mahjoub, "A Research on Thoughts, Works, and Poems of Iraj Mirza, His Family and His Ancestors." Tehran 1963
22- M.J. Mahjoub "A Research On Thought, Works, and Poems of Iraj Mirza," Pg 27
23- His strict punishments were due to his extreme respect for law and civility and reflective of the 19th century social atmosphere in Persia. While reading his writings during his stay in Europe, one can easily observe his admiration for democracy and social openness of Europe. In one of his reports to Shah he explains how newspapers publish political decisions made by their government and inform their citizens of the details. In another example of his respect for law and order one could also observe his strong conviction toward populist and democratic movements. When Shah ordered him to mobilize the army in Azerbaijan to put down the riots in Tobacco strike of 1890, he not only refused to do so but also sent a letter to local newspaper responding to Shah's order. He responded that soldiers are common people and would put down their rifles, if ordered to shoot the rioters. This incident coupled with his open agreement with Tabriz Ulama to condemn the Tobacco Concession lead to his resignation from governorship of Azerbaijan. 
24- M.J. Mahjoub, "A Research On Thoughts, Works and Poems of Iraj Mirza, his Family and Ancestors," Tehran 1963, Pg 17-18
25- Ibid, Poems Pg. 6-7
26- Ibid, Pgs. 9, 41, 59-60
27- Sadats are the descendents of Prophet Mohammed.
28- A school of thought originated in Central Asia based on the teachings of Prophet Mohammed. It later branched out to other parts of Asia and Middle East. This movement has always been very strong in Persia. The fundamental principles of Sufism took its roots from teaching of Prophet and later developed to be the mystical branch of Islam. Sufism encompasses the realization of truth through divine love, the selfless remembrance of God 'Zekr,' the enraptured dance or 'Soma,' and the ultimate perfection in divine unity. Sufis are happy to choose poverty in accordance with the example of Prophet Mohammed who taught that true wealth consists in contentment with what one has and true poverty is in discontent.
29- Amir Nezam Garrousi, "Yahyavieh"

References
<![if !supportLists]> 1- <![endif]> Ahmad Ali Khan Vaziri Kermani, "History of Kerman,"
<![if !supportLists]> 2- <![endif]> "Amir Nezam in Embassies of France and England," Ahmad Sohali Khonsari,
<![if !supportLists]> 3- <![endif]> Mohammed Jafar Mahjoub, "A Research on Thoughts, Works, and Poems of Iraj Mirza, His Family and His Ancestors." Tehran 1963
<![if !supportLists]> 4- <![endif]> Amir Nezam Garrousi, "Yahyavieh"
<![if !supportLists]> 5- <![endif]> Iran Religion, Politics, and Society, Collected Essays, Nikki Keddie, Frank Cass
<![if !supportLists]> 6- <![endif]> Homa Katousian, "The Political Economy of Modern Iran 1926-1979," N.Y. University Press, N.Y. and London, 1981
<![if !supportLists]> 7- <![endif]> Doust Ali Khan Moayer Saltaneh, " Political Elites of Iran"
<![if !supportLists]> 8- <![endif]> George Nathaniel Curzon "Persia and the Problem of Persia"
<![if !supportLists]> 9- <![endif]> Doust Ali Moayer El Mamalek, "Persia's Statesmen"
<![if !supportLists]> 10- <![endif]>  Mohammed Hassan Khan Etemad Saltaneh, "Daily Memoirs of Etemad Saltaneh"
<![if !supportLists]> 11- <![endif]>  Lord George Nathaniel Curzon, " Persia and the Problem of Persia"