Different piecess on this page are sent by: Darius Kadivar, Amil Imani, Houshang Pakpour
Animation film on Hafez in production stage
KN News Desk

Two Iranian animators are making an animation on Hafez inspired by the miniatures of the Timurid era, the Persian service of CHN announced on Friday.
Vahid Nasirian and Saadat Rahimzadeh are currently working on the animation which narrates the life of Hafez.
Pointing to the numerous numbers of sources about Hafez, Nasirian said that they had to do research work about his life for several months before they could begin to work.
?Hafez falls in love with a woman, and following the story, his life is narrated from early youth to old age. There are no details in this 20-minute animation, and a number of his poems are selected in an attempt to narrate his biography and significant events throughout his life.
?We chose to work on Hafez due to our high interest in him and his poetry, and because no animation or film has ever been made about Hafez for young adults. We hope this can be a good beginning,? Nasirian noted.
The animation work will be done by the end of November and the film will be ready for screening in January.
Iran's first TV star dies aged 69 …..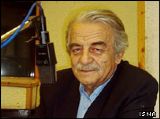 Reuters via Yahoo! News Wed, 07 Dec 2005 7:03 AM PST
Half a century ago television sets crackled into lifeacross Iran and Manouchehr Nozari became the country's first star of the medium. He died aged 69 on
Manouchehr Nozari became the country's first star of the medium. He died aged 69 on Wednesday.
"The box you are now looking at and seeing my image in is called television," he told viewers 48 years ago. Aged only 21 then, Nozari went on to become a household name as an actor and anchorman. He also dubbed dozens of foreign films, with U.S. star Jack Lemmon being one of his specialties. Nozari hosted the popular radio comedy show "Friday Morning with You" which attracted stars like Iran's most famous actress and singer Googoosh, who went abroad after the 1979 Islamic revolution. His television quiz "The Week's Competition" lost its appeal after it ran into trouble with authorities after the revolution, Nozari said. He was asked by officials to increase the number of questions on religious issues and ban women from appearing in the show, he told the ISNA students' news agency two years ago. ISNA also reported he spent two and half years in jail after acting as guarantor for a friend who went bankrupt. The official IRNA news agency said he died from complications related to lung and kidney failure.
Iranian artist honored as Europe's Artist of Year in 2005
Dec 4, 2005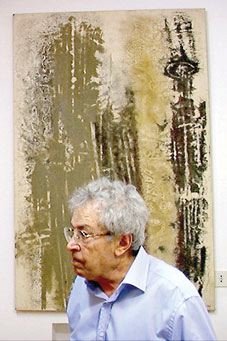 Iranian sculptor and painter Mohsen Vaziri Moqaddam was honored as Europe's Artist of Year in 2005, a daily wrote on Saturday.
The Rome-based Professor of Art Vaziri Moqaddam is to be awarded Europe's Artist of Year 2005 title in Rome on December 14, 2005.
Born in Tehran in 1927, Vaziri Moqaddam graduated from Fine Arts Academy in Tehran in 1951. He received Diploma of 'Accademia di Belle Art' in Rome in 1958.
He lived and worked in Rome from 1955 to 1964 and returned to Tehran to work as a professor of art at the Faculty of Decorative Arts and Faculty of Fine Arts affiliated to Tehran University.
Tehran's Museum of Contemporary Arts (TMCA) held an exhibition of Vaziri Moqaddam's paintings in mid-spring last year.
The Iranian artist has been engaged in painting and sculpture since the 1950s. He lives in Italy now.

© Iranian.ws
Ramona Amiri at Miss World Final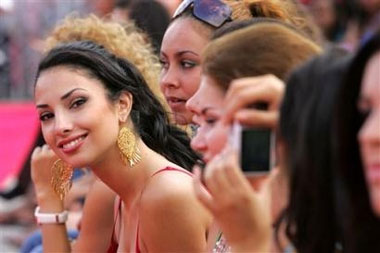 Monika Jalili, a classically trained soprano vocalist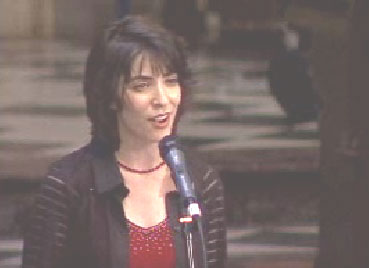 Monika Jalili is a classically trained soprano vocalist born in New York City. She has delighted audiences around the world in live performances, on radio and television. Monika is a multi-lingual performer, fluent in French and with a love for Persian music and culture. Monika is currently devoting the bulk of her time to bringing the beautiful songs of Iran to as many people as possible with her group NoorSaaz.
>>> See performance at Trinity Church in New York City

Most Precious Iranian Artifact Coming Back Home
Jan 3, 2006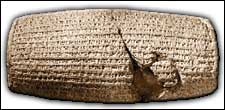 A unique collection of Iranian artifacts kept in museums throughout the world will be gathered and displayed at the National Museum of Iran (NMI).
NMI curator Mohammadreza Kargar said that after the recent exhibition "Forgotten Empire: The World of Ancient Persia" opened in Britain, the NMI arranged to display a collection of Iranian treasures kept in the British Museum, the Louvre, the Hermitage, and the Metropolitan Museum of New York.
According to Kargar, the Oxus treasure, including outstanding and characteristic examples of Achaemenid metalwork as well as the Cyrus Cylinder, a clay cylinder of a decree issued by Cyrus the Great after he conquered Babylon that is regarded as the first human rights charter, which are both kept in the British Museum, will be loaned to the National Museum.
He stated that the museum hall allocated for the temporary exhibition is not ready yet, adding that the hall is being established in the northern section of the Islamic Department of the museum.
In 1895, Nasser ad-Din Shah of the Qajar dynasty granted archaeological concessions to the French government. According to the contract, the sum of 10,000 toomans (50,000 francs) was offered to the shah, and it was agreed that half of the findings would belong to the French government. It was at this time when the capitals, the enameled tiles, and other Achaemenid artifacts from Susa were transferred to France to become part of the collection of the Louvre.
The Hermitage and the Metropolitan Museum of New York are also home to ancient carpets, metalwork, inscriptions
Iranian filmmaker crafts special project to honor mystic poet Rumi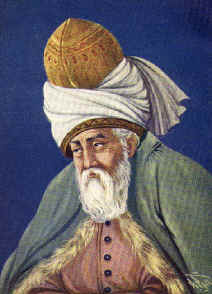 By Ron Wynn, rwynn@nashvillecitypaper.com


Filmmaker Pouria Montazeri initially heard about the Persian mystic poet Rumi, a respected and best-selling poet, while growing up in Iran. Now a junior in the Film School at Watkins College of Art & Design, Montazeri is completing the short film Shams & Rumi: The Fragrance of Axis Mundi that's based on the friendship between Rumi and close friend Shams during the 12th century, a relationship that's credited with Rumi making the transformation from being a strictly intellectual being to a more spiritual being.
"This project is something that I hope will help people understand more about Rumi's transformation and his importance in Persian history," Montazeri said. "The fact that he's so popular in contemporary society is also quite amazing, and the film takes you back to a key time in his life, showing how his encounter with Shams and the growth of their friendship helped totally transform his life.
"We're also being very careful to be as accurate as possible in terms of the costuming for the period and maintaining the sensibility involved in depicting their relationship."
Montazeri has been shooting the film at various area spots using a Panavision Super 35mm Camera, the first time this has been done by any student at Watkins. Locations have included Cheekwood, Percy Priest Lake, Red Barn Winery & Vineyards in Lafayette, TN and a field off Old Hillsboro Road.
The entire shoot was conducted using Watkins film students and graduates, with Andrew Newell and Tom Mason serving as the main actors and 25 extras appearing at various points.
Montazeri's pervious film The Tulip Grower won a number of awards, including Best College Short Film at the Houston International Film Festival, the Golden Film Festival in Colorado and the Spiritual Film Festival in India.
"Eventually I'd like to do a full feature film on Rumi," Montazeri added. "I think his life and his poetry can be a bridge between cultures, and that's what I hope comes across in the short film as well."
Montazeri's film will be shown at Watkins Dec. 9 during a public showing of various Watkins projects. He's also submitted it to the Nashville Film Festival for consideration.

Mahin Oskooee dies
Mahin Oskooee, director, translator of theatrical plays. and one of the founder of Anahita Theatre dies on the 12th of Dey 1384. She was the wife of Mostafa Oskooee who had died 2 months earlier. Ms. Oskooee was the niece of Roohbakhsh and the sister of the late Pooran the famous singers and the sister-in-law of Anooshirvan Rohani. She was 75 at the time of death. God bless her soul.
Pioneer Female Iranian Pilot Sadighe Dowlatshahi dies at age 92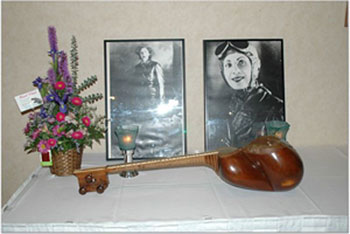 "One Night" will also go on screen in several cinema halls in Paris from January 4.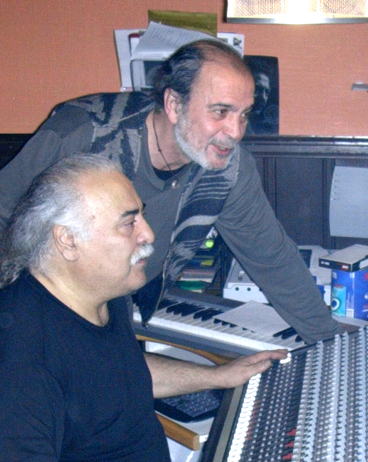 Esfandiar Monfaredzadeh & Behrooz Behnejad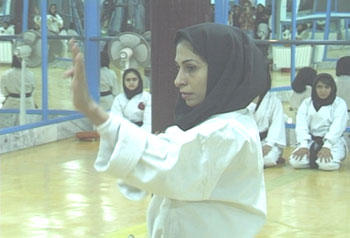 Germany/Iran, 37 minutes, 2005, Antje Beyen, director
(World Premier)
Feminine Breeze: Arts and Freedom in Iran? is an independent documentary focusing on how Iranian women artists use their artistic medium for autonomy and self-expression in a society dominated by political Islam. The film features in-depth conversations with six prominent women: poet, photographer, journalist, filmmaker, stage director, and a martial arts instructor. At the beginning and conclusion of each episode we get glimpses of every day life in various cities in Iran ? Tehran, Isfahan, and Mashad ? providing visual background to the narrative on the female artists in Iran.
Niki Karimi Nailed it at Cinematheque Hall
Jan 2, 2006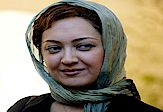 'One Night', the first feature-length film directed by Iranian actress Niki Karimi, was screened at the Cinematheque Hall of the Tehran Museum of Contemporary Art on December 29 and 31.
Karimi, who participated in a question and answer session after the second screening, told the audience that acting was never sufficient for her, adding, "I never wanted to reach the age of 40 and still remain an actress. I like to learn."
"The film is not ordinary cinema, the theme was quite personal, and I decided to do whatever I wanted."
About the dimly-lit scenes throughout the film, she said, "The cinematographer and I decided not to add any additional light to the scenes in order to keep it much closer to reality."
Asked why so little music was used in the film, she replied, "I do not believe in music for films."
On the bitter theme of the film, she said, "If I, as a 34-year-old woman in society, felt differently, I would surely have made another film. In this movie, I was determined to make use of non-actors, so all three men were non-actors and did not know the screenplay either. In each scene, I told them what to do and what to say. We did not rehearse much, since I myself had the worst experiences with those directors who rehearsed a lot with the actors."
"The film has a social theme and I don't consider it to be a commercial movie. I did not want to make a feminine film. I was mostly interested in narrating the story in a nonjudgmental way."