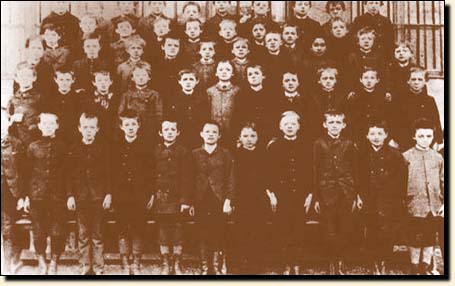 School class photograph in Munich , 1889. Einstein is in the front row, second from right. He did well only in mathematics and in Latin (whose logic he admired).

A late bloomer: Even at the age of nine Einstein spoke hesitantly, and his parents feared that he was below average intelligence. Did he have a learning or personality disability (such as "Asperger's syndrome," a mild form of autism)? There is not enough historical evidence to say. Probably Albert was simply a thoughtful and somewhat shy child. If he had some difficulties in school, the problem was probably resistance to the authoritarian German teachers, perhaps compounded by the awkward situation of a Jewish boy in a Catholic school.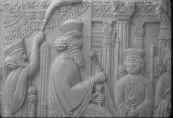 Iran's religiosity is its most striking cultural feature - it pervades all aspects of life. The national language of Iran is Persian, also known as Farsi, an Indo-European language. The other main regional languages are Azari, Kurdish, Arabic and Lori (spoken by the

Lors); and there are dozens of other tongues throughout the 26 provinces, such as Gilaki, Balouchi and Turkmen. The Arabic script was adapted to Persian after the arabs invasion. There is no standard method of transliterating Persian into English.
In Iran, as in all Islamic societies, art favors the non -representational, the derivative and the stylized. Many Iranian art forms predate the Arab conquest, but since nearly all of them reached their peak within the Islamic era, religious influences are rarely absent. Persian carpets are Iran's most famous cultural export, dating back to the 5th century BC, and are still an integral part of religious and cultural festivals (and the economy).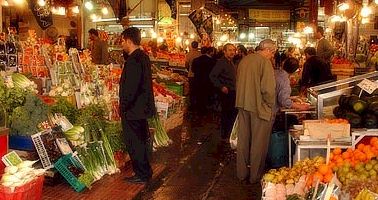 The most appealing and melodious traditional music is found among the ethnic minorities, such as the Turkmen, Azari, Kurd, Balouch and Lor.



Persian poetry first appeared in the 9th century AD and slowly developed into the enduring canon of epic poems and non-rhyming couplet poems which are part of its cultural treasury today. Persian painting dates back to the Seljuq period, which then faded until the 16th century when it flourished along with calligraphy, especially in Shiraz.

Other notable Persian crafts include metalwork, glass ware and woodwork, while, more recently, Iranian films have been remarkably successful. Mohsen Makhmalbaf, maker of Gabbeh, is Iran's most controversial, and most lauded, filmmaker.

At its best, Iranian cuisine is very good. It's heavily based on rice, bread, fresh vegetables, herbs and fruit. Meat, usually lamb or mutton minced or cut

into small chunks, is used to add flavor but is rarely the dominant ingredient, except in kebabs. Sadly for travelers, this

usually translates into the same two or three standard dishes of kebabs or chicken, with rice, vegetables and bread - you need to be invited into homes or splurge on up market hotels to eat the best Iranian food. The national drink of Iran is undoubtedly chaay (tea), always served scalding hot, black and strong.

--------------------------------------------------------------------------------

Iran Cultural News & Articles
--------------------------------------------------------------------------------

Discovery of Ancient Mass Graves in Burnt City, Iran
Jan 4, 2006 -

In Search of Iranian Cultural Heritage
Jan 3, 2006 -

Discovery of Thousands of Graves in Rahmat Mountain
Jan 3, 2006 -

Most Precious Iranian Artifact Coming Back Home
Jan 3, 2006 -

Dear Mom
Jan 2, 2006 -

Niki Karimi Nailed it at Cinematheque Hall
Jan 2, 2006 -

Iran, Full of Tourism Attractions, Empty of Tourists
Jan 1, 2006 -

CHAIN OF CLOUDS AND RAIN
Jan 1, 2006 -

Iranian Artist Vaziri Moqaddam to Publish Autobiography
Dec 30, 2005 -

Daryache Hotel to be Built in Bam New Citadel
Dec 30, 2005 -

The Biggest Christmas Tree in Iran
Dec 30, 2005 -

FIFTH SEASON
Dec 30, 2005 -

POET HATEF ISFAHANI AND HIS POEMS
Dec 28, 2005 -

First Sassanid Dwelling Discovered in "Red Village" Abyaneh
Dec 28, 2005 -

Iranian Photographers Awarded at Asahi Shimbun
Dec 28, 2005 -