Bam
Saving what can be saved - the story of Parisa Damandan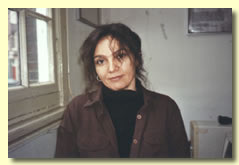 Parisa Damandan is an Iranian photographer who has surprised the Dutch public twice before with eyecatching exhibitions, one about Polish refugees that fled to Iran during World War II, and one about unveiled women in the days of traditional Persia. Anyone that has visited the exhibitions can see that Parisa has a knack of finding 'gold' (and knows it).
What's the story?
Parisa, born in 1967 in Isfahan, graduated from the University with a degree in photography, is someone who is not only a photographer herself, but interested in every aspect of photography. She publishes about it, but she also tries to save as many of the old originals as possible. She looks for them everywhere, following any hint that might lead to a new photographic treasure-trove.
In this same way she discovered a valuable collection of vulnerable glass-negatives with high-quality recordings from the early part of the 20th century, that show us traditional Persian families in domestic circumstances, teaching us quite a few things about life in the days of a Persia that long since disappeared. Also she discovered an old, derelict studio in Isfahan, with the cellar stacked with negatives containing the pictures of Polish families, that fled the Nazi's in the thirties and forties of the previous century.
When the earth shook under the town of Bam, Parisa was immediately filled with one thought: I have to go there. I have to do something.
Should she help finding and rescuing people? Should she help digging? No, she decided rather soon, if I can help, I'll have to do it the way I know best: from that moment on she started digging, together with a group of volunteers to save at least part of the immensely valuable cultural heritage of Bam, namely its photographic history.
Armed with a street plan, she led the men and women helping her to the studios and shops that have been covered with powdered clay. She has been digging since, searching and finding, while the chaos around her is great, and she is daily confronted with the sorrow of those that survived the disaster. Confronted also by the international media, who beside wanting to know about the general proceedings, are also interested in her quest, because by now everybody realises the importance of saving what can be saved in order to rebuild this marvellous and beautiful ancient city.
The things Parisa finds, are not glass negatives this time. 'Fortunately not', says Herman Divendal of AIDA, 'or it would have been gone forever'. Parisa adds that with all difficulties involved in her work, amidst all the tragedy and despite the heart-breaking scenes that she witnessed, she sometimes can offer comfort to survivors: for some the only way a deceased beloved lives on, is on a picture found by Parisa.
To support Parisa Damandan financially in her difficult work to save the photographs of Bam, Aida has opened a specific giro account: 5965559 tav AIDA Nederland - Amsterdam.
More information: AIDA, van Ostadestraat 49a, 1072 SN Amsterdam, phone 020-6713786, email aida@xs4all.nl , website www.aidainternational.nl