Abyaneh Recognized for Being Inscribed by UNESCO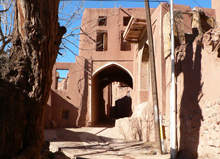 Abyaneh historical village Following the visit of UNESCO experts from the historical village of Abyaneh, located between Qom and Isfahan, this village has been recognized appropriate for being inscribed in World Heritage List.
Tehran, 17 June 2007 (CHN Foreign Desk)—According to the report released following the visit of UNESCO representatives and experts of world heritage from Abyaneh village, this historical village has been recognized appropriate for being registered in list of UNESCO's World Heritage sites. Enjoying more than 4 conditions for being registered, Abyaneh historical village has the potential for being inscribed as world heritage site.

UNESCO was invited by Ms. Azimeh Riyahee Dehkordi, director of Abyaneh director of Cultural Heritage and Tourism Base of Abyaneh, to undertake a mission to Abyaneh village. The mission traveled to Abyaneh, Isfahan province on 29 January 2007, to visit the Iran's Cultural Heritage, Handicrafts, and Tourism Organization (ICHHTO) Abyaneh base, examine their activities and provide advice on the possible nomination of Abyaneh for inscription on the World Heritage list.

"The historical village of Abyaneh was visited by Junko Taniguchi, programme specialist for culture, in UNESCO Tehran Cluster Office and Dr. Farzin Fardanesh, UNESCO's Consultant, and they have submitted a report in this regard. In this report it has been announced that this village has the special characteristics for being registered in UNESCO World Heritage List," said Azimeh Riyahee to CHN.

The UNESCO mission expressed its gratitude for the warm hospitality and cooperation extended to the mission by Khaneh Mardom-e Abyaneh, the steering committee of Abyaneh traditional ceremony hall, and the staff of Abyaneh Base in particular the director of this base.
___________________________________


Discovery of Parthian Fortress behind Gelabar Dam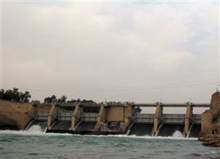 Gelabar Dam, Zanjan province Archeological excavations behind Gelabar Dam, in Iranian Zanjan Province, revealed that the existing fortress which was supposed to date back to Islamic period belongs to Parthian dynastic era.

Tehran, 9 June 2007 (CHN Foreign Desk)—Archeological excavations behind Gelabar Dam in Zanjan province, northwest of Tehran, brought into light that contrary to previous belief the fortress located behind the dam dates back to Parthian dynastic era (248 BC- 224 AD). This is while prior to this it was believed that the fortress belongs to Islamic period (651 AD afterwards).

Abolfazl Aali, head of archeology team behind Gelabar Dam told CHN: "Prior to this, based on earthenware vessels which were gathered from the surface layer of the fortress, it looked as if the fortress dates back to the Islamic period. However, further excavations and discovery of Parthian earthenware dishes and evidence of architectural remains belonging to this period, revealed that this fortress must have been constructed during Parthian dynastic era."

By inundation of Gelabar Dam, the Parthian fortress located behind the dam, only a small part of the fortress will remain like an island amidst the reservoir of the dam.

"At the same time, another two sites, one belongs to Copper and Stone Ages and the other to Parthian era and Iron Age are also under archeological excavations," added Aali.

Head of excavation team behind Gelabar Dam further explained that the site which belongs to Copper and Stone Ages is a mono periodic residential settlement which will be submerged completely by inundation of Gelabar Dam. "A similar fate is in store for the Parthian and Iron Age discovered residential settlements as well," added Aali.

Archeological excavations will continue until next month behind Gelabar Dam, which its inundation has already started.

___________________________________

6000-Year Burial Rites were Discovered behind Gelabar Dam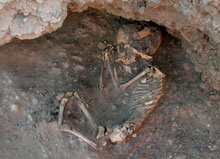 6000 Years Burial Rites were Discovered behind Gelabar Dam Archeological excavations behind Gelabar Dam in Zanjan province led into the discovery of burial rites belonging to 6000-year ago and the first millennium B.C.


Tehran, 23 June 2007 (CHN Foreign Desk)— Following the discovery of burial rites belong to 3000 to 6000 years ago in a cemetery behind Gelabar Dam, in Zanjan province, north west of Iran, archeological excavations in this site came into new stage. In all the 4 graves which have been discovered in this site earthen vessels in red or grey which are typical of this age have been found intact.

"Following the archeological excavations in this prehistoric site, and after removing architectural layers, 4 burials belonging to 6000-year ago were discovered. It is believed that probably all skeleton found in these graves belong to children," told CHN, Abulfazl Ali, head of archeological team working behind Gelabar Dam.

According to him based on traditions of people living in prehistoric period these burials have been done without putting any gifts in the graves and children were buried in the floor of the houses."

A cemetery belongs to Iron Age I (1550-1250BC) have also been discovered, announcing this news, Ali told CHN: "More than 4 graves have been discovered in this cemetery which in all of them earthen vessels in red or grey have been found intact."

He further added: "Although this site has been cultivated by farmers, bronze relics including a dagger was unearthed intact."

Based on his remarks noticeable burial rites belonging to 3500 and 6000 years ago have been discovered behind Gelabar Dam.

"Along with this site, archeological excavations on Parthian- Islamic fortress behind Gelabar Dam still is underway and parts of its architectural structures have been revealed," Ali said.

Gelabar Dam which has been established on a river with the same name was inundated recently without getting the approval of Iran Cultural Heritage and Tourism Organization (ICHTO).
___________________________________

Historical Marriage Certificate Discovered in Zanjan
May 23, 2007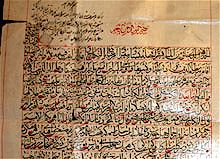 A marriage certificate dating back to Qajar dynastic era has been discovered in Zanjan province and submitted to Iran's Cultural Heritage and Tourism Organization (ICHTO). This historical marriage certificate was discovered accidentally by the local people of Zanjan.
"This valuable 117-year-old marriage certificate belonging to late reign of Nasir al-din Shah, Qajar king, which indicate the marriage between Mr. Mirza Mehdi and Miss. Zarin Taj," said Shahrzad Bayat, head of Public Relations of Cultural Heritage and Tourism Department of Zanjan province, according CHN.

This illuminated marriage certificate which has remained completely intact was written in Arabic manuscript on a brown paper 33 by 43 centimeters in size in 21 lines with black ink and decorated with red ink inside a beautiful cadre.
In this marriage certificate, the conditions of the marriage including Mehrieh (the amount of money, title deed, etc) which is considered for bride in the marriage contract has been also mentioned in detail.
According to Bayat, Cultural Heritage and Tourism Department of Zanjan province is determined to conduct a widespread research on the historical documents and manuscripts which would reveal some invaluable information about social, religious, and cultural life of people during ancient times.
___________________________________
Ferdowsi's "Epic Masterpiece of Shahnameh"
May 16, 2007


Hakim Abdul Qasim Firdawsi Tusi, more commonly known as Ferdowsi, is one of the most revered Persian poets. He was born in 935 AD in a rich family in Iranian Khorasan province and it is said he died in poverty around 1020. His tomb is located in city of Toos in Khorasan Razavi province, where every year millions of his lovers attend to pay tribute to this great poet.
He devoted more than 30 years to compose his masterpiece of Shahnameh, which is the most popular and influential of the Iranian national epics. Shahnameh or the "Epic of Kings" or "Book of Kings", consists of the translation of an even older Pahlavi (Middle Persian) work. It is still one of the most popular books among Persians after more than one thousand year. In Shahnameh the pre-Islamic history of old Persia before the Arab conquest of the region has been described through classic tales which starts from 7000 years ago by telling the story of old Persian Kings, the mystical and historical past of Iran up until the Arabs invasion of Iran in the 7th century.

An important factor about this book is that during the period that Arabic language was known as the main language of science and literature, Ferdowsi used only Persian in his masterpiece. This ample work, regarded by Persian speakers as a literary masterpiece, also reflects Iran's history, its cultural values, its ancient religion (Zoroastrianism), and its profound sense of nationhood. As Ferdowsi himself says "Persian language is revived by this work". Ferdowsi completed the Shahnameh at the time when Iran's national independence had been compromised. While there are memorable heroes and heroines of the classical type of this work which in fact the real, ongoing hero is Iran itself.
Shahnameh is a very popular book not only among Iranians but also all Persian speakers in Afghanistan, Tajikistan, parts of Central Asia, Pakistan, India and even some parts of China. Shahnameh is also important to the remaining 200,000 Zoroastrians in the world, because it traces the beginning of Zoroastrianism to the defeat of the last Sassanian Zoroastrian king by barbaric invasion of Arabs and start of Islamic infamy in Iran which resulted slaugther of Zoroastrians.
Its reputation even goes far beyond the above mentioned countries and its popularity is not just limited to Persian speakers. It has been translated to different languages so far including Russian and English. According to Washington Post, the new translation of Shahnameh by Dick Davis had been greatly welcomed by the readers of fiction stories in the United States. Dick Davis is the greatest modern translator of Persian poetry, who has turned the finest stories of Ferdowsi's original into an elegant combination of prose and verse for the first time in English language in the most complete form which give the chance to readers to enjoy Shahnameh in the same way that Iranian storytellers have conveyed it in Persian for the past thousand year. Considering that Shahnameh sweet stories are not just appropriate for adults, some pieces of Shahnameh stories have been also translated in simple language for children.
With creating the masterpiece of Shahnameh, Ferdowsi is not dead, he is alive is heart of all Persian lovers who every year pay tribute to this great poem on his commemoration day.
This year on May 15, a special ceremony was held in Ferdowsi Square in Tehran in commemoration of this everlasting Persian poet with presence of his lovers and artists from Khuzestan, Chahar Mahal Bakhtiari, Fars, and Lorestan province who came to pay their tribute to this great poet by performing some traditional and cultural traditions such as citing verses of Shahname, narrating Shahnameh tales, playing drums, etc. The commemoration day of this great poet was also celebrated in the tomb of this great poet in city of Toos with attendance of president of Iran's Cultural Heritage and Tourism Organization.
___________________________________

Earth is best trustee for Sixth Salt Man: expert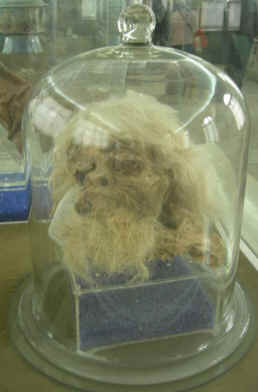 Archaeological Research Center of Iran (ARCI) Director Mohammad-Hassan Fazeli Nashli is opposed to the idea of unearthing the "salt man" recently discovered in the Chehrabad Salt Mine due to the dearth of equipment necessary for protection of the remains.

"Except for some rescue excavations, a question is the main reason for an archaeological excavation. Otherwise, the earth is the best trustee for ancient artifacts because there is no guarantee for their proper protection," he told the Persian service of CHN on Sunday.
The salt man was discovered by chance when the remains were partially uncovered by a rivulet created by rainfall in early June. It is the sixth salt man to be discovered in the Chehrabad Salt Mine, which is located in the Hamzehlu region near Zanjan.
"So far, five salt men have been unearthed from the mine, but there are still many serious problems in regard to their preservation," he lamented.
The five salt men can still provide much information for researchers, he said in response to those who are calling for the Sixth Salt Man to be unearthed for study.
"Iran is still a novice in protection of artifacts. Thus, when there is no critical question, it is better if we let the artifact remain in the earth, which is the best trustee," he observed.
Meanwhile, the rivulet has been blocked and the Sixth Salt Man has been covered with earth.
Experts believe that the Sixth Salt Man lived about 1800 years ago.
Studies on the Fourth Salt Man indicate that the body is 2000 years old and he was 15 or 16 years old at the time of death.
It is still not clear when the other salt men lived, but archaeologists estimate that the First Salt Man lived about 1700 years ago and died sometime between the age of 35 and 40. He is currently on display in a glass case at the National Museum of Iran in Tehran.
___________________________________
Artists hold benefit exhibit for cancer patients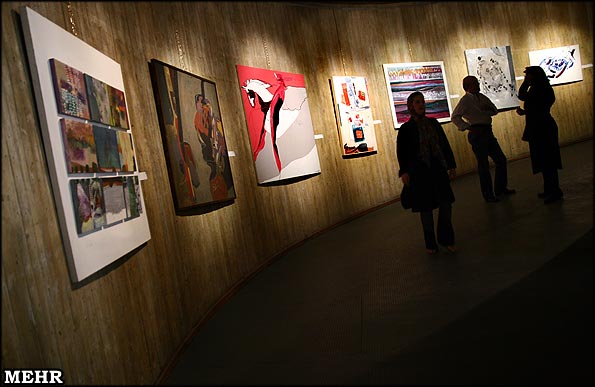 The second benefit exhibition of visual arts for the assistance of cancer patients opened on June 9 at the Niavaran Cultural Center.
Secretary of the exhibit, Taha Behbahani said that 150 works by 130 artists have been put on display.
"The works are on sale at 50% discount and proceeds will be donated to a charity for cancer victims thus giving purchasers the chance to buy artworks at a lower price and at the same time show compassion for the patients," Behbahani added.
Artworks by prominent artists including Iran Darrudi, Mohammad Ehsaii, Gizella Sinaii, Habibollah Sadeqi, Bahram Dabiri, Hamid Ajami, Hossein Mahjubi, and Shahla Homayuni are being exhibited.
The Behnam Deheshpur Charity Foundation, the Niavaran Cultural Center, Tehran's Museum of Contemporary Art, and the Visual Art Department of the Ministry of Culture and Islamic Guidance are among the sponsors of the event.
The exhibit will continue until June 16 at the main gallery of the center which is located on Pasdaran Ave.
___________________________________

Persian Gulf Organization Launched in Tehran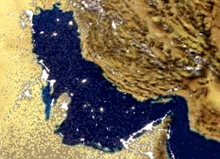 Map of Persian Gulf Concurrent with Persian Gulf National Day, the nongovernmental organization of Persian Gulf has announced its establishment.

Tehran, 30 April 2007 (CHN Foreign Desk) – 30th of April has been announced as Persian Gulf Day. This strategic body of water has experienced many challenges over time especially during the past few years for preserving its cultural and historical identity.

A few years ago, decision of National Geographic for using both the primary name of Persian Gulf and an alternative secondary name of Arabian Gulf for the body of water situated between Iran and the Arabian Peninsula in its eighth edition Atlas of the world released in 2004, evoked the emotions of million Iranians both inside and outside the country who largely expressed their objection to this decision and defended their cultural heritage through many efforts made by NGOs, cultural heritage experts, and Iranian government, who firmly asked National Geography to move the alternative name. Following that National Geographic announced: "National Geographic will insert additional clarifying language on the map plates relating to the Persian Gulf in subsequent printings of the Atlas, and will add such notations to its on-line maps".

Once again, omission of the world "Persian" in the Louvre's newly printed guide and substitute it with the false name of Arabian Gulf, which took place in December 2006 raised the anger of Iranians all over the world. What comes as a surprise here is that since its establishment in 1793, Louvre Museum's well renowned reputation has been built upon adhering to the basic principles of conserving and protecting all national and international treasures and disseminating accurate and unbiased historical facts to the public.

However, the issue was swiftly followed by Tehran's official objection including Iran's Cultural Heritage and Tourism Organization which led into correcting the distorted name of the Persian Gulf on the maps and signs by the museum at its sections of Islamic art and Near Eastern antiquities last week. The issue is considered a prominent victory for reviving the historical glory of Persian Gulf which brought a great satisfaction for million Iranians just a few days before Persian Gulf National Day in Iran.

"The distortion of the Persian Gulf's name in the Louvre's catalogue is not something new. It has taken place due to Arab's economic influence over the museum during the 1990s," said Mohammad Reza Kargar, director of Iran's National Museum to CHN.

Situated in the Middle East, Persian Gulf is an extension of the Gulf of Oman located between Iran (former Persia) and the Arabian Peninsula. Iran, United Arab Emirates, Saudi Arabia, Qatar on a peninsula off the Saudi coast, Bahrain on an island, and Kuwait and Iraq in the northwest are the countries who share the coastline of the Persian Gulf.

Based on historical documents and maps Persian Gulf was always known by this name in the course of history. Historical name of Persian Gulf was first coined over two millennia ago by the ancient Greeks as Sinus Persicus as recorded by renowned Greek historians, geographers and then by the Romans as Mare Persicum. The Persian Gulf has been legally recognized as such in the international arena ever since.

On many occasions, the United Nations has announced that only "Persian Gulf" should be used as the official and standard geographical designation for the body of water. The United Nations Secretariat has issued two editorial directives in 1994 and 1999 in which the Organization has affirmed its position on the matter.

In an attempt to preserve the everlasting name of Persian Gulf against possible threats and promote coordination among Persian cultural heritage enthusiasts, the nongovernmental organization of Persian Gulf has been launched since 28th of April. The website address of the organization will be announced in a near future. Currently, for further information people can email: pg_foundation@yahoo.com and Persian.gulf.foundation@gmail.com.

Bijan Asadi, Bahram Amir Ahmadian, Alireza Zargar, Mohammad Reza Sahab, Sadegh Samiei, Alibaba Asghari, Farhad Fakhari Tehrani, Mohammad Hassan Ganji, and Pirouz Mojtahedzadeh are the members of the founder board of Persian Gulf Organization.

On occasion of Persian Gulf National Day, a photo exhibition has been also held in Saba cultural-art gallery in Tehran with participation of 112 photographers. In this exhibition the marine pictures of 7 coastal Iranian provinces including Khuzestan, Sistan va Baluchistan, Boushehr, Golestan, Gilan, Mazandaran, and Hormozgan will be displayed for visitors.