---
BY: JAMES JOYCE

Eight years before he had seen his friend off at the North Wall and wished him God-speed. Gallaher had got on. You could tell that at once by his travelled air, his well-cut tweed suit, and fearless accent. Few fellows had talents like his, and fewer still could remain unspoiled by such success. Gallaher's heart was in the right place and he had deserved to win. It was something to have a friend like that.
---
By: George Orwell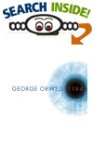 Nineteen eighty four is a tale of future society, a society in which independent thinking is a
crime punishable by death. This is also a society who's leaders are self
serving and don't set their goals for the common good by which all of the
society will benefit. The party doesn't need to justify its selfish ways
because it holds all of the power.