--------------------------------------
UNESCO to Decide on Iran's Naghsh-e Jahan and Sultanieh in Durban
Tehran, 19 June 2005 (CHN) – The 29th session of UNESCO World Heritage Committee is to be held from 10th to 17th of July 2005 in Durban, South Africa, and decisions regarding Iran will include the registration of Sultanieh Dome on the World Heritage List and Naghsh-e Jahan Square on the List of Heritage in Danger.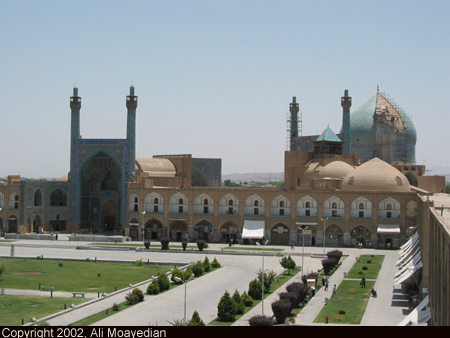 Naghsh-e Jahan Square
The World Heritage Committee meets once a year for an analysis of the site already registered as natural or historical heritage and for a consideration of new additions to the World Heritage List.
In the upcoming session of Durban decisions will be made with regard to the addition of Sultanieh Dome, in Zanjan province, to the list and the destiny of naghsh-e Jahan Square of Isfahan, the aerial landscape of which is endangered by an under-construction highrise nearby.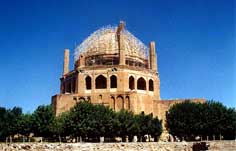 Sultanieh Dome, is one of the largest brick domes of the world and is considered an architectural wonder of the Ilkhanid times. It dates back to some 700 years ago and is among the noteworthy heritage of the Islamic era due to its brick and tile dectorations
Expert with the International Affairs Bureau of Iran's Cultural Heritage and Tourism Organization, ICHTO, Abdol Rasul Vatan Doust, seems positive of Sultanieh registration on the list. "Following the positive report of ICOMOS experts and the unique features of the structure, it seems certain that Sultanieh will be registered as a World Heritage," he told CHN.
Moreoever, Mounir Bouchenaki, UNESCO's assistant director-general for culture, who traveled to Iran in January, sounded hopeful for the registration of Sultanieh Dome.
Another heritage of Irani to be discussed in the upcoming World Heritage session is Naghsh-e Jahan Square of Isfahan. The historical square has been a World Heritage Site since 1979, but the construction of a 40-meter-high building in its vicinity has endangered its aerial landscape.
Iran has had its chance to decrease the height of the new highrise and save its heritage site, but time is running up with no positive steps taken, and according to permanent delegate of Iran to UNESCO, Ahmad Jalali, the World Heritage Committee is ready to annoucne its final decision regarding the matter in Durban session.
A report of the latest developments and situation of Bam Citadel, which was urgently added to the List of World Heritage in Danger after the deathly earthquake of 26th of December 2003, will be presented to the participants of the committee.
A team of Iranian experts and officials are also to take part in the upcoming session which runs from 10th through to 17th of July in Durban of South Africa.
------------------------------------
Rare heirlooms of Iranian history
Jun 4, 2005
By Souren Melikian
In this land of paradoxes, it is perhaps no surprise that an exhibition dealing with the past should be held in a museum built to house the work of the present. Monumental sculptures by Henry Moore, Max Ernst and others greet visitors who venture into the landscaped garden.