---
---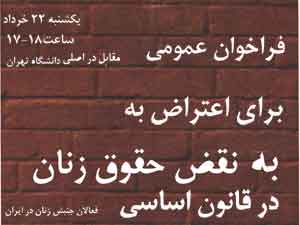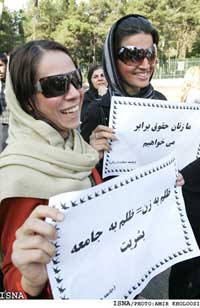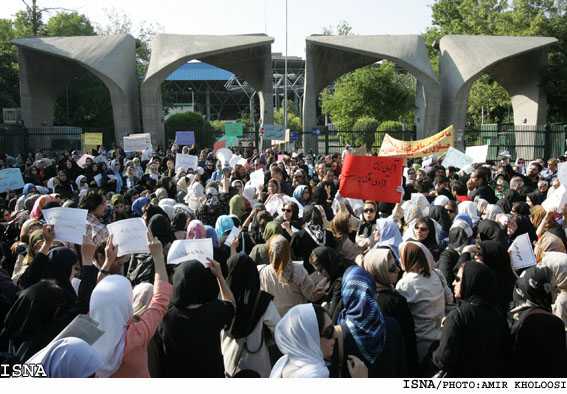 Women's protest against Mullahs in Tehran today
A group lead by beloved Iranian Poetess, Simin Behbahani, gathered in front of Tehran University to protest gender apartheid and the violation of women's and human rights in Iran. In recent days, many many other sit-ins, demonstrations and protests against the illegitimate rule of the Mullahs in Iran has been organized and carried out all across the country in order to show the world at large that the June 17th elections are bogus, a sham and nothing more than window-dressing for the European Union colonialists who wish to lie to their people about the popularity of these killers in order to continue doing business with this putrid and archaic men.
THE WORLD MUST FOCUS ON THE PEOPLE OF IRAN AND NOT THE MULLAH KILLERS!
http://www.isna.ir/Main/NewsView.aspx?ID=News-540244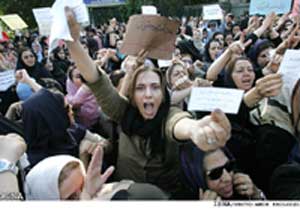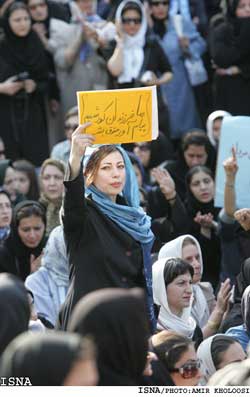 Iranian women protest, boycott the election in Iran
Jun 4, 2005
A group of Iranian women staged a protest against the disqualification of all women candidates from the upcoming presidential election.The demonstrators, members of Iran's Women Activists Movement, rallied Wednesday in front of the Presidential Office. Iran's Guardian Mullah Council, the country's legislation and election supervisory body, recently barred 89 women candidates from running for presidency with the explanation that they were "incompetent".
-------------------------------------
Women and Football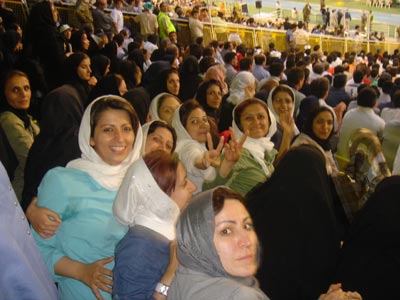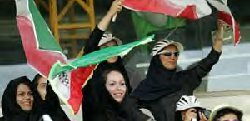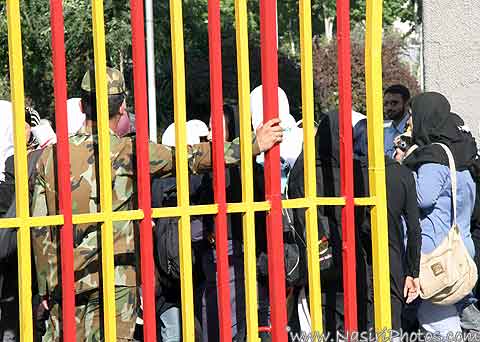 Women in Aryamehr stadium, finally!!
------------------------------------
"Not Women Anymore..."
The Congo's rape survivors face pain, shame and AIDS
by Stephanie Nolen
It took These Mwandeko a year to save the money. She knew she could
walk the first 40 kilometers of her journey, but would need to pay for a
lift for the last 20.

---
Women registering for "martyrdom"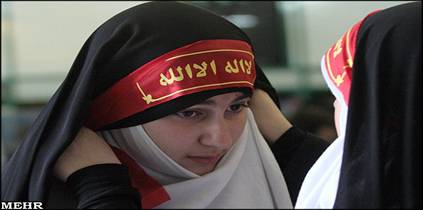 ---

Iran liberalises laws on abortion
By Frances Harrison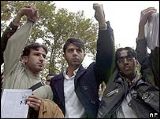 A little over half of Iran's parliament backed the law

The Iranian parliament has voted to liberalise the country's abortion laws. Under the law approved on Tuesday, a pregnancy can be terminated in the first four months if the foetus is mentally or physically handicapped. Both parents must give their consent and three doctors to confirm that the foetus is damaged. The law was approved by just over half of the conservative-dominated parliament, and still has to be approved by the Guardian Council.
---