"Iranians and Hollywood"
Hollywood and its influence on Iranian society and Film Industry
by Darius Kadivar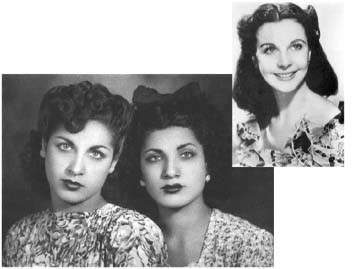 1945_style.JPG Vivien Leigh © ReelClassics (Top right as Scarlett O'Hara in "Gone with the Wind" 1939) and Iranian Girls in 1945 © Hooshang Eimen

"There is a place where dreams come true And the greatest dreamers make millions..." - Famous Hollywood Quote.

Prior to the 1979 Islamic Revolution, however Iranian Cinema was developing into a lucrative and popular bussiness. From 1950 to the mid-1960's the Iranian film industry grew rapidly. Many studios were established as well as others that entered the cycle of the film industry independently. There were 324 films produced during this period (1950-1965). By 1965 there were 72 movie theatres in Tehran and 192 in other provinces.

In this context and thanks to Iran's privileged relationship with the United States, The Iranian film industry was naturally influenced by Hollywood and European productions.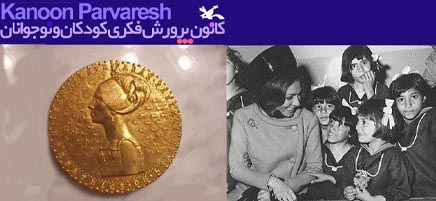 Farahartmedal_small.JPG Patron of the Arts, Empress Farah helped Create "Kanun va Parvaresh"

The "Kanun va Parvaresh" Institute created by the active Empress Farah for the"intellectual education and development of children and Young adults" had also a Cinema department founded by Abbas Kiarostami and which was to form another generation of filmakers such as Bahram Baizai, Amir Naderi, Reza Alamzadeh or Sohrab Shahid-Sales many of whom, including Kiarostami (the future 1997 Cannes Laureat ) ,were to gain International fame nearly 20 years after the revolution . The famed director of "Close-Up", and the "Taste of a Cherry" had not yet re-invented Iranian Cinema and imposed himself as the leader of a recognized film style worldwide baptized "The Iranian New Wave".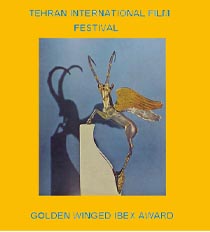 The "Golden Winged Ibex" Award, the Persian Equivalent of the American "Oscars" or the French "Palm d' Or" was attributed at the Tehran International Film Festival each year.


Shortly after World War II, The "American Way of Life" was to become a reference for Iranians as much as for Europeans who were recovering from the stigmas and shortages of the War. Since the forced abdication of Reza Shah and the succession by his Son in 1941, Iran had done its share in helping the Allies in their fight against Nazism. Considered as the Bridge Towards Victory, The "Tehran Conference" in 1943 between the Big Three, Roosevelt, Stalin and Churchill had distributed the military victories in Europe which was to be confirmed by the Yalta Conference the following year. The Iranian Military was also present thanks to a small regiment that carried the Iranian flag with "Sun and Lion" emblem during the Allies Victory Celebrations in 1946.

Not yet considered as an art form, Movies were considered by an older Iranian generation as more a popular pass time, and were often snubbed as merely "vulgar entertainments" in comparison to other cultural activities. The young generation however which had suffered from shortages during the War, was more than eager to see their favorite Hollywood Stars on the Silver Screen. Since Reza Shah's decree which abolished the traditional "Tchador" in 1936, Iranian woman were to enjoy an unprecedented emancipation for a muslim country as in neighboring Turkey led by Ataturk. In this context Naturally Hollywood fashion and Stars became role models for many Iranian girls of the upper and middle class families.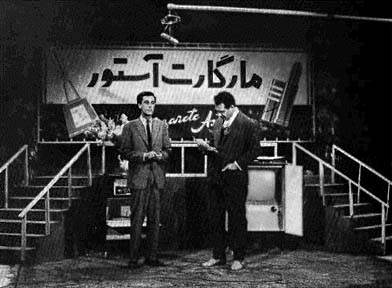 Margaret Astor Show 1950's on Iranian Television


Shows such as the "Margaret Astor Quiz Show" were directly inspired by their American counterparts. It had also become a fashion to have Television sets put into nice wooden carved furniture with an opening for the screen and commands, with the possibility of locking the TV Screen behind another elegantly carved door flap. Iran's priviledged relationship with the West and particularly the United States allowed many Iranians to earn a scholarship and to study abroad, which often led to marriages with Americans or Europeans ( See "Berkley, 1952 ?" ) further enhancing Western cultural influence in Iran.

Parallel to Iranian radio and television, which had their own Stars, Iranian Cinema was also keen to impose its own idols with actors which were soon to become Mega Stars like Behrouz Vossoughi, and Nasser Malek Moti-i, Fardin or Pop Singer Googoosh .Soon their lives, loves and divorces were to make headlines in the countrie's Press. A whole new generation of Iranians was to identify itself with these Stars who not only became role models but their movies were to compete on a national scale with those of Hollywood Stars like "Kirk Douglas"," John Wayne", "Burt Lancaster", or "Elizabeth Taylor".

Center people queing outside cinema for Behrouz Vossoughi's 1970 film "Toghi" aka "The Pigeon". Posters Vossoughi in different films and a spoof on Hollywood "Mamal America" with wife Googoosh (down right) © Behrouz Vossoghi website



In the Sixties Italian Director Bernardo Bertolluci ( Last Tango in Paris, The Last Emperor ) was to go to Iran to interview Iranian Poetess Forough Farokhzad and the doomed Italian director Pier Paolo Pasolini was to film some of the scenes of his Upcoming film "II fiore delle mille e una notte" ( Les mille et une nuits ) in Isphahan during the summer of 1973.


Left Pier Paolo Pasolini on the set of "A Thousand and One Nights". Right Bernardo Bertolucci and poetess Forough Farokhzad in Nasser Saffarian documentary "The Green Cold/ The Mirror of the Soul".



The Oil boom of the Seventies, was to accelerate the countries development in all major areas, and particularly opened a huge market for Iran's telecommunications industry. Iran Telecom had successfully transmitted Worldwide via Satellite the Persepolis ceremonies in 1971. Black and White television sets were soon to be replaced by color sets by the end of the decade. One could even purchase miniature black and white television sets made by Sony which could be charged by batteries and carry it on outside picnic excursions.

On January 14th 1973, "The King of Rock and Roll", Elvis Presley, was to give a memorable concert at the Honolulu International Center in Hawaii and broadcasted worldwide- via satellite. The King entered the stage with "ALSO SPRACH ZARATHUSTRA" musical score of Stanely Kubricks film "2001: A Space Odyssey" . His every move was projected on a Giant Screen featuring his name in all languages including Farsi.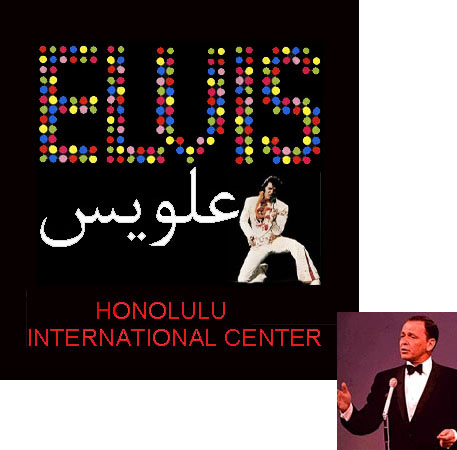 Elvis Presley's Honolulu Concert was a World Premier broadcasted via Satellite while Frank Sinatra was to perform in Tehran in 1973

The same year Frank Sinatra was to give a memorable concert at the Tehran Sport Stadium which was broadcasted on national Television, during which "THE VOICE" claimed humorously that the glass of water he was drinking was his idea of a "Persian Vodka".

It should be noted that for a country at the Time often criticized in the Western Media for giving in to an extensive "westernization" that American and European movies or tv series were actually perfectly dubbed in Persian. A splendid example being the "Sound of Music" (aka "Ashkhah va Labkhandha" which also served as the music score to the advertisement of "Elephant Shoes" ) or the work done by pioneer Alexander Aqababian particularly appreciated for his work on Italian films quite in vogue in Iran since the 1960's.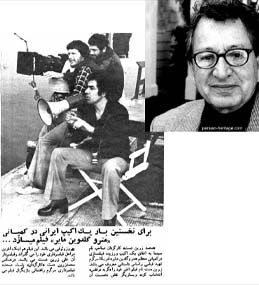 First Iranians to work in a Hollywood studio and Reza Badyii the famed and celebrated Iranian TV director


A number of iranian filmmakers tried to work in Major film Studios in the US by the mid-70's and directors like Dariush Mehrjui who studied in UCLA who had already directed a film called "Almaas 33"(aka Diamond 33 ) (1966) with American actress Nancy Kovack ( wife of world-renowned maestro Zubin Mehta ) were tempted by the Hollywood experience but were soon to focus their attention on films dealing with more controversial social issues like "Gav" ( 1969), a film subject to some censorship by the imperial government but finally released in international film festivals. However the only Iranian director to have truly imposed himself in Hollywood was certainly Reza Badiyi who directed many tv series such as Colombo with Peter Falk, The Six Million Dollar Man with Lee Majors, or Mission Impossible with Leonard Nimoy.

And Iranian producer Bahman Farman Ara was to co-produce a number of films with Hollywood Studios and Stars, such as "The Desert of the Tartars", "Caravans", and Orson Welles' last two films, "F for Fake" and "The other Side of the Wind" .

Number One Iranian Pop Singer Googoosh often hosted Variety shows sometimes even with European Stars like Albano and wife Romina Power, Demis Roussos or Nana Mouskouri ( The Italian and Greek Stars were famed for their ads for eyeglasses) despite the initial French Producers enthusiasm their collaboration did not lead to any real contract probably because of the Revolution.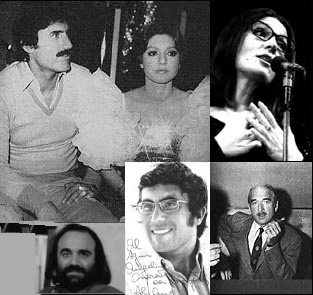 Clockwise Italian Western Spagetti Star Londo Bozanca with Googoosh in 78, Nana Mouskouri, Demis Roussos, French Tycoon Eddie Barclay and Albano


In addition a number of Iranian ex-patriates were to be drawn by Hollywood.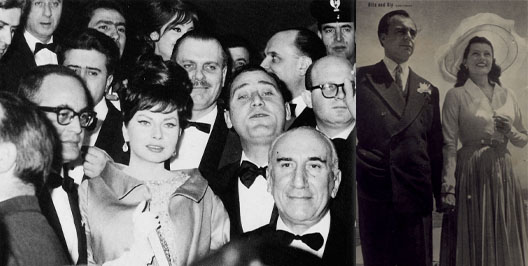 Left Princess Soraya arrives at the Milan Film Festival with co-Star Alberto Sordi (to her right) and a strange looking Terry Thomas just behind her (1964). Right a short lived romance between the heroin of "Gilda" and Persian Ismaili Prince Aly Khan in the late 50's.


It was the case of the Second Wife of the Shah of Iran, Soraya Esfandiary who after her divorce with the Shah was to star in the Italian film "THE THREE FACES OF A WOMAN (1964)" along with, Piero Tosi, Ralph Serpe, Richard Harris, Alberto Sordi, under the Direction of Michelangelo Antonioni. She was also to play a small part as a "Night club dancer" in "SHE" (1965) a film with Star Ursulla Andress. Despite these relatively promising débuts which augured a career as that of "Grace Kelly", the former Queen was to put an end to her artistic career, probably on the Shah's insistence and also because She had already known the inevitable side effects of being in the public eye. However one can assume that due to the wide coverage by the World Press of the life of the beautiful "Persian Princess with Sad eyes" during and after her divorce from the Shah, propelled her as a permanent figure of the "Jet-Set" who could be seen in the galant company of Hollywood Stars such as Maximilian Schell, Frank Sinatra, or Mel Ferrer. The second true love of her life was an Italian film producer Franco Indovina who died in a plane crash in 1972, thus earning Soraya the image of a "Femme Fatal", who was to inspire a song to French Singer Marie Paule Belle "Je veux Pleurer Comme Soraya" ( " I want to cry like Soraya" ) in the 1970's. An Italian-German television film on Soraya's life is currently being shot in Turkey and Bulgaria with Italian model Anna Valle in the title role and German-Turkish actor Erol Sander as the Shah of Iran ( See below) which confirms the fascination for the former Princess' destiny and extraordinary beauty which seems to still exert on filmmakers to this day.

Also in the late fifties, Rita Hayworth Hollywood sex icon and former wife of Orson Wells was to marry another Jet Set celebrity Prince Aly Agha Khan son of Agha Khan III spiritual Leader of the Ismaili. Their short lived romance which ended in a divorce was also filmed in a documentary called "Champagne Safari" (1952), mainly a pretext to show Prince Aly Khan's Lavish limos and private planes transport the determined couple across African terrain.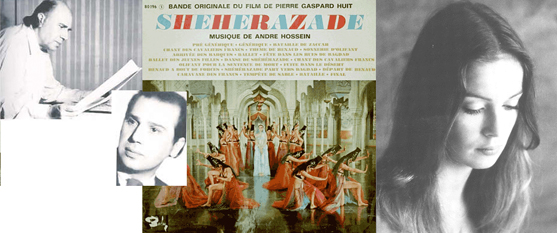 André Hossein Composer ( Right ), one of his albums for film Sherehazand 1962. Left Anicée Shahmanesh "egerie" of the French Nouvelle Vague in the 60's and 70's


"Anicée Shahmanesh" known as Annicé Alvina was also to have a relatively successful carreer, in France's "Nouvel Vague" Cinema, and her beauty was to inspire a number of filmmakers like Alain Robbe-Grillet, "Le jeu avec le feu " (Playing with Fire). In 1971 she also played the role of a Harem girl "Dinharzade" in "Shahrzad" for French TV. ( See Filmographie ).

Music Composer and film editor Aminolah (André) Hossein, father of famed French star Robert Hossein, was born in Samarkand when it was still part of Persia before its annexation by the Russian Tzars and saw his name change to "Hosseinoff". He set off to study Medicine in Berlin Germany in the early thirties but quickly abandoned his initial studies and left for Paris FRANCE to dedicate his life to his real passion Music. Converted to Zoroastrianism he was fascinated by pre-Islamic Persia and this immensely influenced his musical work in symphonies such as "Persian Miniature", "I love my Country" , and "Symphony Persepolis". He also composed "Scheherazadeh" (Shahrzad) which was adapted on screen . All of his compositions were performed in Iran notably by the National Iranian Ballet before the Revolution of 1979. André Hossein also composed the musical score and edited a number of films co-produced in Europe in the 60's, 70's and 80's including some of his own son's movies such as "J'ai tué Raspoutine (1967)" (I killed Rasputin), "Point de Chute" or a Western spagetti . "Cimitero Cenza Croce"/ "Une corde, un Colt" 1968

Iranian expatriate "Cyrus Bassiak" was to contribute to the French "Nouvelle Vague" popularity. He later became a writer and was to become known with his true name "Serge Rezvani" . He composed the music scores of two classic French New Wave Films: François Truffaut's "Jules et Jim" 1962 starring Jeanne Moreau ( who sings the "Tourbillon" ) and Oskar Werner, Jean-Luc Godards "Pierrot le Fou" ( aka: "Pierrot goes Wild") 1965 with Jean-Paul Belmondo and Anna Karina. In Jules Et Jim, Rezvani even plays the small role cast as Albert Bassiak of a one of Catherine's ( Jeanne Moreau ) lovers who accompanies her song "Le Tourbillon" with a guitar.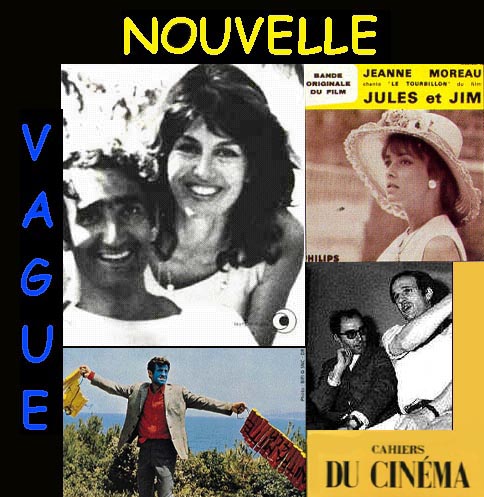 French "New Wave" Cinema music composer Serge Rezvani (Top Left with his French Wife ) alias "Cyrus Bassiak"


Hollywood Stars in Iran:

Major Hollywood Studios allowed such productions possible, even if on some occasions budget limitations, and time limits were to impose editing restrictions often compromising the directors "final Cut" ( See Orson Welles) . Combined with the technical advancements and an ever increasing demand of the audience for more realism, preferred to studio reconstructions, Hollywood studios were to look for more and more exotic landscapes throughout the World, also enabling them to have access to cheaper labor and free from Union Strikes during filming. This also meant that the production had to accept local customs and life styles which could sometimes hurt the ego of some Stars .

Although less active on an International scale as most European films, or accessible to the Arab speaking world as was the case for the rich Egyptian Cinema, the "Persian speaking", Iranian film industry also welcomed Co-Productions involving American or European Studios, especially from the early seventies when Iran's image was that of an "Island of Stability" in the Middle East inflicted by the Israeli-Arab conflict and International terrorism perpetrated by the PLO (as during the Munich Olympic Games of 1972, where Israeli Athletes were assassinated on the West German Sport Complex Campus) and often connected to radical European mercenaries as the "Baeder Meinhoff" or the "Red Brigade". Also amidst US involvement in Vietnam, and Cold War tensions, Iran because of the Shah's pro-American policy was seen as one of the rare Asian countries reliable enough to attract many American and European businessmen, investors, and professionals of the Movie Industry looking for new opportunities in a country where they were often warmly greeted.

The first Tehran International Film Festival was held in 1972, one of only half a dozen recognized by the International Federation of Film Producers' Associations. It was held every year in late autumn and had firmly established itself as a major show-piece for Asian and Third World films, and its "Golden Ibex" awards attracted the world's top film-makers.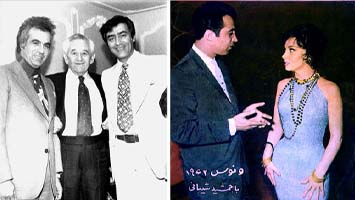 Left "Ben Hur's"(1959) director William Wyler (center) surrounded by two prominent Iranian Stars Malek Moteie(Left) and Fardin (Right) in the early 70's.
Right Film critic Jamshid Sheibani interviewing Gina Lollobrigida on her film "Venus 1962"


It was therefore common to see Hollywood Stars visit Iran in order to promote their films on Iranian television and media or to be invited to preside or participate as guests of honor at Iranian Film festivals as was the case for Christopher Lee, Gina Lollobrigida, Anthony Quinn, William Wyler , Jennifer O'Neill, Peter Graves, Danny Kaye, Dean Martin and Pal Jerry Lewis, or Amish singer Donney Osmonde. While Jane Fonda was to make newspaper headlines as "Hanoi Jane" in support of the Vietnamese guerrilla, her father Henry Fonda could be seen honeymoon in Isphahan with his second wife. Pop Artists were to see in Empress Farah the former Art Student a new inspiration as was the case for Andy Warhol or Yves Saint Laurent: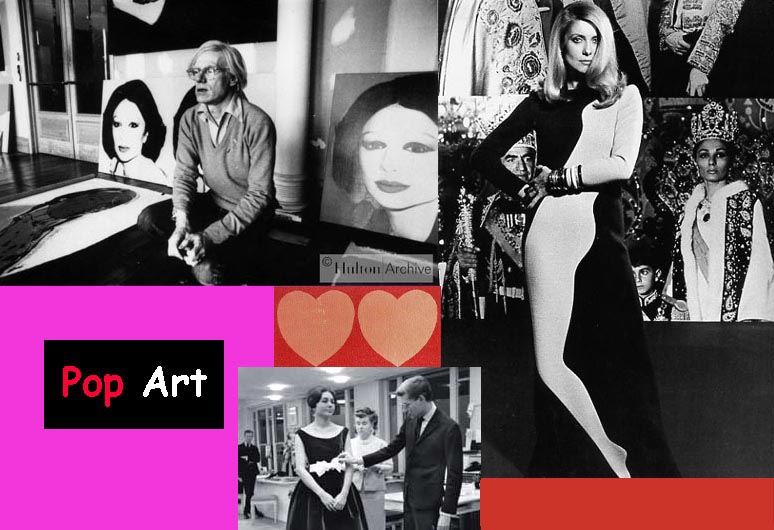 Left Andy Warhol and "Farah" Painting, Center Bottom November 1959 Paris Yves Saint Laurent and Farah Diba , Right French Star Catherine Deneuve Shows Off with an Yves Saint Laurent Robe for Helmut Newton in front of an official portrait of the Coronation of 1967.


Such international exchanges between Iran and the West, nevertheless led to some interesting Co-Productions, which are regarded today either as artistic accomplishments, or simply as good entertainments involving some of Hollywoods Greatests names like Orson Welles, or Max Von Sydow, James Mason or Anthony Quinn.

List of Hollywood-Iranian Co-Productions:

"The Invincible Six"/"Ghahremaanaan" 1969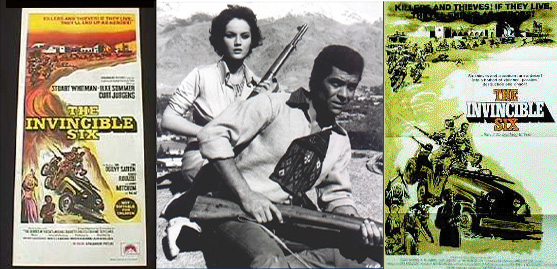 One of the first Iranian-American Co-Productions starring Behrouz Vossoughi "The Invincible Six" (aka, "Ghahremaanaan") 1969.


Synopsis:

Based on the novel "The Heroes of Yucca," by Michael Barrett "The Invincible Six" features a ragtag group of thieves who after failing in stealing Iran's Crown Jewels become the unofficial guardians of a small Iranian village. When bandits attack the village, looking for the body of their former leader and his treasure map, the Invincible Six are there to save the day, wooing the local females and frustrating the new leader of the bandits.

Vossoughi was one of the first major Iranian Star's to take part in a story similar to "The Magnificent Seven" set in Iran adventure film in 1968, "The Invincible Six" starring a heteroclite cast which included Curd Jurgens, who was to play in two more films set in Iran, Elk Sommer,Ian Ogilvy, Stewart Whitman, Pouri Banaii, and Homayoon Bahadoran. And strangely even Rudolf Nureyev was used as choreographer for certain scenes. (See Iranian Poster "Ghahremaanaan")


"And Then There Were None" (aka "Ten Little Indians") (1974)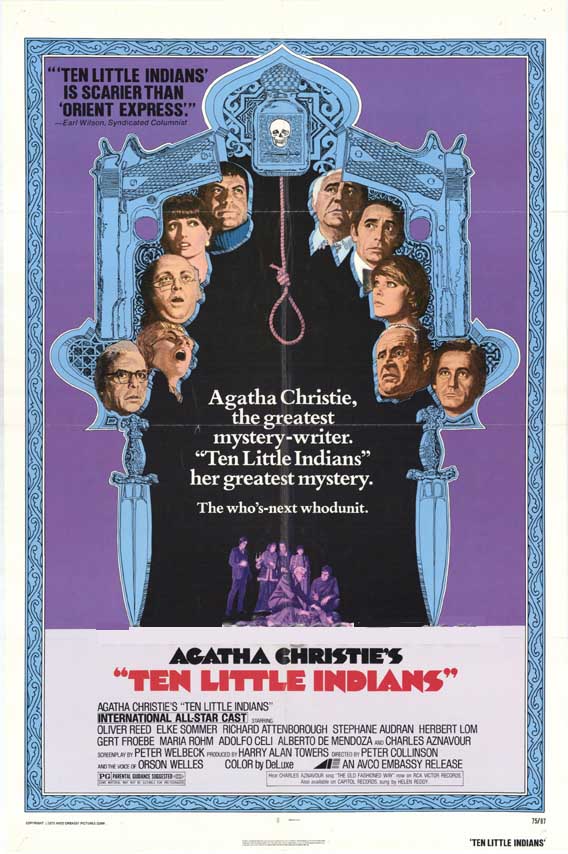 English poster release of the Third remake of Agatha Cristie's Thriller (1974) with Oliver Reed, Richard Attenborough and Charles Aznavour



Synopsis:

"In this third remake of Aghata Cristies novel, the group of Ten people is invited, under false pretenses, to an isolated hotel in the Iranian desert. After dinner, a cassette tape (voiced by the legendary Orson Welles) accuses them all of crimes that they have gotten away with. One by one they begin to die, in accordance to the Ten Little Indians Nursery rhyme. After a search is made of the hotel, they realize that the murderer is one of them. A few members of the group attempt to trust each other, but the question still remains, who can one trust? and who will leave the hotel alive? "




Inside Shah Abbas Hotel served as the splendid settings to the 1974 film


This British and European Co-Production Shot in one of Isphahan's most beautiful and luxurious Hotels the "Shah Abbas" , is another screen adaptation of one of Agatha Christie's most famous 1939 novel "The Ten Little Indians"/ aka "Ten little Niggers" . Iranian Star Nasser Malek Motei plays the role of the inspector along with European Stars Charles Aznavour, Oliver Reed and Richard Attenborough. The film is good entertainment and will certainly please anyone who has visited the superb Shah Abbas Hotel.

French Armenian Crooner Charles Aznavour ( real name :Chahnour Varenagh Aznavourian) who was Truffauts hero in "On a tiré sur le pianist" (aka "Shoot the piano player") seems to enjoy parodying himself as "Michel Raven" the often drunk pianist (see Memorable Quotes )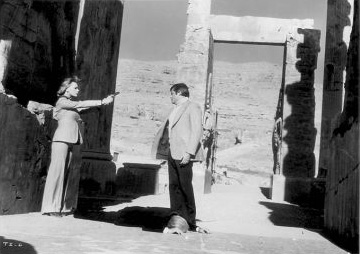 Tough Times in Persepolis: Hugh Lombard (Oliver Reed) threatened by Vera Clyde (Elk Sommer) in Peter Collinson's film (1974)

Agatha Christie ( 1891-1976) who spent some time in Persia ( See Dark Emerald by Cyrus KADIVAR ) with her fist husband archeologist Max Mallowan, must have certainly be amused by some of the geographical liberties taken in the script such as having some characters getting out of the Hotel and finding themselves in Persepolis which is actually an hour away by plane South of Isphahan.


"THE DESERT OF THE TARTARS / Il Deserto dei Tartari" (1976)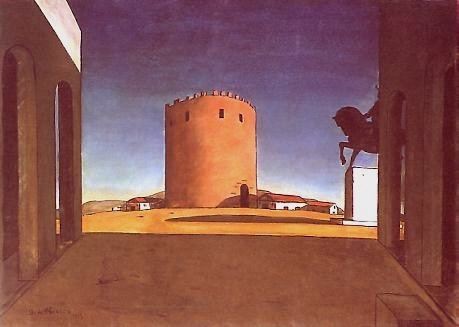 In the mid seventies French actor Jacques Perrin who had bought the screen rights to an Italian novel by Dino Buzzati "THE DESERT OF THE TARTARS / Il Deserto dei Tartari decides to make the film adaptation with the help of Iranian Producer Bahman Farman Ara help and financial backing.

Synopsis:

Valerio Zurlini's melancholy final film (1976) is a psychological drama about a pan-European group of officers, stationed at an outpost along the eastern edge of the Austro-Hungarian Empire, who cling to the rigid military values of a crumbling order as they await an enemy that may not even exist. Using an austere, almost abstract mise-en-scene (distinguished by Luciano Tovoli's stark cinematography), Zurlini parallels the labyrinth of the soldiers' sandstone fortress with their interior state, an unbearable ennui that ends only in self destruction or death.

A film over two hours long set in a remote desert fort, with an all male cast and no action, may seem a daunting prospect, however THE DESERT OF THE TARTARS is a strikingly memorable experience.

Italian author Dino Buzzati famous tale had tempted many filmmakers such as Michelangelo ANTONIONI , David LEAN , Luchino VISCONTI , Pierre SCHOENDORFFER , or Jean-Louis BERTUCELLI. Finally, thanks to the perseverance of Jacques PERRIN who held the rights of the novel the film adaptation was made possible. The direction was offered to his mentor Valerio ZURLINI who had already directed him in the 1960's années.

The characters are full of suppressed emotion and inner turmoil, the strange surrealistic fort a metaphor of their spiritual imprisonment, and the huge expanse of surrounding desert a tangent reminder, day by day, and year by year, of their fears and lost aspirations. Time passes imperceptibly, and a dashing young lieutenant, played by Jacques Perrin and surrounded by a stellar male cast, ages and weakens as the desert and the constraints of life in the fort strips away his physical strength and inner resolve. He yearns to free himself of the debilitating fort's influence, but finds himself transfixed by the mystical challenges of the landscape, and the perceived danger from the unseen enemy beyond.


Those who hope to find a spectacular Epic movie will be disapointed, but it will be certainly more appreciated by anyone interested in a psychological confrontation between actors who at the time had reached the summit of their art. The fable's plausible and Kafkaesque symbolism and situations are strong and odd against the mute question of death framing the entire film. In the barren fort of the hypothetical empire, above a ruined ancient city ravaged by marauders, the landscape of mind that Drogo (Jaques Perrin ) finds in this society of men is the only comfort and diversion to be had. Max von Sydow's Hortiz, who initially seems slightly insane, carries the lengthy film through its more pensive or absurd moments with a strange, convincing performance. Philippe Noiret's august General is a quiet master of the powerful forces at work through their travails, drills and inflammations. Set against Drogo's gradual aging process are brief moments that mark out new dimensions to his character, through a few well-turned words or a quiet expression. Notwithstanding a length that makes the end a long time in coming, the large star cast gives unfailingly good performances and the quality of the filmmaking is excellent using an Exemplary color widescreen photography and aided immeasurably by the haunting musical themes written by Ennio Moricone. Also Two Iranian actors were cast in this film :Shaban Golchin Honaz as "Soldier Lazar" and writer actor Kamran Nozad ("Malakout" (1976) , "Ferestadeh" (1982)) is cast as "Captain Sern". The Film won the "David Di Donatello Award" for "Best Film" and "Best Director" on the 22nd edition (1976-1977) of the Italian Film Festival.

It is the Italian Painting by Giorgio de Chirico: "La Torre Rossa" that convinced the Italian filmmaker and production to shoot the film on location at the famous Fortress of Bam. Located in southeastern Iran, 200 kilometers south of Kerman, the ruined city of Arg-e-Bam is made entirely of mud bricks, clay, straw and trunks of palm trees. The city was originally founded during the Sassanian period (224-637 AD) and while some of the surviving structures date from before the 12th century, most of what remains was built during the Safavid period (1502-1722). The citadel of Bam which looks like a Gigantic Sand Castle has become one of the major attractions In Iran for film buffs and for tourists often surprised to find the original settings of the 1976 film on the touring agendas proposed by the Iranian Tourist industry.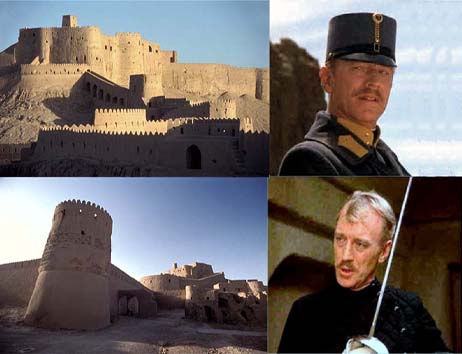 "PEOPLE OF THE WIND" (1976)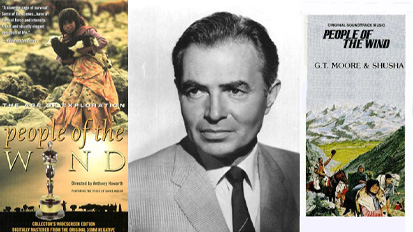 Oscar nominated for 1976 Best Documentary "People of the Wind" narrated by James Mason (photocourtesy Tapeworm Studio) and music score by Shusha Guppy.


Synopsis:

"A documentary narrated by the splendid voice of James Mason on the yearly migration of a Bakhtiary Tribe through the hostile mountainous landscapes of Iran."

In 1975 precisely fifty years after Merian C. Cooper and Ernest B. Schoedsack's 1925 Odyssey 'Grass: A Nation's Battle for Life' , about the Bakhtiary tribes daunting journey through the often dangerous precipices of the Zardeh Kuh mountain and into the icy waters of the Cholbar river.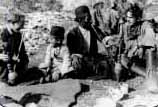 Merian C. Cooper and Earnest Shoedsack in the classic 1925 Documentary "Grass" on Bakhtiary Nomads, they later created their own company and produced the classic King Kong in 1933.


Anthony Howarth and David Koff decide to pay tribute to their daunting predecessors in another Documentary illustrating the same journey, only the reverse trip. This time in color this beautiful documentary entitled « People of the Wind » shot in 1975 and released in 1976 allowed the film crew to focus on one particular tribesman leader of the Babahdi tribe whose words, translated into English and read by the actor James Mason, tell the timeless story of the great migration. The film was nominated for best documentary at the Oscars in 1976 and Shusha Guppy composed the music score.

The film 'Grass: A Nation's Battle for Life' was also to inspire Iranian anthropologist and filmmaker Fereydoun Safizadeh documentary film on "The Shahsavan nomads of Iran" in 1978 with the help of NIRT . The project however was partly interrupted due to the Revolution of 1979 and could only be edited recently. Another documentary on Iran seen by sky entitled "A Lovers Wind" was also nominated for best documentary at the Oscars in 1979.


"CARAVANS" (1978)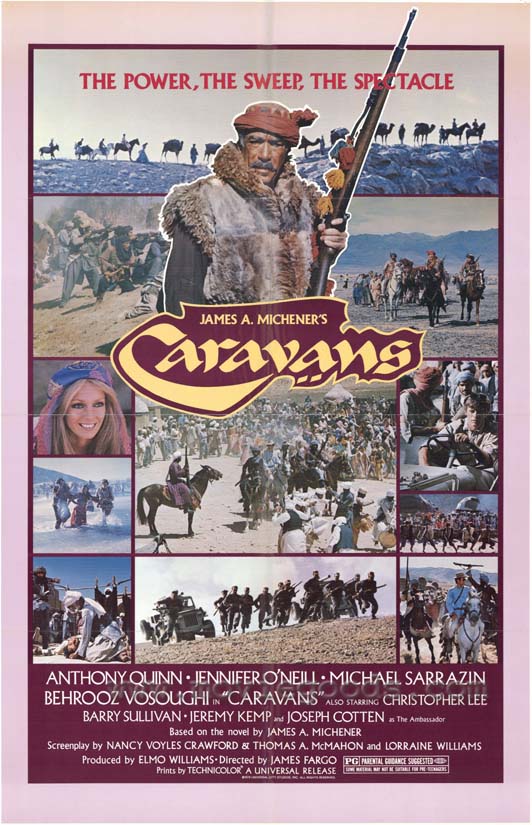 Left Cast Anthony Quinn, Jeniffer O'Neal, Michael Sarazzin, Christopehr Lee, Joseph Cotten and Barry Sullivan. Rigth Center Iranian Star Behrouz Vossoughi (Colonel Nazrullah) and Anthony Quinn (Zulfigar) in a scene from Caravans, Left Below Soundtrack of Movie, and the two stars on relaxing on set. Center Poster of 1978 film Far Right Caravans the Novel.

"Caravans" (1978) directed by James Fargo, distributed by Universal Studios and Iranian co-producer Bahman Farman Ara starring Joseph Cotten, Christopher Lee, Jennifer O'Neill, Anthony Quinn, Michael Sarrazin, and Behrouz Vossoughi.

Synopsis:

"In 1948, a young diplomat,Mark Miller ( Michael Sarrazin ) is given a dangerous assignment. Ellen Jasper (Jennifer O'Neill) is the daughter of a prominent U.S. politician who has married Nazrullah (Behrooz Vosoughi), an Afghan colonel. However, she's fallen in love with Zulfigar (Anthony Quinn), a Bedouin rebel leader, and has run off with him. Miller is instructed to find Ellen and bring her back to the United States, and while he's able to complete the first part of his assignment, Ellen simply refuses to leave Zulfigar's side " searches the desert for a politician's runaway daughter and Zulfigar ( Anthony Quinn) her Bedouin lover."


In "Caravans" Anthony Quinn is said to have taken his role to heart and refused to be treated as a Star on the Set. He even decided to refuse the costume designed for him as the Bedoin "Zulfaqir" and went to purchase his costume among traditional clothes sold at local Iranian Bazar . A gesture also appreciated by his Iranian co-stars like Behrouz Vossoughi. Caravans is a good movie, and was based on James A. Michener novel of the same name.
"Caravans" was to be the last major Western co-production with the Iranian Film Industry involving Iranian Stars with an International Cast and to be shot on location after the "Desert of the Tartars" (1976)and the Agatha Christie thriller "And Then There Were None" (1974).


"TEHERAN '43: SPY RING" ( 1979/released 1980)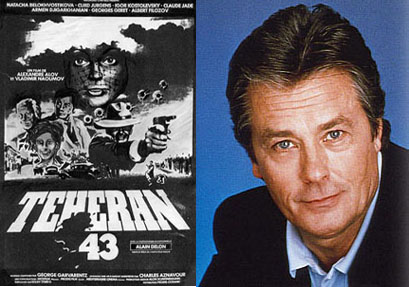 French-Soviet Film "Tehran '43 Spy Ring" with Alain Delon ( © photo Alain Delon Diffusion SA) as co-producer and actor. Parts of the film were initially to be shot in Iran


Synopsis:

"In the late 70's soviet agents are trying to find WWII documents revealing the Nazi's plot to kill the Big Three at the Teheran Conference, and which appear as compromising for some influential and powerful personalities, who happen to be linked to those agents still alive..."

This Franco-Soviet film "Tehran '43 Spy Ring" with French Stars Alain Delon, Claude Jade and once again German Star Curd Jurgens ( It was also to be his last film) was to be partially Shot on location in Iran with Russian and Iranian actors. Due to the political upheavals of 1979 however, the film was finally shot in the Soviet Union, where sets quite faithfully recreated parts of the Iranian Capital during World War II and used some Farsi Speaking people as extras. The film was a political thriller about the Nazi plot to eliminate the Big Three during the Tehran Conference of 1943 and a love story between Russian agent André (Igor Kostolevsky), and a French Woman (Natalia Belokhvostikova) served as a background to the plot. Charles Aznavour composed the Music score "Une Vie D'Amour" for this movie. Unlike the "Cruise Missle" ( aka "Tehran Incident") mentioned above, this film tries to make the best out of an interesting plot, with some good performances by the Russian actors and an ever "narcicistic" but likeable Alain Delon, who was also a co-producer of this film.


However two other projects, deserve notice which were also to prove of great cinematic importance involving the Iranian Film Industry and another Hollywood Legend: Orson Welles, certainly one of the 20th centuries most prolific artists.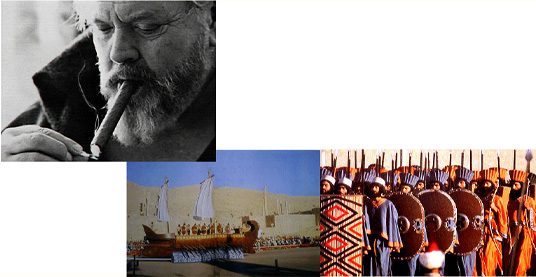 Orson Welles (1915-1985) in his last years and Imperial Iran's "Epic" response to Hollywood : The Persian Empire narrated by the Hollywood maverick in October 1971

With "The Touch of Evil" Orson Welles hoped to make a comeback in Hollywood and had accepted to direct Charlton Heston( who had suggested Welles in the first place) and Janet Leigh. But the commercial failure of the film in the US was to definitively undermine Welles credibility among major Hollywood producers. Although praised Worldwide by critics notably the French "Cahier Du Cinema", the "maverick" creator of such classics as "Citizen Kane" or the historic Radio Show "The War of the Worlds" was always trying to make ends meet and eagerly in search of financial backing for future films.

It was therefore quite an omen for him to be approached by the Iranian Government's Ministry of Culture in order to narrate an upcoming documentary film on the Persepolis Ceremonies held in October 1971, by the Shah of Iran.

He was therefore more than happy to participate to a project that could also open doors on eventual financial partners for his other ambitious projects. He was also to narrate an intimate documentary on the Persian Emperor in 1972 entitled The Shah of Iran directed by Walter Ellaby. The film was released again in 1980.

Welles was to finance two other films woth the help of Iranian Studios, "F for Fake" (1973) It starred himself as well as Joseph Cotten, and Jean-Pierre Aumont and Orson's last companion Oja Kojar and the "Otherside of the Wind" which was never completed nor released because of the Islamic Revolution. The whereabouts of this movie are a subject of debate and controversy.

A New generation of Iranians conquering Hollywood:




In the Spotlight: Darius Khondji (Cinematographer), Catherine Bell ( J.A.G heroine) Photo ©Gilles Toucas , and Omid Djallili (stand up comedian), or daughter of Reza Badiyi Mina Badyii . photo ©WireImage.com - Image courtesy Nadia Bjorlin, Marshall Manesh and Egyptian Co-Star Omar Sharif.

More than Twenty four years after the Revolution, It seems that Hollywood in return is having its share of influence this time from and by a whole new generation of Iranian's belonging to the Diaspora in exile such as: Omid Djallili, stand up British Iranian Comic has featured in blockbuster films like Ridley Scotts "The Gladiator", "The Mummy", "James Bond: The World is not Enough" British-Iranian Catherine Bell has become the major Star of the TV Series J.A.G, and French-Iranian Cinematographer Darius Khonji work is recognized for creating original lightings on films sets like David Finchers "Seven", Or "Evita" starring Madonna and Antonio Banderas, Nadia Bjorlin, who plays Chole in the TV soap "Days of Our Lives" , the fifth child of six born to world renowned Swedish Maestro Ulf Bjorlin and his Persian wife, Fary.

Marshall (Masha) Manesh often plays middle easterns or Indians in American series has co-starred with such greats as Omar Sharif, Sam Neave recently directed Robert Redfords daughter Amy and Marjan Neshat in his recent film "Cry Funny Happy" and the Hoomani Brothers-Ali and Mike-Azerbaijanis from Iran who have established businesses in Europe. Both brothers were educated in the U.S. Their cinema project ( production, distribution and Cinema constructions ) represents one of the first major foreign investments in Baku outside of the oil sector. The brothers first caught the movie "bug" while growing up in Iran, as their father owned several cinemas in Tehran and was the main distributor for Paramount. They helped the filming of scenes for the James Bond film "The World is not Enough" in Baku.

It seems also that films dealing with themes directly touching the Iranian Community in the United States are also inspiring some of these new filmmakers. "Maryam" (2001) directed by Ramin Serry is a beutiful film about the difficulties faced in the US by Iranian exiled family shortly after the Hostage crisis in the 80's. "Surviving Paradise" 1999 Starring: Shohreh Aghdashloo, and directed by : Kamshad Kooshan . 'The House of Sand and Fog' (2003) released by DreamWorks starring Ben Kingsley (Colonel Massoud Amir Behrani), Ron Eldard (Deputy Lester Burdon), Shohreh Aghdashloo( the Colonels wife), like the novel by André Dubus is set in 1991, thirteen years after the overthrow of the Shah of Iran in 1978, and also deals with the theme of exiled Iranians in America.


Nearly 19 years after the revolution, Iranian Cinema was to revive itself much like the pheonix from its ashes thanks to Abbas Kiarostami who was to recieve the Cannes Film Festivals most prestigious award "The Palm D'Or" from the hands of the French Star Catherine Deneuve.

However the international recognition of Kiarostami's work who had already been noticed a few years earlier with "Under the Olive Trees" at the Locarno film Festival in Switzerland, and got an important coverage in the "Cahiers Du Cinema" the prestigious French Film magazine was to boost the Iranian film industry and the ambition of Iranian directors as never before in its history. Mohsen Makhbalbaaf, and his daughter Samira ( the youngest filmmaker ever to receive an award in Cannes ( For the Blackboard), as well as Jafar Panahi, or English Iranian Rafi Pitts were to receive the honors and recognition of film festivals worldwide. In 1999 'The Children of Heaven' directed by Majid Majidi was even to receive a nominated at the Oscars.

Kiarostami was also to receive the UNESCO prize from U.N secretary Kofi Annan for his work where Children and their innocent view of life often represent the central theme of his filmography. Amidst this international recognition, Kiarostami was also going to pay an unforgettable and sensitive tribute to one of his peers: Behrouz Vossoughi.

In the year 2000 during the Ceremonies of the 43rd San Fransisco International Film Festival, Kiarostami was to surprise the audience, which included distinguished guest such as Clint Eastwood, and Martin Scorcese, by offering the SFIFF Award given to him to a grateful Vossoughi whose voice was choked by emotion. Kiarostami dedicated his "Akira Kurosawa Award for Life Time Achievement in Film Directing" to a "great man, good friend and above all the most powerful Iranian actor." When Behrouz Vossoughi asked Abbas Kiarostami why he gave this great award to him, the response was simple: "I didn't give you this Award, you took it from me!"

The Iranian Directors generous gesture symbolically united the two most emblematic living symbols of Iranian Cinema for the first time since the revolutionary purges summoned against Iranian Artists 20 years earlier. The years that had followed the revolution were for Behrouz Vossoughi who had tried painstakingly to find work in the United States, a humiliating experience for a once adulated Star. Often asked to appear in uninteresting roles cast as a "middle eastern terrorist", Vossoughi had gradually disapeared from the public eye. He made an interesting comeback recently in "The Crossing" an American film presented at the Rotterdam film Festival. The year 2000 also saw Vossoughi's former wife and often co-Star and Music Diva Googoosh make a noticed comeback after having spent 22 years in Iran away from the music stage.

This gesture was also a recognition by Kiarostami for the work done by all the artists, technicians, script writers and producers involved in the creation process, of Iranian Films past or present.

Hollywood and Western influences have left an enduring and lasting trace on Iranian Film even to this day. Paradoxically Cinema, the most rejected medium considered as a symbol of Western corruption by the Islamic government ideologues ( who for some time had named a Blind Mullah as head of the ministery in charge of Iranian movies ) has best served Iranians in their fight for freedom of expression. Very different in their approach than their predecessors Today's movie makers have nevertheless adopted the Cinema language and codes. This is probably best expressed in Mohsen Makhbalbafs "Salaam Cinema", or in his autobiographical film "A moment of Innocence" a Parabole on the Revolution which includes a scene in which the protagonists a Taylor and a former policeman share their memories of Hollywood classic film.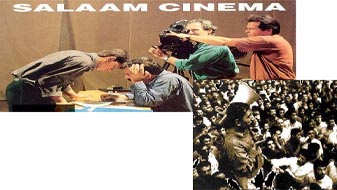 Mohsen Makhbalbaf director and actor in "Salaam Cinema" celebrating a century old Iranian Cinema.

One thing is certain however and that is that the work done by the peers of the movie industry in Iran, as well as the new generation of filmmakers have all paved the road for the Iranian Cinema to enter the 21st century and can proudly claim to have contributed each in their own way to the enhancement of an art form which is hardly a 100 years old even in Iran ...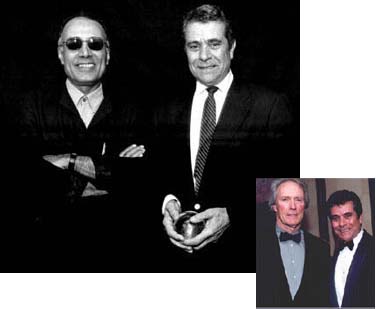 United at last Abbas Kiarostami (left) with Behrouz Vossoughi
Iranian film actor given SFIFF Award (43rd San Francisco International Film Festival) 2000 and Voussoghi with his American Role Model Clint Eastwood. © Behrouz Vossoughi



"In Italy for thirty years under the Borgias they had warfare, terror, murder, bloodshed--they produced Michelangelo, Leonardo da Vinci and the Renaissance. In Switzerland they had brotherly love, five hundred years of democracy and peace, and what did they produce? The cuckoo clock!" - Harry Lime (Orson Welles) in Carol Reed's 'The Third Man' .


Authors Notes:

The term "Hollywood" is used in this context as referring indifferently to both American or European films ( even if their are major differences between them )and television series. This article does not intend to cover the entire history of Iranian Cinema, for which a lot more can be said ( see below ) and many film titles have have been voluntarily ignored, It is about the influence of Western films (i.e: American and European) on the Iranian film industry and which among other influences (acting, fashion, music etc ...) have led to the co-productions mentioned here.

On films mentioned in article:

"The Desert of the Tartars" / "Il Deserto dei Tartari" Italy/France/West Germany 1976, 150 min. Director: Valerio Zurlini Based on the novel by Dino Buzzati, Starring Vittorio Gassman (Filimore), Giuliano Gemma (Mattis), Helmut Griem (Simeon), Philippe Noiret (The General), Jacques Perrin (Drogo), Francisco Rabal (Tronk), Fernando Rey (Nathanson), Laurent Terzieff (Amerling), Jean-Louis Trintignant (The Doctor), Max von Sydow (Hortiz), Shaban Golchin Honaz (Soldat Lazare), Kamran Nozad (Cpt. Sern) Music by Ennio Morricone.

"Poppies Are Also Flowers" (1966) Also called: "Danger Grows Wild","The Opium Connection", "The Poppy Is Also a Flower"

Full of stars, most of whom worked for scale to cut down costs. The cast included E.G. Marshall as the hero of the piece, Senta Berger, Stephen Boyd, Yul Brynner, Angie Dickinson, Hugh Griffith, Georges Geret, Jack Hawkins, Rita Hayworth, Trevor Howard, Grace Kelly, Jocelyn Lane, Marcello Mastroainni, Amedoe Nazzari, Jean-Claude Pascal, Anthony Quayle, Gilbert Roland, Harold Sakata, Omar Sharif, Barry Sullivan, Nadja Tiller, Marilú Toló, Howard Vernon and Eli Wallach.


"And Then they were None" (1974)

An "All Cast Star" Vehicle directed by Peter Collinson starring Charles Aznavour, Nasser Malek Moti-i, Oliver Reed, Richard Attenborough, Orson Welles (voice), Elke Sommer and Herbert Lom based on Christies classic novel "The Ten Little Indians" and for which the film production used the settings of Shah Abbas hotel in Isphahan as well as in Shiraz and Persepolis.

Hotel Shah Abbas was renovated under the Supervision of DR. Farhang Mehr from a 350 year old hotel (built at the time of Shah Abbas -- Safavid Dynasty) to a modern one. The furniture in particular imitated those of the Persian Monarchs seen on relics at Persepolis. It has kept the features of the old Mehmanssara (Hotel) and portrays many traditional Isfahani Architectural and artistic values.


Some of the films mentioned in this article are available on amazone.com or imdb.com

Prominent Iranian film critics:

Fereydoun Hoveyda Iranian ambassador to the UN before the 1979 and brother of the late and-illfated Amir Abbas Hoveyda was a keen movie goer since his student days in Lebanon. In 1953 as member of Department of Mass Communications of Unesco, His french education in the Lebanese Capital and genuin interest in movies were to allowed him to meet many filmakers the French New wave such as Claude Chabrol , Roberto Rossilini( with whome he wrote a film script for INDIA), André Bazin or François Truffaut and became an contributed with many articles on movies and film theory to film magazines such as the French "Les Cahiers du Cinema" . His website contains some interesting pictures with American stars such as Paul Newman or Robert de Niro. (See section on The Cinema and F. Hoveyda on this page takes a few minutes for the Java applet to load the menu). He recently published "The Hidden Meaning of Mass Communications: Cinema, Books, and Television in the Age of Computers"

Siamak Pourzand the 70 year Old Iranian Dissident held in Prison by Islamic Authorities was also a movie critic who interviewed prestigious directors like Alfred Hitchcock, and befriended François Truffaut.



Miscellanious:

A BRIEF CRITICAL HISTORY OF IRANIAN FEATURE FILM (1896-1975) by Reza Talachian

Iranian Cinema: Before the Revolution by Shahin Parhami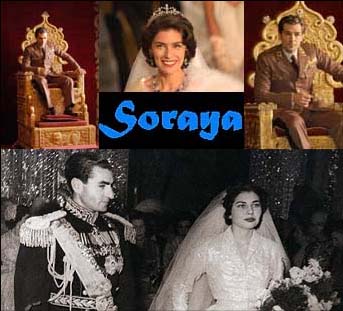 (Top) Rare stills of upcoming film on "Soraya"( 2003) with Anna Valle and Erol Sander in the title roles ©Katharina Doerk action press. (Bottom) The Royal Wedding on 12 February 1951.


"Soraya", ( See pictures ) a tv film ( see imdb )dedicated to the "sad princess" Soraya Esfandiary. It's produced by Luca Bernabei for Lux Vide together with France and Germany, and is directed by Lodovico Gasperini, while the screenplay is a collaboration between the Americans Jacqueline Feather and David Seidler. Anna Valle will be playing Soraya, alongside Erol Sanderas the Shah, Claude Brasseur as Prime Minister Mossadeg, and Michele Placido in the role of Enrico Mattei. The shooting will take place between Turkey, Morocco and Bulgaria. ( See article). Also Erol Sander ( German Turk) is the second western actor to portray the former Persian King, The first being French Star Daniel Gelin in Iran: Days of Crisis (1991) (TV) and Empress Farah was played by Marianne Borgo.

Step Sister of actress Jennifer Jason Leigh See more of her on imdb