The beauty of a woman is not in a facial mode, but the true beauty in a woman is reflected in her soul. It is the caring that she lovingly gives, the passion that she shows.


sent by : Sadaf Kiani

March 8th, International Woman's Day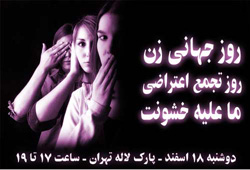 An Interview with Jamileh Davoodi,
One of the founders of Zanan Organization of Northern California
by: Shirin Tabibzadeh

Author fights for women's rights in her native Iran

Azar Nafisi is uncomfortable with conformity.

She was expelled from her teaching job at the University of Tehran in 1981 for refusing to wear the mandatory Islamic veil. In 1995, she resigned from a teaching job at Allameh Tabatabaii in Tehran, where she had been wearing the veil incorrectly, rather than bow to pressure to change.

Arab Women Rise
Regarding Rainia
Stepping out of her gunmetal-gray SUV and striding into the compound of Amman's Kamalia School for Girls, Rania al Abdullah doesn't fit the prim, circumspect image of an Arab Queen. For one thing, she's wearing a snug-fitting metallic gold top, matching pants and two-inch heels, and her mane of glossy brown hair brushes across her shoulders as she walks.

Afghan ruling council gets earful from one of its few female delegates
While an online news story said she caused a controversy that "threatened to overshadow the work of the council," reporters Bashir Gawkh and Danish Karokhel, writing for the Institute for War and Peace Reporting (IWPR) project, filed an Internet report observing that Malalai had "broken through the wall of silence for ordinary people" and captivated regular Afghans who had not cared much about the business of this loya jirga.

A measure of Islamic fundamentalistsí success in controlling society is the depth and totality with which they suppress the freedom and rights of women. In Iran for 25 years, the ruling mullahs have enforced humiliating and sadistic rules and punishments on women and girls, enslaving them in a gender apartheid system of segregation, forced veiling, second-class status, lashing, and stoning to death.

An interesting article on the latest Hejaab regulations in public schools in France

Women in Iran Deem Rape Laws Unfair
In Iran, if a woman is raped, she is considered an adulteress and faces death by stoning. But if a woman fights off a sexual predator and kills him, she can then be tried for murder and face death by hanging.

Omanis Vote in Their First Free Election
Some 506 candidates, including 15 women, were running for seats in the 83-member council, which has no formal powers but is consulted on new laws and economic policies. Sultan Qaboos announced universal suffrage late last year, joining other regional states that are introducing democratic reforms. Hundreds of voters, including women, formed long queues in the capital Muscatís polling stations. Observers noted that the turnout was bigger than in previous elections.

Shortage of Women in East Germany Causes Turmoil
By Erik Kirschbaum
LIEBENTHAL, Germany (Reuters) - A steady exodus of educated women is worsening a gender gap among eastern Germany's young and could be sowing the seeds of social upheaval.

Women in Iran

SHIRIN EBADI, this year's winner of the Nobel peace prize, is the sort of woman?assertive, severe and frighteningly well-versed in Islamic and western law?that Iran's conservative establishment cannot stand. A judge under the monarchy, she did not follow colleagues to overseas refuge after the revolution, but stayed on as an advocate, fighting cases of political murder, repression and domestic violence. A defender of Islam, she wrote learnedly about women's and children's rights under Islamic law. She lost most of her high-profile cases, but survived. Overnight, she has become a celebrity.

The Moroccan King, Mohammed VI, has announced a landmark reform to the law over women's position in the family.
The changes to the personal status code would give women greater rights on matters covering marriage and divorce. The King said the measure, which is expected to be approved by parliament soon, was designed to end "the iniquity weighing on women". But he has had to tread a fine line in what is a very controversial subject.

Another honor kiling in London
WorldNetDaily

A Muslim Kurdish refugee living in the UK was sentenced to life in prison today after being convicted of murdering his 16-year-old daughter because she had started a relationship with a Lebanese Christian boy and had become too "westernized."