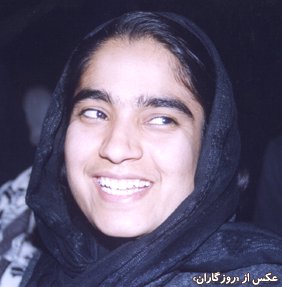 Afghan ruling council gets earful from one of its few female delegates

PakTribune, December 31, 2003

Kabul, January 01 (Online): Malalai Joya represents a new year and a new time on the rise in Afghanistan. She is a 25-year-old Afghan woman elected in Farah province as a delegate to the constitutional loya jirga, or grand council, where she has fearlessly made her voice heard.
Malalai did not become a media story because of what she was or was not wearing on her head or her body. She describes herself as "a Muslim, a person who has suffered and the delegate of a distressed nation.".
She is not a token delegate but a woman who grew up in her country's 24 years of devastating war and claimed her place at the loya jirga as a different kind of fighter who has earned her leadership.
Born, raised and educated through high school in Farah, she runs literacy classes, a health clinic and a day care center and distributes food and medicine through a charity.
She has lost relatives in the years of conflict, and her father, an educated man, lost a leg fighting the Soviet Union in Afghanistan. Her mother, she says, suffers from depression.
Four days after the grand council, with its 1,000-year history, began wrangling over a new constitution, she challenged the legitimacy and legality of some men on the council.
The mujahedin, or freedom fighters, started out fighting Soviet invaders and finally ousted them in a long and brutal war.
But after those heroic days, they continued fighting with each other in a civil war. After 20 years of war, Afghans remain the largest refugee group in the world.
"These (men) were those who turned our country into the nucleus of national and international wars. They were the most anti-women people in the society who . . . brought our country to this state and they intend to do the same again," Malalai said.
Her head was properly wrapped in a scarf to match her gown. She stood to deliver her scalding words from the appropriate women's section of the big white tent the council meets in.
She talked about the violation of Afghans by Afghan leaders who continue to tear down the already war-devastated country and its "bare-footed Afghan people.".
She said they should not be representatives and heads of committees at the loya jirga, but instead should be tried in national and international courts for their crimes.
While an online news story said she caused a controversy that "threatened to overshadow the work of the council," reporters Bashir Gawkh and Danish Karokhel, writing for the Institute for War and Peace Reporting (IWPR) project, filed an Internet report observing that Malalai had "broken through the wall of silence for ordinary people" and captivated regular Afghans who had not cared much about the business of this loya jirga.
Malalai's story did not make the front pages of the Western press or receive anything like the importance that it merits. However, the coverage of Malalai opened a window on the possibilities of Afghanistan's future as a civil society.
THE IWPR reporters worked both sides of the story as they captured a twentysomething Afghan woman leader saying that Malalai's speech was "absolutely correct. These mujahedin blew Kabul city to pieces in the civil war.".
A 20-year-old man told the IWPR reporters that he had heard Malalai's speech on the radio and she had "pulled back the curtain to expose the facts." On the other hand, of course, she was denounced by some men and women for being out of place as a woman.
Loya jirga chairman Sibghatullah Mujadidi tried to throw her out of the assembly but had to back down because other delegates, including women, protested.
Abdul Rasul Sayyaf, a commander accused of human rights atrocities, according to The New York Times, accused Malalai of being a communist and a criminal.
Malalai has been placed under the protection of the United Nations and government forces for the remainder of the loya jirga. Malalai told IWPR reporters there are others like her, but they are afraid to speak out; she hopes her courageous voice will help.
"I said the facts; I defend it and I reckon that this is my proven right. Even if it costs my life, I will defend my speech," Malali said.
According to the United Nations, there are 30,000 widows in Kabul. The National Council of Churches says there are 700,000 widows in Afghanistan, which has a population of 25 million.
The maternal mortality rate is 1,700 per 100,000 births; one woman dies every 30 minutes of pregnancy-related causes. UNICEF says half of all children are stunted in height for their age.
The next time international powerbrokers meet to discuss the fate and the future of Afghanistan, there can be no legitimacy to that gathering without including women like Malalai.