Rozaneh
March/April 2005

Editor and Web Designer: Shirin Tabibzadeh, English Lit., Comparative Lit. and Computer Sciences.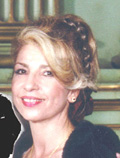 Associate Editor::
Ahou Tabibzadeh, Fine Arts and Audio Video Eng.

Associate Editor:
Maryam Tabibzadeh, J.D. (Esq.)
Co---
Contributors
With Our Sincere Gratitude
Banrnhardt, Melinda
Davoodi, Ramin
Doostkhah, Jalil
Homayoun, Dariush
Imani, Amil
Kadivar, Cyrus
Kaveh, Farrokh
Kiani, Sadaf
Maskanian, Bahram
Nahavandi, Houshang
Sanjari, Kianoush
Shahrokh
ShAhin
Write to Us
**************************************
Copyright © Shirin Tabibzadeh, Cupertino, 2000 -2003
Rozanehmagazine is not responsible for the opinion expressed throughout its pages
and/or the content of the Sites to which it is linked.