Remembering Dr. Leonardo Alishan,
the talented, down to earth, almost genius writer, teacher, poet, literary critics of Armenian Iranian origin who lost his life in a horrific house fire in Salt Lake City, Utah in January 2005
His friends say, life is not the same without "Nardo"
I met Dr. Alishan once, years ago, in Salt Lake at a friend's house. I had heard a lot about him and had already read some of his works. When he entered and was introduced I was a little surprised. He was a young man, petit and slim, and did not look at all like a university professor. He was down to earth but obviously very smart. His friends, mostly some young men from Kurdistan teased him about different inssues including his mild Armenian accent and laughingly attacked him with some Armenian jokes. They could not defeat his spirit, he knew how to respond to them, one by one, with his sharp tongue and with his to the point counter-attacks. I always remembered him just by seeing once so the news was such a shock for me as only someone who had a lot of respect for him and who loved his delicate in-depth knowledge in different fields. God bless his beautiful sensitive soul>>>Shirin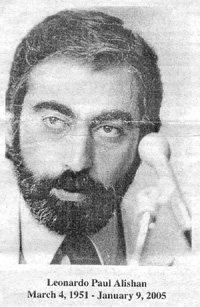 One of his friends Sharokh remembers him:
I first met Dr. Leonardo Alishan in 1980 when I was contemplating further graduate studies in Middle East Studies. I found him, as you put it, a "talented, down to earth, almost genius" academician who had the makings of becoming an internationally respected literary figure of 21st century Iran. Nardo, to his friends, was born in Tehran on March 4, 1951. He graduated from the National University of Iran and received his Ph.D. in comparative literature from the University of Texas at Austin. He was an accomplished university professor having taught Persian and comparative literature at the University of Utah from 1978 to 1997. Nardo enjoyed teaching and spending time with his students. His students admired his deep knowledge and warm personality and voted him twice distinguished professor at the University of Utah. Nardo also received a faculty fellow award from his colleagues at the University.
Nardo was an accomplished writer, researcher and poet and received several awards for his literary works. He also authored several academic articles and papers covering traditional and modern Iranian poets and writers. Additionally, he published two books of poetry, "Dancing Barefoot on Broken Glass" and, "Through a Dewdrop". He lived literature. His sudden and tragic death is a big loss to contemporary Persian/Iranian and Armenian literary communities in the USA and abroad, and it is indeed sad to not have Nardo with us anymore.
Nardo wrote all his poetry in English. Below, please find some of his poetry plus a book review on "Through a Dewdrop".
The Game
When papa was in a good mood
he played hide and seek
with my little brother and me
in grandma's huge orchard in Isfahan.
Sacco hid the best.
Papa, the worst. And I
didn't like to hide at all.
But we were together and it was fun.
We went on playing
as the years went by. One
hid in England, one in America,
and papa stayed counting in Iran.
Then we found each other again
and again we played.
But there was a problem now:
whoever hid, could not be found again. . .
Oh, my most beloved ghosts,
this is your brother, this is your son,
and I'm done counting!
Ready or not, here I come.
****
Burning Bush Publications is proud to announce the winner of the People Before Profits Poetry Prize, 2003: Leonardo Alishan for "Tired Thoughts."
Tired Thoughts
Leonardo Alishan
They have buried ten million mines
in Afghanistan, one land mine
for every two or three Afghans,
regardless of age or ethnic background.
They have planted death in the womb
of the mother. Prosthetic limbs are airdropped
with food. They have planted a mine
under God's pillow and his dreams of doves.
Every night a new dark dream spreads
its wings in my sleep. This morning I woke
with a throbbing headache. I woke tired.
I had defused or detonated mines all night.
A dream so real, I checked my limbs.
They were still mine. A dream so dark
I checked my heart. God was still there.
But also still mine and also still there
was the problem of ten million mines,
ten million limbs, ten million lives, ten million
dreams, blown apart in the heart of a God
who plows with the farmers and lives in my heart.
***
BOOK REVIEWS
Jane & Werner Reichhold
Through a Dewdrop, a collection of haiku, senryu and tanka by Leonardo Alishan. Published by Open Letter, 1208A East Lexington Drive, Glendale, CA 91206, ISBN: 0-9672751-3-X. Perfect bound, Smythe-sewn, 5.5 " x 4", 102 pages, $5.00.
Leonardo Alishan, born of Armenian parents in Tehran, Iran (in 1951) and who, until recently, taught Persian literature and comparative literature at the University of Utah in Salt Lake City, brings a very special perspective to the Japanese genres in which he is now writing. Readers of ghazals will recognize that whiff of the exotic in Alishan's perfectly executed haiku. A subtle blending of cultures occurs which makes his work even more valued and special and therefore – authentic. In adopting new forms, he remains true to his heritage and background by bending the spirit of the form to fit him instead of folding himself and his impressions into Japanese poetry. There is a very fine line there that is too often ignored by non-Japanese who become enamored with this new, to them, poetry. Some persons can write, in English, a fine imitation of what the Japanese have done. Too often prizes are given for this level of work. Much harder to accomplish and even more difficult to have accepted is the poetry that works with Japanese genre techniques but shows that the author was true to herself or himself for inspiration and understanding of the relationships of phenomena.
with the sonic boom
of jet aircraft you explode
in my mind
ten thousand birds scatter in flight
abandoning their nests for life
every day
under the weight of snow and ice
another of her branches break
soon
my mother alone will be left
Even the layout of this gentle book, shows an old-world courtliness and respect for the poetry by enclosing each poem, printed one to a page, in a fine, lined representation of a photo in an album. It is as if the editor understood that each poem is a picture, not only of the author and his life, but also of a reality. More than the blank space of the ivory pages, this detail raises each vision slightly above the previous one.
Leonardo Alisham's previous book was Dancing Barefoot on Broken Glass, which appeared in New York in 1991.
*******
Someone gave me a book of poems called Through a Dewdrop by Leonardo Alishan a few years ago. I've come to know each of the haiku, senryu and tanka in a truly personal manner. In posting these, I have a feeling that Zach is going to take the most critical (pure semiotics critic-al. as in critique them. no negative context implied) eye to them. Let me know what you all think ... and even better, if you have a chance pick up the book.
***
always drunk
and asleep before me
my guardian angel
***
my heart is haunted
whoever moves in
immediately moves out
***
A Ming vase wrapped in straw:
you
and the value of my embrace
***
no need to comb or shave or change
madness loves me
just the way I am
***
the ladybug
tells me
there is a God
but she offers
no corroborating evidence
***
you were
my full-length mirror
the closer I come to you
the less
I saw of myself
***
some don't take their pills
others want more
some want to stay insane and others
to forget they are
I just write I am I am I am
***************
'Always Drunk and Asleep Before Me, My Guardian Angel'

Leonardo Alishan wrote those lines five years ago. He died in a horrific house fire last Sunday, at the age of 53.
By Jenny Kiljian
Celebrated poet Leonardo Alishan died on Sunday, January 9, when a fire tore through his Salt Lake City, Utah home.
Born in Tehran, Iran, Alishan came to the United States in 1973 for graduate studies. Alishan married Neli Assadurian in 1974, and had three children, Michael, Ara, and Eileen. The couple were later divorced in 1993 but remained friends.
Alishan earned a doctorate in comparative literature from the University of Texas at Austin before moving to Utah, where he taught Persian literature and comparative literature for twenty years at the University of Utah.
He published two books of poetry. Dancing Barefoot on Broken Glass was published in 1991, and Through a Dewdrop?a collection of haiku, tanka, and senryu?in 2000. He also contributed his poetry to literary journals, including the Burning Bush and Aspora.
His poems explored love and romance, the Armenian genocide, and feelings of isolation. Many people have characterized Alishan's work as being distinctly Armenian in feeling, even though the poems are in English. Alishan focused heavily on his grandmother, a genocide survivor who took care of him in his childhood. Her hands figure as a central motif in several poems from Dancing Barefoot on Broken Glass. Those who knew Alishan are reeling from the news of his death. "It's a terrible loss," said his friend Ara Oshagan, who interviewed Alishan in the early nineties for the Asbarez newspaper in Los Angeles. "We don't have that many accomplished poets in the English language and he was definitely one of them, both widely published and recognized. It's a great loss to Armenian letters."
While he was in his basement apartment, a fire on the first level caused the floor to collapse, trapping Alishan under the debris.
Firefighters arrived on the scene minutes after neighbors called 911, but the damage was insurmountable. "We don't know how long the fire had been burning before neighbors called 911," said Capt. Michael Jensen, public information officer of the Unified Fire Authority. "Our crews did the best they could, but it was too late to save him by the time we got there."
Firefighters discovered Alishan's remains on his bed; officials believe he was not aware of the fire, according to Jensen. The cause of the fire will remain undetermined. "The floor had collapsed, and the evidence was destroyed in the fire," Jensen said.
Leonardo Alishan is survived by his former wife, Neli, and their three children, Ara, Michael and Eileen. Funeral services will be held Saturday, January 15, 2005, at 11:00 a.m. at St. Thomas More Catholic Church, 3015 E. Creek Road. In lieu of flowers, the family suggests donations to Asian Tsunami victims in care of Red Cross, P.O. Box 38436, SLC, UT 84110.