Renowned Iranian physician passes away in Virginia
Sent by Melinda Barnhardt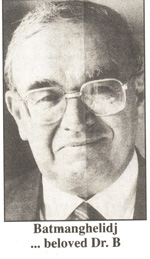 Iranian-American Fereydoon Batmanghelidj, 73, died on Monday Feb 7th, in a hospital in Virginia, where he was being treated for complications from pneumonia.
Batmanghelidj was an internationally renowned physician, best known for his research and publications on water metabolism and dehydration. His most famous book, Your Body's Many Cries for Water, has sold ove one million copies and been translated into fifteen languages.
Batmanghelidj was born in 1931. He attended Fettes College in Scotland and St. Mary's Medical College of the University of London. After obtaining his M.D., he praticed medicine in Britain before returning to Iran.
Batmanghelidj helped to develop a number of hospitals and medical centers in Iran during the 1960s and 1970s. However, his best known project was the Ice Palace, an ice-skating and sports complex in Tehran.
After the 1979 Revolution, Batmanghelidj was arrested and held in the political prisoners' wing of Evin prison for two years and seven months. During his time in prison, he treated many fellow prisoners, but with access to few medications, began experimenting with the medicinal effects of water to help relieve syptoms that were aggravated or caused by dehydration.
Batmanghelidj was release from prison in 1982, and soon there after fled Iran illegally via the border with Turkey. He came to the United States, where he obtained a position at the University of Pennsylvania in Philadelphia.
During the past twenty years, Batmanghelidj continued his research on the natural healing power of water and the role of unintentional dehyration in various degenerative diseases. He presented papers on water metabolism at numeorous conferences in the United States and other countries, and has published articles in medical journals.
Batmanghelidj created the Foundation for the Simple in Medicine and Global Health Solutions, educational ventures to promote public awareness of the health value of drinking water. His message is: "You are not sick, you are thirsty. Don't treat thirst with medication."
Batmanghelidj is survived by his wife, two sons, Ardeshir of Massachusetts and Babak of Virginia, a daughter, Camila of London, and four grandchildren.
Kish Island Development Project
Check out these two web sites about a US $2 billion dollar project on Kish Island by a German company. It includes a luxury city called "Harbor City" built in the French Riviera architectural style and a 7-star hotel called"Flower of the East". This is only the second 7-star hotel being built inthe world. The first one (called "Burj al-Arab") was built in Dubai a few years ago.
Official "Flower of the East" development project web site:

The following excerpt is from a June 11, 2004, report from CNN:
The 200-acre Kish project is the idea of a group of European investors led by Iranian expatriate businessman Khodayar Alambeigi, chairman of
Germany's Hansa Chemie AG. Project managers Drees & Sommer AG say the complex will include a 7-star hotel to rival Dubai's 7-star Burj al-Arab,
a marina, 27-hole golf course, sports clubs, shopping malls and 4,700 luxury apartments. They say the project, aimed largely at Iranian expatriates
seeking a holiday home in their native land, will be completed by the end of 2009.