A £50-million legacy left by the Shah of Iran's second wife is being passed on to the German government, after claimants to the fortune were found to be impostors.

Soraya Esfandiary Bakhtiary left her vast legacy, which had been bestowed on her by the Shah, to her brother Prince Bijan, but he himself passed away just a week after his sibling. Since he died intestate and left no direct descendant, the local government of Cologne, where he lived, appealed for relatives to come forward and claim the estate.

Some 50 people have since had their petitions rejected and the authorities are now set to hand the fortune over to the state government. The legacy includes money raised, in accordance with Soraya's will, on several of her personal possessions. Items including a Rolls Royce Silver Spur, a fabulous Bulgari sapphire necklace worth well over a million pounds, and the exquisite platinum and diamond engagement ring given to her by the Shah, were sold off at auction after Prince Bijan's death.

"The case of the former Empress Soraya is treated just like any other, but of course the amount of money is much higher than the amount we usually get," said a spokesman for the North Rhine Westphalia Finance Office. "We will be able to put it to good use, although it will not be possible to say exactly what we will use it for. It will just go into the general pool, for the benefit of everyone."

This final chapter to the Soraya story is poignantly fitting for the woman who came to be known as "the sad Empress". She married Shah Mohammed Reza Pahlavi in 1951 but he divorced her just a few years later for failing to produce an heir. The princess never married again and her second significant relationship ended in tragedy when her partner, Italian filmmaker Franco Indovina, died in a plane crash in 1972. Soraya herself died at her flat in Paris in 2001.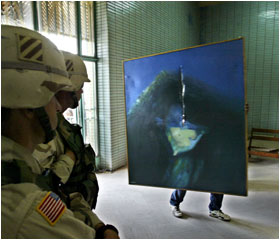 Looted items returned to Baghdad's Archaeological Museum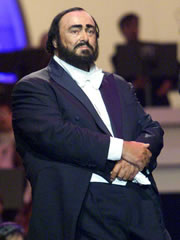 Luciano Pavarotti is to team up with musician and human rights campaigner Bono to raise funds for the people of Iraq.

Each year, the world famous opera singer hosts a charity concert in his home town of Modena, Italy, at which he is joined by other top names willing to donate their time and talents for good causes.

Pavarotti and Bono sang together in 1995 to raise money for Bosnian war victims. This year they will be performing at the Pavarotti And Friends extravaganza on May 27, the proceeds of which are to go to the UN High Commission For Refugees. The organisation is preparing for a Middle East refugee crisis.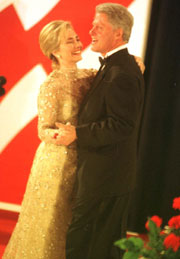 The highly-anticipated autobiography by US senator Hillary Clinton, detailing her controversial years in the White House, is set for a June 9 release. And publishing house Simon and Schuster reckons the 576-page tome, Living History, will be one of the most-read books of the year.

One million copies of the former First Lady's memoirs will hit the shelves, and an audio version of the book, narrated by Senator Clinton herself, will be released on the same day. "I cannot think of another nonfiction book in recent history that has had that large a first printing," said her spokesperson.

Living History, for which Mrs Clinton receive a reported $8-million advance, promises a "complete and candid" look at the New York politician's life during everything from the impeachment campaign against her husband Bill Clinton to her own decision to enter politics in 2000.

"There was so much I wanted to say and my publisher kept saying: 'You can't say that much, you have to fit it into a book, not into a multi-volume history'," she says. "I tried to express my feelings about everything that happened during those eight years."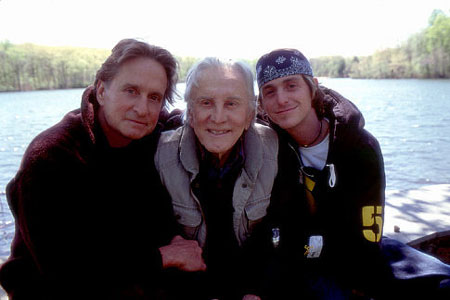 Kirk Douglas says it was his "dream" to team up with son Michael and grandson Cameron for the first time in their new movie, It Runs In The Family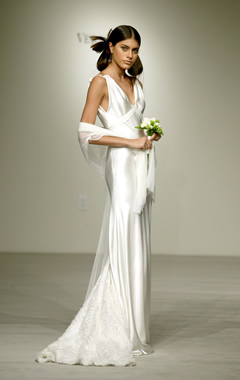 An ultra-feminine creation bridal by Vera Wang

Sir Paul Insists IM Not That Tight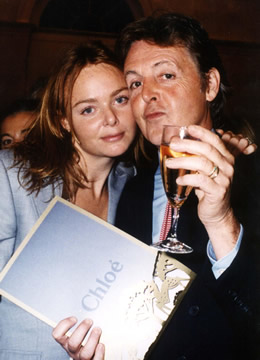 Sir Paul McCartney, the wealthiest musician in Britain, has spoken out to explain why his daughter thinks he's stingy.

Fashion designer Stella recently gave an interview in which she spoke of her embarrassment at being sent to a normal school. "I didn't really go around thinking 'what great benefits there are for me in going to a comprehensive",·she admitted. The 31-year-old also said that being the richest kid in the playground was difficult and referred to her father as "tight".

Sir Paul insists that he didn't want her to be spoiled, however. "Apparently she was talking about me sending them to a council school instead of a posh one," he said. "But it wasn't my decision. It was a mum and dad decision and Stella hasn't done badly by it. I'm really not that tight."

"I remember on her 18th birthday she wanted a car so I said I'd look at a second-hand one," revealed the former Beatle, who is worth £760 million. "Ringo had a right go at me. He said: 'Buy her a Porsche, Go on – buy her one', but I said 'no' because how many other kids have a Porsche?"

"The truth of it is, I didn't want to spoil my kids because if you've got money, you end up with spoilt brats running around."


Oscar Winners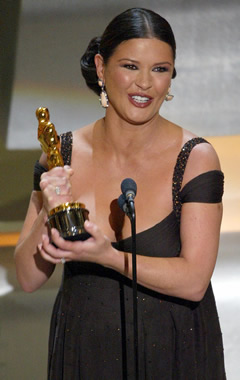 BEST PICTURE: Chicago

ACTRESS IN A LEADING ROLE: Nicole Kidman – The Hours

ACTOR IN A LEADING ROLE: Adrien Brody – The Pianist

ACTRESS IN A SUPPORTING ROLE: Catherine Zeta-Jones – Chicago

ACTOR IN A SUPPORTING ROLE: Chris Cooper – Adaptation

DIRECTING: Roman Polanski – The Pianist

COSTUME DESIGN: Chicago – Colleen Atwood

MAKEUP: Frida – John Jackson and Beatrice De Alba

MUSIC (SCORE): Frida – Elliot Goldenthal

MUSIC (SONG): Eminem's Lose Yourself from 8 Mile

VISUAL EFFECTS: The Lord Of The Rings: The Two Towers

WRITING (ADAPTED SCREENPLAY): The Pianist – Ronald Harwood

WRITING (ORIGINAL SCREENPLAY): Talk To Her – Pedro Almodóvar

ANIMATED FEATURE FILM: Spirited Away

FOREIGN LANGUAGE FILM: Nowhere In Africa – Germany

HONORARY AWARD: Peter O'Toole

Classic Stars Outshine Modern Beauties At Syle Queen's Exhibition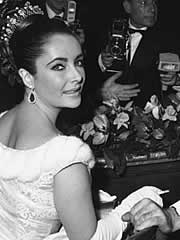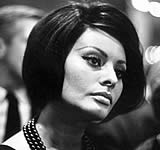 Fashion bible Harpers & Queen has compiled a list of the 100 women it sees as defining style over the past century. The selection includes models, actresses, musicians and royals who have come to represent the very essence of chic.

In conjunction with the H&Q choices, an exhibition entitled Style Queens Of The 20th Century opens on April 30 at the Getty Images Gallery in London. The show brings together memorable images of the women who make up the list.

Veteran stars seem to have won out over new talents, as there is a surprisingly modest showing by today's hottest talents. Julia Roberts, Halle Berry, Catherine Zeta-Jones and Nicole Kidman are all omitted, in favour of a host of classic beauties whose timeless style sets them apart.

Instead, iconic beauties like Ali McGraw, Vivien Leigh, Audrey Hepburn and Sophia Loren have been selected as the embodiment of vogue. Of course, legendary figures such as Jackie Onassis, Christine Keeler and Elizabeth Taylor also make the cut.

Contemporary figures who did manage to win a place in the exclusive lineup include Madonna, Gwyneth Paltrow and Sophie Dahl. Needless to say, any exhibition of fashion royalty would not be complete without the presence of the inimitable Princess Di.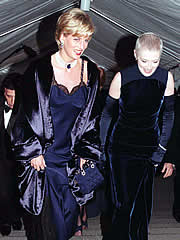 Correspondence from Princess Diana to her close friend, late fashion editor Liz Tilberis, sold for a total of $47,500 at an American auction on Wednesday.

The top lot among ten items handwritten by the Princess was a personalised Christmas card with a photos of Princes William and Harry, and Diana's nieces, Princesses Beatrice and Eugenie, which went for $7,000. A letter fetched the lowest winning bid at $4,000.

The Cy Auction Gallery, in the town of Gray, Maine, held the auction of more than 600 pieces from the estate of Ms Tilberis, former editor of British Vogue and Harper's Bazaar. The fashionista, one of Diana's closest confidantes, died of ovarian cancer two years after the Princess was killed in a 1997 Paris car crash.

Controversy over Princess Diana's estate, meanwhile, continues in the UK. New revelations in a book about the late royal's life claim she once ordered a palace inquiry after a servant stole a pair of emerald earrings given to her by lover James Hewitt. However, official action was avoided after the thief quietly returned the jewellery under threat of a Scotland Yard investigation.