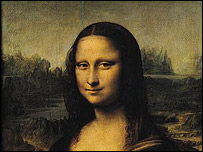 Ageing Mona Lisa worries Louvre
The Mona Lisa is showing her age, museum curators in Paris said while announcing a scientific study of the 500-year-old masterpiece. The thin poplar wood panel around Leonardo da Vinci's painting is showing signs of warping, causing curators at the Louvre "some worry". The museum has commissioned a study to evaluate the Mona Lisa's vulnerability to climate changes. The painting will remain on display during the testing, the Louvre said. "Its state of preservation is currently the source of some concern," a statement issued by the museum said.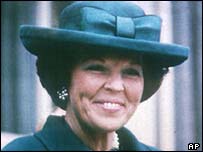 The Dutch royal family is insisting its personal fortune is 10 times less than previously thought.
Estimates from the Forbes rich list suggested that the House of Orange was one of the richest families in the world with a fortune of up to $2.5bn (£1.5bn).
But Queen Beatrix's 92-year-old father, Prince Bernhard, wrote to Luisa Kroll, the editor of Forbes' billionaires list, to demand that they reduce their estimate of his family's wealth.
And, after being faxed a detailed account of shareholdings by the Prince, Forbes adjusted this year's estimate to just $250m.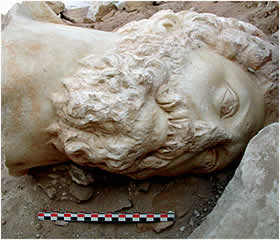 Perfectly preserved stone head of Roman Emperor, Marcus Aurelius unearther by archaeologists in Petra, Jordan.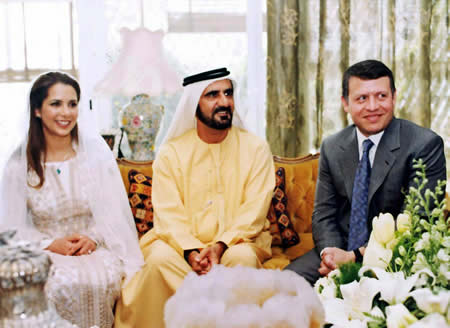 Princess Haya of Jordan married Dubai's Crown Prince
Princess Haya is the daughter of the late King Hussein and his third wife, Queen Alia, who died in a helicopter accident when Haya was just three. Her groom, who is 55, is the Minister of Defence of the United Arab Emirates as well as being the crown prince of Dubai, one of the seven emirates that make up the rapidly developing region.!!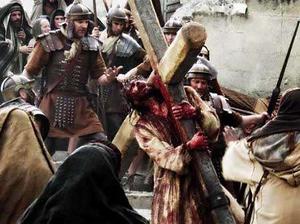 Mel Gibson's controversial film 'The Passion of the Christ' is all the rage among Palestinians, curious about complaints by Jews that it is anti-Semitic. Meanwhile, local distributors in Israel are shunning the film, which Jewish groups say demonizes Jews by depicting them as pressuring the Romans into crucifying Jesus. 'The Passion' has banked more than $315 million since its release in February. James Caviezel is shown in the lead role in a scene from the film. Photo by Newmarket Films/Reuters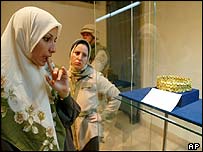 Iraq Museum a year after looting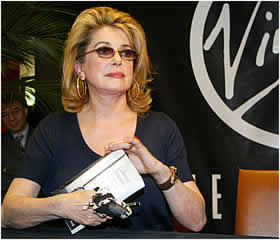 Catherine Denuve signs copies of her book " in the shadow of myself" in Paris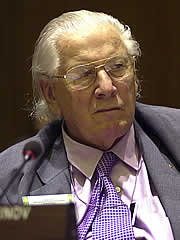 29 MARCH 2004
Sir Peter Ustinov, the British-born star famed for both his film career and his humanitarian endeavours, has died aged 82.
The Oscar-winning actor passed away Sunday night in Switzerland, where he has lived for several decades.
Born April 16, 1921 to Russian parents in London, Peter left the prestigious Westminster School aged 16 and within three years had presented his first stage play.
A talented writer-director, he sold his first screenplay at 24, and directed his first film, School For Secrets aged 25. Over his 60-year career, he took home a slew of awards, including two best supporting actor Oscars – one for 1961's Spartacus and the other for Topkapi in 1965. He was nominated in the category for Quo Vadis in 1952, and also was shortlisted for best writing, story and screenplay for Hot Millions in 1968.
Perhaps best-known for his movie role as Agatha Christie's detective Poirot, the multifaceted star became Sir Peter Ustinov when he was knighted in 1990. By that time – 15 years after he received a CBE – he had broadened his already extensive CV, becoming a UNICEF goodwill ambassador and novelist as well.
Renowned for his rich speaking voice and sparkling wit, Peter continued working in films until last year, with the 2003 movie Luther alongside Joseph Fiennes among his final projects.
Sir Peter, who was thrice married, leaves behind four children and his current wife, Helene du Lau D'Allemans, whom he married in 1972.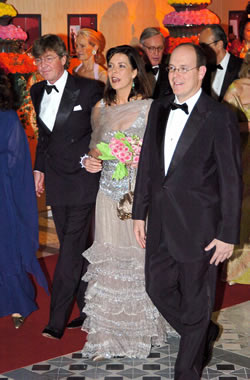 Carolyne at rose ball -- 22 march
The perennially elegant princess makes her entrance at Monte Carlo's Sporting Club for the event, which was founded by her mother Princess Grace over 40 years ago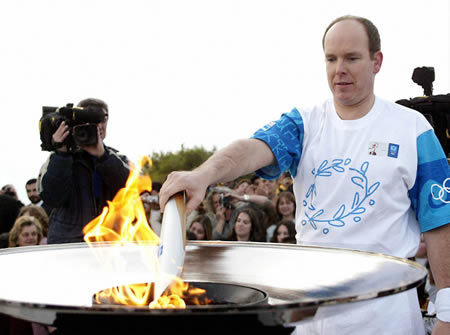 Prince Albert is one of 11,000 people who will carry the torch in Greece and around the world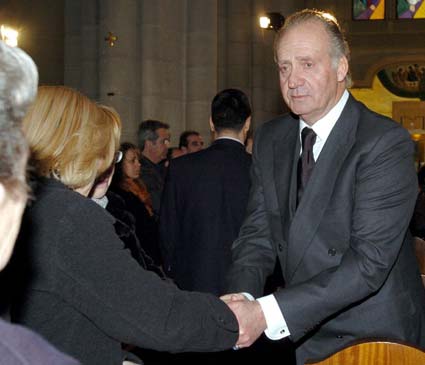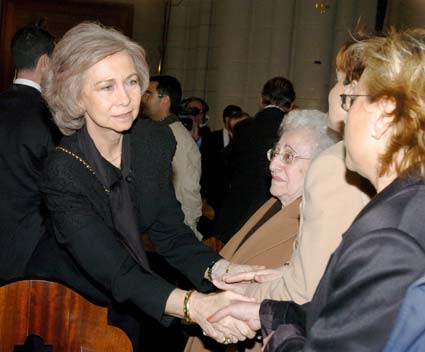 Madrid Bombing
His eyes bright with unshed tears, King Juan Carlos was obviously deeply moved as he greeted his subjects after the service concluded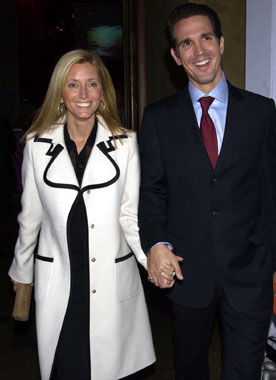 Prince Pavols and Marie-chantal of Greece expecting a fourth child
Already parents-of-three, the couple are expecting their fourth little bundle of joy in September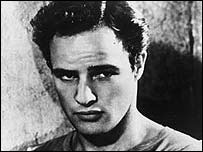 Marlon Brando: The Godfather of Method, turned 80 on April 3rd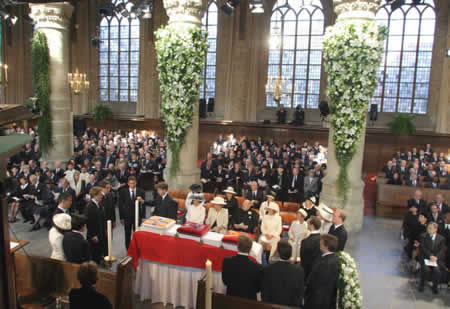 Princess Juliana laid to rest in the netherland
30 MARCH 2004
Eighteen months after the House of Orange mourned the loss of Queen Beatrix 's husband Prince Claus, the Dutch royal family once again gathered to grieve, this time at the funeral of the monarch's beloved mother, Princess Juliana.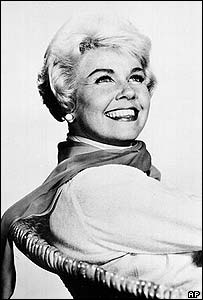 Veteran movie star Doris Day celebrated her 80th birthday on 3 April.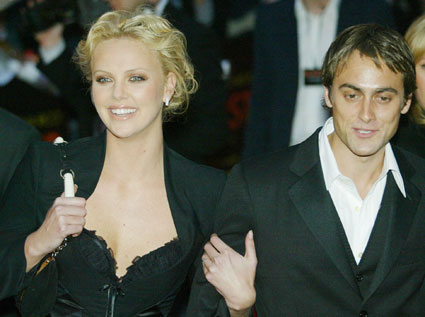 Charlize wore a sexy creation by Alexander McQueen to the London debut of the film that earned her an Oscar


Movie fans would be forgiven for assuming Charlize Theron is an all-American girl. Despite her perfectly honed West Coast accent, however, the Italian Job star originally hails from South Africa. And her success in Hollywood is made all the more remarkable by the fact that English is not her mother tongue.
Born on August 7, 1975, in the town of Benoni, Charlize originally spoke Afrikaans, which is derived from 17th-century Dutch. Her heavy accent hindered the aspiring thespian when she first started out, and she admits fearing she'd never make it in Tinseltown.
It took long hours of practise – and lots of American TV – to iron out her native lilt, but these days she sounds LA born and bred. "At first I found it really hard using three different English accents: South African, faking the American, faking the accent required by the job," she says. "I decided to make it easier for myself and just do one. I haven't lost my culture, just my accent."
Charlize has come a long way since her childhood growing up on the family farm. It has been a journey which has taken her through France and Italy – where she worked as a model – and New York, where she trained as a ballet dancer. The road has not always been a smooth one, however, and the actress has had to overcome trauma and tragedy before finding happiness.
As a teenager she lost her father, a violent alcoholic, when her mother shot him in self-defence. "When you're 15 and your father suddenly dies, you realise life is very short," she says. "He was only 43. I know that if I die tomorrow I'll have at least tried everything I wanted to try. In some ways that's sad, but it's also been why I never give up."
In the year following her father's death Charlize won a modelling contest, launching her on her travels. After treading the catwalks of Milan and Paris, she found herself in New York, where she enrolled in the renowned Joffrey Ballet School. Her dreams of becoming a prima ballerina were cut short, however, by knee injuries. It was then that she turned to her third choice of career – acting. Her breakthrough role came in 1997 when she played Keanu Reeves' wife in The Devil's Advocate . Since then the 5ft 9in beauty has been sitting pretty at the top of Hollywood's "most wanted" list, illustrated by her win of the Best Actress Oscar gong in 2004 for her role in Monster.
Fame also brought public scrutiny, and there's been no shortage of tabloid interest in Charlize's love life. A fling with George Clooney set the gossip columns ablaze in 2000, but it was a lesser known, albeit equally handsome, actor who eventually won her heart. After meeting Irish actor Stuart Townsend on the set of Trapped in 2002, Charlize knew she had found the man she wanted to marry; and the pair got engaged not long afterwards.
Now she's looking to the future: "Things like big films are no longer so important in my life and recently I have started thinking lots about having children," the actress reveals. "Stuart is an amazing man and I know he is the one. It would be a dream come true to have his children."


Saudi designer fashion