Official Website of Film "One Knight with the King" on King Xerxes & Esther
Film starring Omar Sharif and Peter O'Toole on Persian King Xerxes and Queen Esther.

An epic motion picture set in an imaginative world of adventure, intrigue and romance, "One Night With the King" follows a young girl who rises from peasant to princess by going against the culture and seeking the King's heart rather than the riches of the kingdom.
By 'chance' she is born with exceeding beauty to a people who have been carried away as slaves to the most powerful kingdom in the world. By 'chance' her parents are killed while she is young leaving her to be taken in by her uncle, a man who has found favor as a royal scribe. By 'chance' the Queen is executed by the unknowing King, spurned on by the ruthless plotting of palace princes hungry for power. By 'chance' the King is left feeling alone, pushed and prodded, desperate to live up to and avenge the battles of his father. By 'chance' Esther is carted off to the palace to become part of the Kingís harem at the same time a vengeful young prime minister with the Kingís ear is rising to prominence with a plan for orchestrating the genocide of her people.
So begins the story of Esther, "One Night With the King," a story that reveals that all of life is under God's command. Power, position and prominence are one thing, but when Esther must choose between all she's ever dreamed of and the fate of her people, will she be able to find the courage to step forward and embrace her destiny?
--------------------
Ridley Scott's Kingdom of Heaven
Ridley Scott belongs to a category of blessed directors who have the talent of combining visually stunning cinematography with a great art of storytelling. A true craftsman, he loves nothing more than "creating worlds" as he often reiterates in his interviews.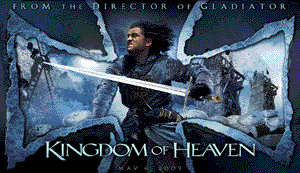 --------------------
IRANIAN FILMMAKERS WIN NYU BUSINESS COMPETITION
PRESS RELEASE
By: Sara Sefeed
New York, Wednesday May 4th, 2005 -- The creators of Babak and Friends -- A First Norooz won the New York University Business Plan Competition. The team, which applied to the competition in late October of 2004, participated in four rounds of competition with 120 other teams. Norooz Productions won the sum of $30,000 and plans to use the money towards the creation of future products for the company.
--------------------
Two Iranian films screened at Hong Kong Film Festival
://www.iranian.ws/iran_news/publish/article_6399.shtml


Two Iranian films were screened at the last day (Friday) of the 29th Hong Kong International Film Festival, it was announced here Saturday.
During the two-week festival, two feature films from the renowned Iranian film director, Abbas Kiarostami, including `Ten' and `Five' went on screen at the section of selected film producers.
The screening session of Kia Rostami's movies was attended by a number of artists, film analysts, students majoring in cinema and fans of this international Iranian film producer.
Hassan Yektapanah's `The Blue Bird' was also screened at the festival's Non-commercial Film Section.
Iran's Ambassador to Hong Kong, Reza Aqa Razi, who was invited by Hong Kong Ministry of Culture, also attended the screening session of the Iranian films.
On the sidelines of the 29th Hong Kong International Film Festival, the festival's staff in a meeting with a number of Iranian cultural and cinematic officials, lauded the status of Iranian cinema on the regional and international scenes.

During the meetings, it was decided to introduce and screen the movies of the other outstanding Iranian film director, Mohsen Makhmalbaf in Hong Kong in cooperation with Iran's embassy.
Hong Kong International Film Festival, which was held for the first time in 1977, has been annually arranged in the area ever since. The festival is arranged jointly by cultural and economic institutions, including the Hong Kong Trade Development Council.
The 28th Hong Kong International Film Festival, which was held last year, mainly focused on comic films, during which the letter of association for exchange of Hong Kong's professional films with the world countries was drawn up.
During last year's festival in Hong Kong, Kia Rostami's `Ten' and Manijeh Hekmat's `Women's Prison' went on screen.
----------------------------------
Fardin and Burt Lancaster TAKE A LOOK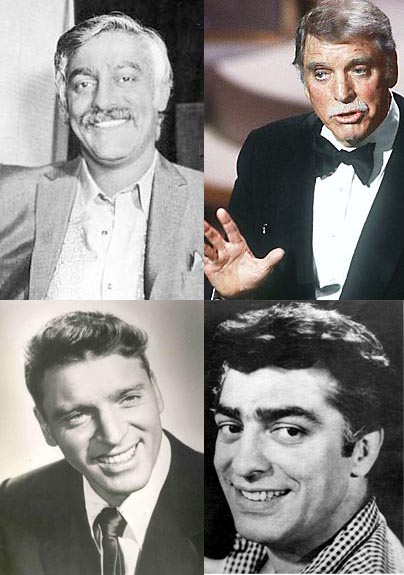 Incredible! how much he looks like Burt Lancaster at different ages. In addition the incredible thing is that both actors started off as Sportsman. Lancaster was an acrobat in the circus and started acting at 32. As for Fardin he was a wrestler. Both were sex icons adulated by Men and Women alike.

----------------------------------
Iranian Film "One Night" to compete at Cannes Film Festival
http://www.mehrnews.com/en/NewsDetail.aspx?NewsID=173075

Cannes' Un Certain Regard to gaze at Iran's "One Night"

TEHRAN, Apr. 17 (MNA) -- "One Night", the first feature-length film directed by Iranian actress Niki Karimi, will be competing in the Un Certain Regard section of the 58th Cannes Film Festival, which will take place from May 11 to 22.
Starring Hanieh Tavassoli, Saeid Ebrahimifar, Nader Torkaman, and Abdolghaffar Dulabi, the film is a tale of a fearless girl who spends a night hitching rides through the deserted streets of Tehran.
Karimi first became popular in Iran for her role in Behruz Afkhami's hit film "Bride" in 1990. She then appeared in several movies of Iranian filmmakers Dariush Mehrjuii and Ebrahim Hatamikia.
She made her directorial debut with the short film "To Have or to Have Not".
In other Cannes news, director Mohammad Rasulof's "Iron Island" will be representing the Iranian motion picture industry in the Directors' Fortnight section of the festival, and Iranian filmmaker Abbas Kiarostami will head the Caméra d'Or jury this year.
"The Keeper: The Legend of Omar Khayyam"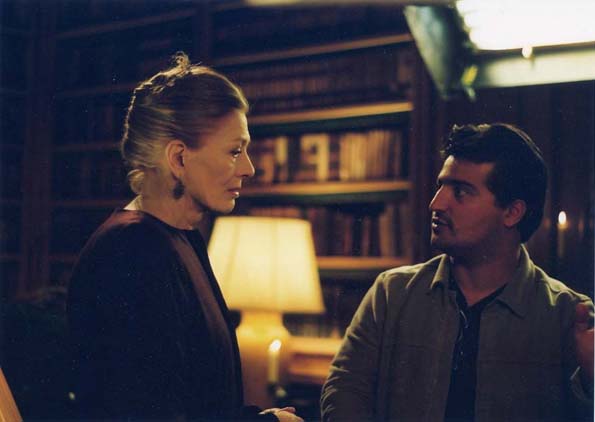 Iranian American Director Kayvan Mashayekh of the "The Keeper: The Legend of Omar Khayyam" seen here with British Star Vanessa Redgrave on the set of this film. photo courtesy Guide Company Films Inc.

http://www.iranian.com/News/2005/March/khayyam.html

--------------------
Iranian directors Reza Badiyi latest production as co-producer: Gilgamesh


Starring:
Max Ryan, Omar Sharif, Peter O'Toole, Robert Davi, Costas Mandylor, Valentina Cervi,
F. Assef, Shani Rigsbee
Producer: Beni Atoori
Co-Producers: Future Film Group (UK) - Steve Margolis, Ozen Film and Umut Sanat (Turkey), with Sabrina Atoori, Mitchell Cohen, Scott Boyer and Reza Badiyi
Director: Roger Christian (Academy Award Winner)
Writer: Beni Atoori, Roger Christian, Mitchell Cohen
Slate Date: September 2004

Log Line: Over seven thousand years ago, before it was called Iraq, before it was called Persia, before the writing of the Old Testament, before the age of the Pharaohs, ..Assyria was that land between the Tigris and Euphrates rivers; home to the hated King Gilgamesh. Thru thousands of years, GILGAMESH has endured as the oldest and most revolutionary work of literature known to mankind. This first-ever epic follows the warrior-king from his divine rise to power to his victories and struggles with the Gods; risking life and love on his tumultuous quest to find the answers to happiness and immortality. What he found was much less mysterious than he ever expected.. and it was always there, right at his finger tips.
Genre: Legend/Epic
Location: Turkey

---------------------------------
Documentary on youth in Iran :"Coming Out: The Youth of Iran'
director: Yasmin Vossoughian

http://www.indtv.tv/vc/?deep_link_id=257

subject:

Growing up an Iranian American has taught me that in order for us to understand other cultures, we have to see and hear their stories. That's why I chose to do this piece on Iran, a country at the epicenter of controversy. Sexuality holds special interest for me because it's a taboo subject in Islamic society, and is something people across the globe can relate to. After all, what's more universal than sex?
---------------------------------
Navid Negahban has a number of roles to his credit, including Iranian Director Ladan Yalzadeh's The Florist.



http://www.imdb.com/title/tt0416744/


he will star along with Actor Robert Wagner in an upcoming Adventure Horror film entitled "The Fallen Ones":

http://www.imdb.com/gallery/ss/0421199/Ss/0421199/iid_867081.jpg?path=gallery&path_key=0421199

Plot:
Archaeologist Matt Fletcher uncovers a hidden tomb containing the mummy of a giant that's been buried since the time of the great flood in the Bible. Now, Matt has to stop a Fallen Angel who has come to earth to revive the giant and bring about a new age of these terrible creatures!
---------------------------------

Director Rabeah Ghaffari of Films: "Neyshapoor" &"The Troupe
http://www.imdb.com/gallery/hh/1699687/RabeahPhoto.jpg

Rabeah Ghaffari daughter of actor Mohammed Ghaffari ( Little Odessa, The Devils Advocate starring Kennu Reeves and Al Pacino) is the director of the documentary "The Troupe" about a Ta'ziyeh troupe's journey from Iran to New York's Lincoln Center where they reunite with their director, Mohammad Ghaffari, after 23 years and set upon mounting three "Ta'ziyehs" for an American audience.
Rabeah Ghaffari \is also working on a feature film Comedy entitled Neyshapoor below is the summary:
Plot Summary for
Neyshapoor (2005)
Neyshapoor is the story of Iran on the brink of Revolution. It is seen through the eyes of a young girl who is making what will be her last visit to her Grandmother's Orchard in the Northeastern province of Neyshapoor as the Islamic Lunar Calendar and the Persian Solar Calendar collide
.---------------------------------

Iranian Omid Djalili Stars in much acclaimed "SKY CAPTAIN OF TOMORROW"

Iranian actor Omid Djalili Stars in Sky Captain of tomorrow a sci Fi adventure which is entirely filmed in computer graphics except for the actors. It is considered a revolutionary breakthrough from a technical and artistic perspective. Also star Jude Law, Gwyneth Paltrow and Angelina Jolie. Djalili has already starred in blockbuster films like The Mummy and Gladiator and was cast as Picasso in film Modigliani with Cuban American Andy Carcia in the title role.

http://www.imdb.com/title/tt0346156/

and see poster : http://www.imdb.com/gallery/ss/0346156/scp6.jpg



reminiscent of classic war films made during WWII by Hollywood but its futuristic blend also reminds you of Ridley Scotts Blade Runner. The film should be an interesting experience.


------------------------------------
Iranian Director Abbas Kiarostami and British Ken Loach have teamed to make a film called "Tickets" a sort of sketch Comedy presented at the 2005 Berlin Film Festival: See Full cast and article

http://www.imdb.com/title/tt0418239/fullcredits


http://www.fipresci.org/festivals/archive/2005/berlin/berlin_talent_wednesday.htm#4

Three Tickets – One Movie
Interview with Abbas Kiarostami and Ken Loach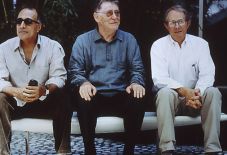 TICKETS was one of the most eagerly awaited films of this year's Berlinale. Shown out of competition, this sketch film, which brings together three famous filmmakers (Ermanno Olmi, Abbas Kiarostami and Ken Loach), presents a train trip from Central-Europe to Rome. The three directors tell three different stories but the location and some of the characters are present in all three films. In fact, it is not right to say three films because the parts are not strictly divided as usual, and we almost have a continuous story, where only the accent put on different characters changes.
The first problem which arises is how the three "auteurs" managed to work together, how they succeeded to do separate films within the same structure. Both filmmakers present at the discussion – Loach and Kiarostami – argued that everybody made his own movie. "There is no other way of working, you have to follow the internal logic of your own subject", Loach said. Kiarostami added that real communication between them begun only when linking the parts together. Not only three directors, but three different cultures and languages were brought together for the movie. For Kiarostami, the shooting proved that "language is not the most important thing because you can communicate with your physionomy, with your faces and with your eyes." So cultural differences can be overcome.
Asked about the element common to all three directors, Loach said: "What we share is the attempt to reduce things to the simplest way of explaining something. Reducing and clarifying is not what you see in most films which tend to exaggerate, to make things dramatic. That kind of simplicity, clarity and economy is something we would like to share."
The fact that the three directors managed to keep some kind of unity and to introduce their personal style into their episodes makes this movie special. Both Loach and Kiarostami pointed out that they consider that Olmi`s style is different from what they are doing. Even so,Kiarostami said that the common location and some of the characters bring these three styles together. Loach spoke about "the sensibility, the awareness of human interaction" which he thinks is similar, even if the style is different. He also talked about the liberating effect of the constraints of shooting in a train. "You have to concentrate on the absolute essence of what you want to do. So it's like a musical form: you have to work within very strict structures."
We can't ignore that this movie – especially Loach's segment – has political connotations, so this question appeared during the discussion too. The English director talked about the gesture of the Celtic fans who shared what they had with the Albanian refugees. He compared this to the reaction of the world to the tsunami appeal. He argued that everybody put his hand in the pocket, because all of this was encouraged by the media and politicians, but nobody does the same thing with the people killed in Iraq.
Three styles are put together in the same small world of a train and, despite the differences, something seems to unite the visions.
------------------------------------

RAMIN NIAMI

(DIRECTOR / PRODUCER / WRITER / EDITOR)
http://www.sideshowfilms.com/team.html

Ramin Niami's first feature as a director was Somewhere in the City (1997) ( http://www.mostra.org/21/english/films/algum-i.htm )starring Ornella Mutti Sandra Bernhard, Robert John Burke, Bai Ling and Peter Stormare, which was screened at over 25 international film festivals. Niami was born in Teheran, Iran, and has worked as a director and producer in the U.S., UK and Europe on over twenty television documentaries, dramatic shorts and television commercials, many of them broadcast by the BBC and Channel Four in the UK and major US networks as well as PBS.
Niami also produced Amir Naderi's feature film Manhattan By Numbers, which was shot in New York and appeared in many film festivals such as Venice, Toronto and New Directors / New Films (New York). He directed and produced the award wining music video Follow Your Heart's Desire performed by Pure Fe. A New York resident for 14 years, Niami was a part-time faculty member for filmmaking at the School of Visual Arts in New York. He relocated to Los Angeles in 2002, where he taught directing and editing of digital video at USC's Robert Zemeckis Center for Digital Arts.
His new feature film Paris starring Bai Ling, Chad Allen, and James Russo, shot on Digital Video transferred to 35mm, was filmed in LA, Death Valley and Las Vegas and premiered in competition at the Tribecca Film Festival New York in 2003.

Below an Interview of Niami on his work Somewhere in the City :

http://www.indiewire.com/people/int_Niami_Ramin_980917.html

And Although belated See Video Interview in English given at the Hof Film Festival Germany for his Feature Film Paris:

http://www.we-film-it.com/Pages/Hof_RaminNiami.html
------------------------------------
LONDON, UK.- Abbas Kiarostami will transform one of the V&A's galleries into a forest this spring as part of the festival celebrating the work of the Iranian artist and filmmaker. Kiarostami will also be 'In Conversation' with British film director, Mike Leigh, at the V&A.
Abbas Kiarostami is the most internationally celebrated Iranian cultural figure of the past century. A prolific and critically-acclaimed filmmaker, artist, photographer and poet, his work is visually simple and conceptually complex.
The V&A will show new works by Kiarostami as part of a London-wide programme of events celebrating the achievements of the artist and his impact on contemporary culture and society both inside and outside Iran.

------------------------------------

Frank Miller's 300, the graphic novel about ancient Persia and Greece, will be heading to the big screen under the helm of Zach Snyder.
http://www.comicbookmovie.com/news/articles/1286.asp

and confirmed on imdb: http://www.imdb.com/title/tt0416449/

Dawn of Dead Director to Helm Miller's 300


Zach Snyder (Dawn of the Dead) will direct the Warner Bros. big screen adaptation of Frank Miller's 300—a historic graphic novel about the Battle of Thermopylae.
The underlying theme of the story is the birth of democracy in ancient Greece.
"Set in the midst of the Persian-Greco war, the project revolves around the Battle of Thermopylae, where Spartan king Leonidas led his army of 300 soldiers into battle against the invading Persian army," according to Hollywood Reporter. "According to legend, their valor and sacrifice inspired all of Greece to unite against their Persian foe, leading to the origins of democracy."
--------------------------
HIGHLY RECOMMENDED FILM: FINDING NEVERLAND

http://video.movies.go.com/findingneverland/

Johnny Depp is probably the most exceptional talent of his generation. Not necessarily for his acting but for the choice of his roles and directors. I haven't seen all his films but his every screen
appearance have totally caught me by surprise. Happily married to French singer and actress Vanessa Paradis, Depp has constructed an interesting filmography which with time will certainly be considered as original and totally creative. He appeared in the blockbuster film "Pirates of the Carebeans", "Ed Wood", "Edward Scissorhands " "Chocolat" ( Opposite French star Juliette Binoche)and "Arizona Dream" just t oname a few. With "Finding Neverland" cast as playwrite Sir James Matthew Barrie the author of "Peter Pan" Depp gives a magnificent performance opposite Kate Winslet (Titanic), Dustin Hoffman(Marathon Man) and Julie Christie (the famous Lara in Dr. ZDIVAGO). All actors are splendid and Hoffman who played in Steven Spielberg's "Hook" is interestingly and ironically cast as Charles Frohman Matthew Barrie friend and Theater manager.
Finding Neverland is a film for Young and Old, a tearjerker which also is a tribute to childrens innocence and imagination. The film is constructed in an original way in which Peter Pans author's personal imagiation is confronted to that of the children who are his muse.

Directed by German Marc Forster This film is a Gem, not pretentious and deeply sincere in its approach. The film recieved 7 nominations including for best picture and best actor. Depp certainly deserved the Oscar but he proves to be one of Hollywood's truly magnetic actors and "Finding Neverland" a tribute to Utopia and that with a little imagination and belief one can change the world into a better place.

So rush to your DVD store and buy this film you won't regret it. It has just been released in France and I was astonished by the publics cheering and applauding at the end of the film in the movie theater.