A Journey to Starland
by: Soheila Ghodstinat
Second Edition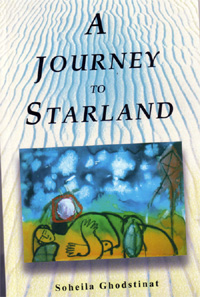 ---------------------------------------
Following a chance encounter when she was just fourteen years old, Iranian Soheila Ghodstinat fell in love with the charming Ali, who at 21, was considered far too old for her, and totally unsuitable. Little did she realise that this meeting was to change her life forever.
After being sent abroad to continue her education, Soheila returned home to find that Ali had never forgotten her, and she fell in love with him all over again. A few months later the couple were married, but what started out as a fairytale for Soheila turned into a nightmare when she was confronted by Ali's darker side.
As a young mother in Iran after the Islamic Revolution, even though she was the victim of violence, Soheila found herself utterly powerless to escape. Repeated attempts fo find a haven for herself and her daughter failed as she came up against the bureaucracy of a society where women no longer had rights.
In A Journey to Starland, we watch as Soheila struggles against the forces around her to achieve happiness, andher dream of a journey to her imaginary land in the space between the stars.
This is an extraordinary story of love, of friendship, and of the remarkable courage of one woman who never lost hope in the power of faith.
----------------------------
The second edition of Soheila Ghodsnia's "A Journey to Starland" is on the market. This is one of those rare books that once you start reading, you can't stop until finished.
This book is a testament to the amazing courage of our women. It reveals their resilience, perseverance, and boundless courage under a regime that began its savage assaults the moment it usurped the reigns of the state. It is about the life of a young woman desperately seeking freedom. Her perilous path to survive and protect her only child takes her from one continent to another in search of peace, happiness, and independence.
Soheila's former husband is the product of a society that its judicial doctrines and social values are built on the premise that women are half as worthy as men. It is a male oriented society that openly degrades women to second class citizenship status. Soheila did not succumb to these injustices. Her story resembles what we see in some horror movies. But she endured and against all odds, found peace and freedom for herself and her child. This is a bittersweet memoir of a brave woman who creates such love and admiration that you will always remember.
I recently read the book for the third time and enjoyed it even more. The new edition distinctly improves on the first edition. Indeed, it is far more professional. The publisher has done a commendable job of correcting mistakes due to languag barriers.>>Rozaneh
----------------------------
Here is what Soheila thinks about the second edition:
Actually publishing the second edition of my book was my publisher's idea, as there were a great deal of errors in the first one. They also wanted to publish a second edition because they wanted me to add more material, they felt the story deserved a professional, revised edition.
Firstly, the cover has been changed as the painting is different (though it is still from the same artist). I myself did design the inside of the book, and made decisions such as which painting goes where, and so on. I did also add some historical information about Iran, but i didn't remove anything. There were two English editors who did all the grammatical corrections. I also added an "Afterword", where I noted where the characters of the story have ended up since the first edition.
I also wrote the novel in Farsi, but I had some difficulty with the publication, especially in Iran. Then I wanted to try and publish it outside Iran, but unfortunately did not find any suitable Iranian publishers. Those I did find were but a couple of publishers, and they were very expensive for me.
My daughter and I currently live together and she is working as a sales-assistant in a department store, while she is also promoting and producing music. I work in a charity (I do get paid for that), and I write and also act as well. I work with an organization called: "Exiled Writers", and back in October, we did a cutting-edge play here in London, about non-European writers and poets living in Europe. We went to Poland in March, then in April they took us to Italy (Ferarra and Bologna) for the same play.
After the first edition of my book, some people in Hollywood became interested in making a documentary about this story. They asked me to join them as a co-producer. We are raising funds for the time being, so if all goes well, we will start working on the production at the end of spring. They are young and independent filmmakers in Hollywood, however they have very respectful and well-known parents. I cannot reveal their identity for the time being, as I don't have the permission, but if anyone is interested in investing, I can give all the information they need to know.
At the end, I just wanted to thank all the people who did help me with the opportunity to making my dream come true, such as you, Ms Tabibzadeh. I honestly appreciate what you are doing for your people, and I hope that one day I could do something in return for all your kindness, love and support.
--------------------------------------
A few lines from the book:
Almost ten days had passed, and my lawyer hadn't contacted us. Exactly one day before we were due in court, he called and said,
"When I spoke to Rasouli and saw all the documents, I noticed that they had lots of evidence against you, such as the birthday party, finding some illegal stuff at your brother's house and many other things. At this stage, I should say that I can't do anything, you should go back and live with your husband."
He continued that I had to do that, otherwise I would become Nashezeh, I either had to go and live with Ali, or live in my parents' house with Ali's control.
At the end he added: " I must congratulate you, you are only twenty-four years old but you have the experience of a fifty-year-old person. If you are patient, you will eventually get your divorce.
"Wait? How long? Ten years? Twenty? Then what? I won't need it anymore! I want to do it now, I don't want to sit and wait for years."
"There is no way for you now, you have to go back or else they will make your life a living hell."
What could I do? My life was already a living hell. But should I stay and make my parents' life the same? No, that wasn't fair. They had done enough and as I was the one who started it, I had to finish it on my own. My family were protecting me, without their help everything was impossible, but I couldn't accept more than that from them. God? How could I go back to Ali and that hell? Why wouldn't God help me to get my freedom and get rid of Ali? Was it too much to ask?
My lawyer told me that the best thing was to go to his office the next day, so he could draw up some rules and conditions for Ali.The next morning my mother and I went to his office. Hajji, who was like a big chief and Ali who acted like a king, were already there. Ali was very happy. Why should he not be? I was too easy to handle and he had the real power and had proved it to me and my family. First the big chief started to talk. No one could say or do anything without his words. He made some conditions for me such as:
I had to be a real Muslim wife and obey my husband.
I couldn't choose my friends without my husband's approval.
I couldn't take my daughter to parties like the one that I had sent her to.
I couldn't see anyone, including my own family, without my husband's permission (but of course my kind husband would let me go and see my sick father sometimes ). What a thoughtful man!
I always had to make everything ready before his arrival, such as food, clean house, clean dishes, etc. etc.
......................................................
............................................................................