White House promotes Bush's Iranian adviser
sent by: Melinda Barnhardt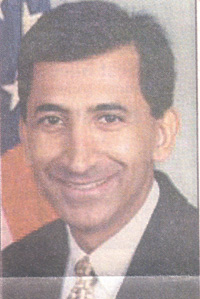 The White house has promoted Faryar Sirzad to be a deputy assistant to President Bush and the deputy National Security Adviser in charge of international economic affairs.
Shirazi, 39, has worked at the White House the last two years. He was promoted as a result of the shuffle that took National Security Adviser Condoleezza Rice to the State Department and elevated her duputy Stephen Hadley, to National Security adviser
Hadley last week elevated Shirzad t his new post and also elevated Elliott Abrams, who has been in charge of Middle East issues, and will now have democracy promotion and human rights added t ohis portfolio. One of Abrams' first tasks is to review Iran policy.
Shirzad's portfolio is also being expanded. As well as overseeing economic policies, Shirzad will now oversee humanitarian affairs, stablization and reconstruction efforts, which will give him a hand in dealings with Iraq.
Shirzad was born in London of Iranian parents who brought him to the United States as an eight year old in 1973.
He graduated from high school in Bethesda Maryland, where his parnets were and are the owners of Iranbooks, one fo the major retailers of Persian language printed materials in North America.
His father, Naser Shirzad, was a high-ranking diplomat in the Iranian Foreighn Service before the revolution.
Although the younger Shirzad has not lived in Iran, he is conversant in Farsi from his family, is able to read Persian and has visited Iran.
Shirzad attended the University of Maryland, then moved to Massachusetts to do graduate work at Harvard University's John F. Kennedy School of Government and also received a law degree from the Unversity of Virginia.
Shirzad worked as an international trade lawyer in private practice for several years, then accepted a position in 1998 on the Republican staff of the Senate Finance Comittee. In 2001, when George W. Bush became president, Shirzad was named assistant secretary of commerce, making him one fo the senior 17 officials of the Commerce Department.
Despite his success in corporate and governmental America, Shirza is very much aware of his cultural heritage. In an interview published in The Federal Paper, he said:
" I'm very concious of the fact that in a small way I seve as an example fo the way the Iranian-American community is contributing in this country. A lot of people have a lot of pride in the fact that an Iranian immigran has gotten into a position of responsibility, so I take that responsibility seriously."
Azar Nafisi: Women, Culture, Human Rights: The Case of Iran
Author: Azar Nafisi

Azar Nafisi, Visiting Fellow, John's Hopkins University's Nitze School of Advanced International Studies (SAIS) and author of the critically-acclaimed best-seller, "Reading Lolita in Teheran" spoke to FPA at the New York Democracy Forum on the subject of "Women, Culture, Human Rights: The Case of Iran."

Nafisi spoke widely on the importance of democracy both at home and abroad, as well as the power of the arts in sustaining what she called a "Republic of Imagination." "I think that when we talk about the issue of democracy, we need to look at the others and we also need to look at ourselves," Nafisi said to a large audience at the Kaye Playhouse at Hunter College. "Democracy and terror, human rights and fundamentalism are not the property of the West. They are not geographically or nationally or culturally defined, they belong to all of us."
A professor of aesthetics, culture and literature, Dr. Nafisi is the author of the critically-acclaimed best-seller, Reading Lolita in Teheran: A Memoir in Books, which is based upon her experience in Iran leading a discussion group of young women on forbidden works of Western literature prior to fleeing that country for the U.S. 1997. As a teacher at the Free Islamic University, Allameh Tabatabaii, and the University of Tehran-where she was eventually expelled for refusing to wear the mandatory Islamic veil--she earned national respect and international recognition for advocating on behalf of Iran's intellectuals, youth, and especially young women
Shaghayegh, an Iranian model/singer/actress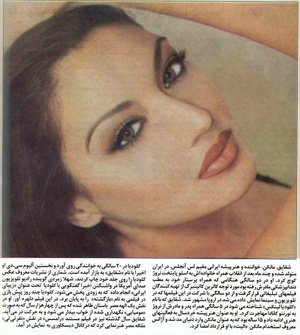 Group of French Poets to Visit Iran


A group of French poets is expected to arrive here on April 30 to commemorate the poets of both countries and will stay up to May 5. The Cultural Department of the French Embassy in Tehran told IRNA on Wednesday that upon arrival in Tehran, the group of poets will leave for a tour of the cities of Isfahan, Shahr-e Kord, Shiraz and Firouzabad along with 10 Iranian poets.
Sent by: Darius Kadivar
The cultural mission of the visiting French poets is dubbed `Dialogue with Nature: Irano-French Meetings'.
On their way, five more poets from the provinces visited by them will join the group. On the last day of their visit, they are scheduled to leave the town of Firouzabad for Tehran with 30 poets to attend the poetry festival to be held at the 18th Tehran International Book Fair.
In each of the five cities, children holding banners will attend the poetry festivals arranged in honor of the visiting poets. Upon arrival in each city, in a symbolic move, the children accompanying the group will wave the banners.
The idea of forming such a group and planning the tour initially took shape in early fall of 2004 as two exhibitions were concurrently held at Iran's Carpet Museum and a French carpet and textile museum.
The tour provides the French poets an opportunity to meet Iranian authors and publishers.
My father, my brother, the shahs of Iran
Prince Gholam Reza Pahlavi's Memoir
Iranian woman wins the "Young Scientist" Award ::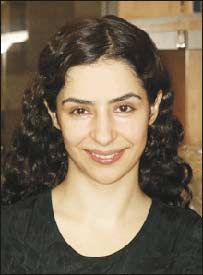 Another suceesful woman of our own
Jamshid and the Lost Mountain of Light
is a children's novel by Howard Lee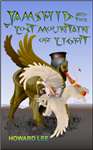 Jamshid and the Lost Mountain of Light takes you back two and a half thousand years to the palaces of ancient Persia, where a coup is being plotted. Jamshid is the son of the Grand Vizier to the Emperor, who finds his world turned upside-down as the story unfolds. Suddenly his parents are banished from the Empire, leaving Jamshid alone in the care of his tutor, Parthesus.

Suliaman is a court official who will stop at nothing to take over the throne of the global superpower. He has secretly rediscovered the Jewels of Gilgamesh, lost for thousands of years, which form an invincible weapon and give Suliaman power over terrible beasts called karibus. As Suliaman's invasion force approaches undetected by the Persian armies, only Jamshid and Parthesus have guessed the plot - but how can they save the Empire?
This tale is woven-through with real historical detail that recreates the lives, cities, and palaces of ancient Persia. The suspense and thrills of Jamshid's struggle against Suliaman - and himself - are guaranteed to grab the attention and immerse readers young and old.
A new Author to be discovered An officer's daughter rmembers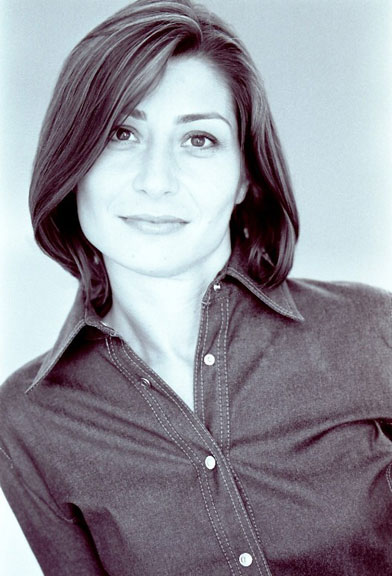 A new Author to be discovered. An officer's daughter remembers

"Be like a nail!" Latifi's mother would scold when the author cried. These words are a testament to the grit Latifi displays throughout this wonderful memoir. The author was 10 and her sister 11 in May 1979, when their father, a military officer under the Shah, was executed by Khomeini's soldiers. Only 34, their mother was left to raise four young children (she also had two sons) in a newly fundamentalist society hostile to women. At first, the girls "loved putting on the chadors. It felt like Halloween." But when a villager started bidding on marrying Latifi's then 13-year-old sister, their mother knew they had to leave. Yet visas were routinely denied, passports arbitrarily confiscated. Still, Mrs. Latifi managed to take her daughters to Austria, where they attended a convent school (the boys remained in Tehran). The year in Austria
Mahyar Monshipour stops Nakazato to retain WBA crown
Marseille, France, April 30, Kyodo/OANA/IRNA -- Frenchman boxer Mahyar Monshipour successfully defended his WBA super bantamweight crown for the fourth time when he defeated Japan's Shigeru Nakazato by technical knockout in the sixth-round of the title match in Marseille on Friday.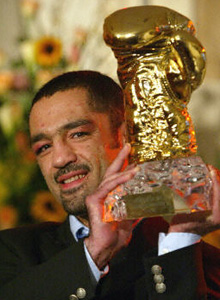 Sent by: Darius Kadivar
was disastrous; the girls unwittingly spent the family's savings trying to overcome their loneliness. America was the next solution; there, the girls lived with relatives in Virginia and learned to take care of each other. Things turned out all right—the family was finally reunited, the children all chose good careers. Unlike many Iranian memoirs, most of this one takes place outside the country. Still, it's a remarkable, resonating tale.
Prince Rainier's funeral
Farah Pahlavi, widow of the late shah of Iran, walks towards the 19th-century cathedral before the funeral mass of Monaco's Prince Rainier III, 15 April 2005 in Monaco. Rainier will be laid to rest beside his beloved wife Grace. The prince who ruled the Mediterranean statelet since 1949, died at the age of 81 after a month-long hospitalization with severe breathing and heart problems, 06 April 2005 in the principality.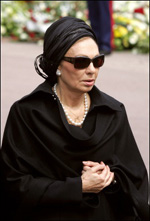 DC Choreographer Brings Persian Epic to the Stage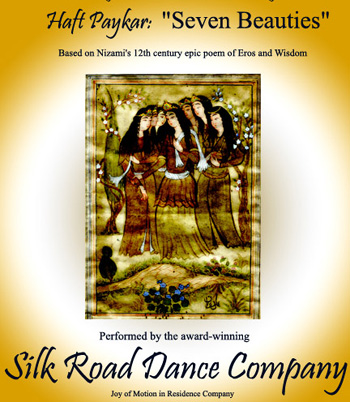 3rd Annual World Dance Showcase: Dancing in Islamic Lands? featuring the premiere of Haft Paykar: Seven Beauties

The 2005 World Dance Showcase, sponsored by the Maryland-National Capital Park and Planning Commission (MNCPPC), will feature a new folkloric ballet, Haft Paykar (Seven Beauties), by award winning choreographer Laurel Victoria Gray and her Silk Road Dance Company. Christel Stevens, Performing Arts Specialist with the MNCPPC, created the World Dance Showcase three years ago to spotlight culture specific dance traditions often underrepresented on the concert stage. When Stevens decided on the theme of "Dancing in Islamic Lands" for this year?s showcase, she tapped the Silk Road Dance Company to present Haft Paykar, knowing it featured traditional dances from seven distinct cultures representing the finest flowering of Islamic art. Performances by other groups, including presentations of Turkish and Egyptian dance, will open the evening concert.
Haft Paykar celebrates ethnic diversity, extols the beauty of other cultures, and praises the wisdom of women. Written by the Persian poet Nizami in 1197, it is an epic romance. In the tale, the young warrior Bahram Gur enters a mysterious, locked room to discover the portraits of seven beautiful princesses, each from a different land. After he wins a kingdom and achieves great wealth and power, he remembers the maidens and sets out on a quest to bring each to his kingdom, commissioning the architect Shideh to build seven domed structures ? one for each bride.
No simple fairy tale, Haft Paykar is an erotic allegory about a quest for human perfection steeped in numerology, geometry, astrology and color symbolism. Not only does each princess of Haft Paykar come from a different country, or ?clime,? but each is associated with a different color, planet and virtue. Each of the seven maidens tells a tale to her bridegroom that imparts a specific moral lesson. From these wise women the hero learns patience, truth, faith, passion, serenity, fairness and devotion to God. Since Bahram Gur is destined to become Ruler of the World, he must learn these lessons in order to govern wisely. His spiritual journey is a reminder that only through self-knowledge and self-mastery can humans find perfection.
Gray views this ambitious project as an opportunity to bring to American audiences the ecstatic, esoteric side of Islamic culture. ?As one familiar with the culture and history of both East and West, I feel it is imperative to use art to build a bridge of understanding between Americans and the Islamic world. Instead of falling prey to the false notion of a ?clash of civilizations,? we need to remember that East and West have interacted for millennia, often crossing cultures with positive results.? Gray feels the framing story of Haft Paykar -- the education of a ruler who has achieved great wealth and power but is in need of wisdom from other cultures -- gives the medieval epic ?an eerie immediacy.?
To view Haft Paykar as the stereotypical ?sultan and the slave girls? story of Hollywood movies, Gray contends, would be ?primitive and superficial.? Bahram Gur sends to the far reaches of the known world to bring the wisdom of other lands to his court. ?When he embraces a princess, he embraces her culture, her traditions." Gray believes that ?the exquisite beauty of the dance, poetry and music of the Islamic world reveals a different face from the austere fundamentalism known to most Americans. Nizami uses movement, color, words, music, scent and taste to express deep mystical concepts. Here, in the hidden gardens of allegory, beauty that appeals to the senses becomes a way of finding oneness with God.?
Although Gray is known for her mastery of numerous Middle Eastern and Central Asian dance genres, she always seeks to increase her knowledge, approaching cultures of origin with respect. As Stevens observed, the Silk Road Dance Company presents ?jewel-like? examples of world dance from the storied regions of Central Asia in a carefully rehearsed, authentic way.? For the Moroccan piece, Gray arranged a master class for Silk Road members with North African dance specialist Amel Tafsout. Classical Indian dance artist Jayantee Paine assisted Gray in the creation of the North Indian style piece of the Princess of the Black Dome, ?daughter of the Indian Rajah.? For the martial Princess of the Red Dome, Gray drew from her field research in Tbilisi, Georgia. The aggressive sword dance of this princess and her handmaidens is inspired by the ancient Georgian war dance Khorumi.
Choreographically, Gray is a miniaturist, painstakingly crafting exquisite dances rich in delicate gesture. As she creates new dances, she also designs the costumes for each piece. Haft Paykar features over 50 costumes, each incredibly detailed and reflecting the color and clime associated with each princess. Audrey Elizabeth, New Orleans based performing artist and founder of the multi-ethnic ?Dance Without Borders,? recently enjoyed a rare opportunity to see Haft Paykar choreographies in rehearsal. ?Haft Paykar is a literary classic. Laurel?s poetic choreography, her inspired selection of Eastern music, and her gorgeous costuming will make Haft Paykar a dance classic, too.?
Ticket reservations: 301-277-1710. $12 for adults; $6 for students and seniors.