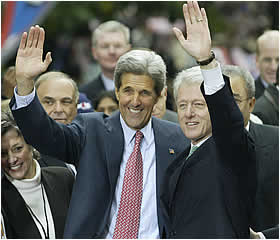 bill clinton joins john kerry on campaign trail as u.s. election approaches
Albert arrives with glamorous screen star Sharon Stone on his arm. The Basic Instinct actress co-hosted the evening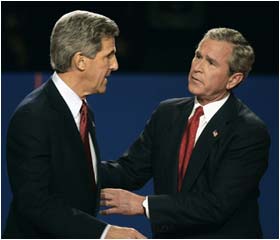 Final televised debate between presidential candidates John Kerry and George Bush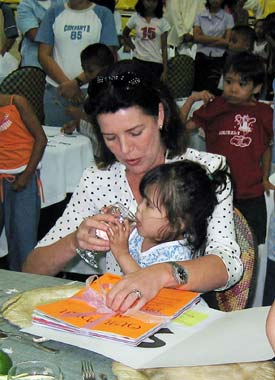 Caroline Follows her Mother's Legacy in Manila
Charles poses with a group of youngsters in traditional Bedouin dress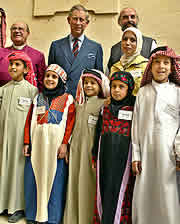 Charles poses with a group of youngsters in traditional Bedouin dress in Jordan!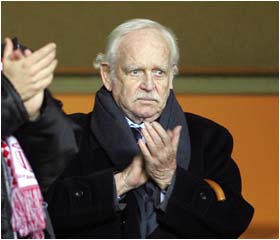 Prince Rainier was admitted to the hospital for a lung infection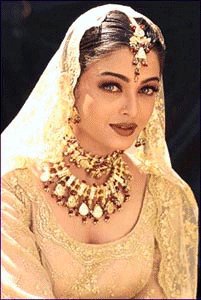 Aishwarya Rai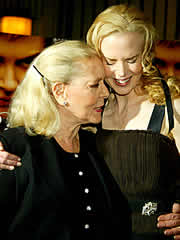 Hollywood actresses Nicole Kidman and Lauren Bacall demonstrated they are still the best of friends, embracing on the red carpet of their latest film, Birth.
The silver screen diva and statuesque Nicole, who wore a simple brown cocktail dress, showed that the straightforward comments made by Lauren earlier this summer are now just a memory.
During a Venice Film Festival press conference, Ms Bacall cut short a journalist who dubbed co-star Nicole a "legend". "She's not a legend," corrected the 79-year-old star, famous for her no-nonsense demeanour. "She's a beginner. What is this 'legend'? She can't be a legend at whatever age she is."
While the remark was interpreted by many as tension between the two, Nicole, 37, has always insisted that she agrees with the seasoned actress – and actually appreciated the opinion. "I was thrilled that she dismissed the legend stuff," she said later. "To put me into a category I don't belong, burdens me with responsibility I don't want.
"I telephoned Lauren and thanked her for saying that. She always calls it like it is and that's a reality check I adore."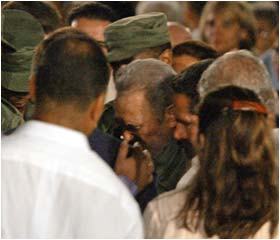 Fidel Castro recovers after falling at the end of a speech and possibly fracturing a knee and an arm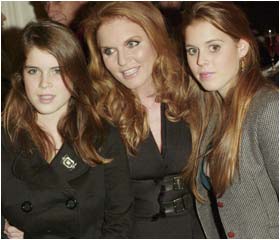 Sara Ferguson and daughters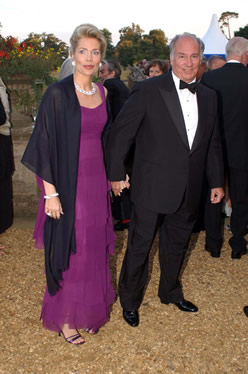 The Aga Khan and his wife the Begum Inaara are to divorce. The estranged couple, who have been separated for over a year, have a four-year-old son, Prince Aly Muhammad.
Their decision comes after six years of marriage. When the pair made their vows at the Aga Khan's racing complex outside Paris in 1998, the German-born beauty was introduced to a world of wealth and power. Her husband, who is the spiritual leader of the world's 12 million Ismaili Muslims, is estimated to be worth £6 billion. In order to become his wife the pretty blonde converted to the Islamic faith and changed her name from Gabriele zu Leiningen to the Begum Inaara.
But their relationship deteriorated over time and the two separated a little over a year ago. The Begum, who is now living in Berkshire, is expected to seek a divorce settlement in London's High Court. She is being represented by one of the UK's most respected lawyers, Maggie Rae, who also handled Princess Diana's split from the Prince of Wales.
It is not the first time the Aga Khan has found himself facing an expensive divorce. Nine years ago he broke up with his wife of 25 years, former model Sally Crocker-Poole, in a deal which cost £50 million. His current wife has also been previously married, to German Prince Karl-Emich zu Leiningen.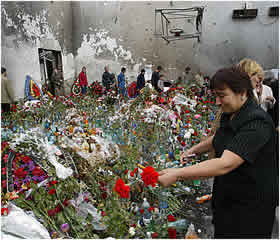 flowers are laid in Beslan school gymnasium as traditional 40-day mourning comes to end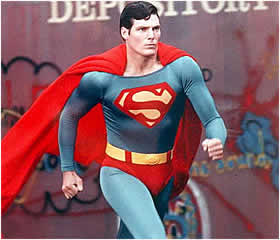 former 'superman' star Christopher Reeve dies aged 52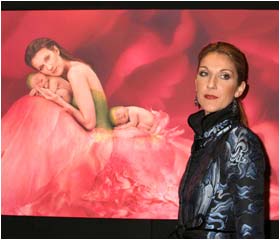 Celine Dion launches 'Miracle' - her new CD/DVD Book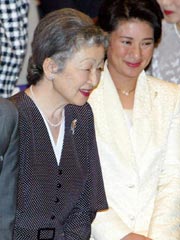 about her daughter-in-law's ongoing emotional troubles. In a statement issued to mark her 70th birthday, Emperor Akihito's wife offered her sympathy to Princess Masako, but seemed to hint that she should rise to the challenge of her responsibilities.
"When a member of a family is suffering, it is a source of sadness for everyone in the family," she said. "It's not only I, but all the members of our family who wish for the crown princess' recovery and want to be of help to her."
Masako has only appeared in public on a handful of occasions in the last year, as she struggles with what the Imperial Household has termed an "adjustment disorder". Her husband Crown Prince Naruhito provoked controversy in May when he said she had become exhausted after ten years trying to adapt to royal life.
The Harvard-graduate, who was a career diplomat before her marriage, was also said to be under pressure to produce a male heir. So far she and Naruhito have only had one child, little Princess Aiko, who was born in 2001.
But Empress Michiko, who was the first commoner to marry into Japan's royal family, seemed to indicate she had felt many of the same pressures in her time. "During all the years since, the sense of heavy responsibility has stayed with me all the time that I should not disgrace the Imperial Family, with its long history, who accepted me, an ordinary citizen, as crown princess."
The conservatism of Japan's Imperial Household is well known, and Michiko also voiced her desire that Masako should help the ancient institution to modernise. "I sincerely hope that the two Princesses, Masako and Kiko, will spend long years as members of the Imperial Family, and will be able to see not only the things that I have done, but also the many things that I have not been able to do, so that they will continue to add more to the Imperial Family, fulfilling what I have been unable to accomplish."

Hot Swimware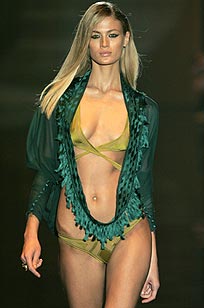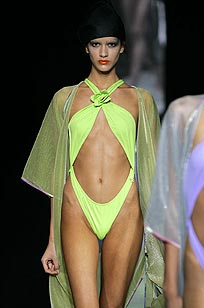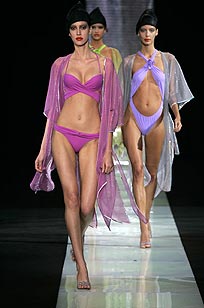 ----------------------------------------
Some of the information/pictures have been taken from Hello Magazine
www.hellomagazine.com