---
---
Female Students Clash with Police in Iran Capital
October 18, 2005
Iran Focus
iranfocus.com
Tehran, Iran -- Students from a female dormitory of Shahid Beheshti University in Tehran started a protest against lack of water supply, a state-owned daily reported on Tuesday. The students started their demonstration outside the dormitory late Sunday night, the hard-line daily Jomhouri Islami reported. They set paper and several tyres on fire, while also chanting for the resignation of the university dean. They threw stones at security officials at the scene who were trying to prevent an escalation of the crisis. Several hit-and-run skirmishes erupted in the process The daily did not say if any of the students were arrested. Parts of the female dormitory have had no water supply for the past two days, according to the report.
---
Iranian women footballers to play German team

13 October 2005
TEHRAN - Iran's women's national football team is to play a friendly next month against a German selection, the Tehran sports daily Iran-Varzeshi reported Thursday. The match, which is the first for Iranians against a European team, will be held in Tehran between Iranian female national footballers and German amateurs, the daily reported giving no exact date for the match. According to the report, the 19-strong German squad, known as "Berliner female footballers" will be accompanied by eight other persons including 2 female filmmakers who are going to make a documentary. The Iranian national team ranked second behind hosts Jordan in the West Asia's women football competitions last month in its first participation in an international contest. Its FIFA ranking is 114 out of 145 teams.
The Islamic country's women sports teams are not freely able to attend international competitions where women compete without gown and scarf. An Islamic sports tournament, exclusively for women, was held in Tehran last month. The Islamic games is a unique opportunity for many Muslim sportswomen to compete at international level as due to Islamic laws on dress code - gown and scarf for hiding body contour and hair - they are not allowed to attend international games on behalf of their Islamic countries. Due to the restrictions, film and photo coverage of those sports where women compete without gown and scarf are strictly prohibited. Those games, the same for the coming football match, can only be watched by a female audience.
---
by: Shubha Singh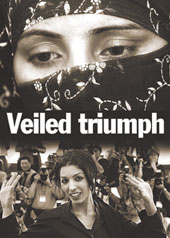 Hijab and chador notwithstanding, Iranian women have carved out a space for themselves in society, writes Shubha Singh

What lies beneath: Many Iranian women, like award-winning filmmaker Samira Makhmalbaf (above), have overcome the restrictions of a conservative society to succeed in their chosen field

Why Iran, asked friends and relatives. Why should a group of women journalists decide to go on a busman's holiday to Iran of all places? "You will have to cover your heads and won't be allowed to talk to men," exclaimed a colleague.
Iranian embassy officials were equally curious. The usual reasons were trotted out — it is an unlikely destination for a holiday with the family, but it is of interest to journalists as an important country in India's neighbourhood. The visas finally arrived, just as we were giving up hope, and were accompanied by elaborate instructions — heads had to be covered with no hair showing, long dresses to cover the wrists and ankles, and toes to be hidden inside shoes and socks.
---
Bakhtiari Costume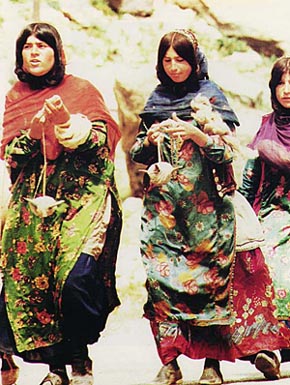 ---
IRAN: Go home by dusk, Iranian women told
State directive orders female journalists and civil servants to leave offices by dusk to be with their families
Tehran --- Female civil servants at Iranâ??s culture ministry and female journalists at the state newspaper and news agency must be out of the office by dusk to be with their families, a directive said on Tuesday. The directive was issued by Culture Minister Mohammad Hossein Saffar-Harandi, one of a batch of hardline ministers brought in by President Mahmoud Ahamdinejad, who won a landslide election in June. "Owing to the sensitive role of women in the family and in raising children, women employees are banned from staying at the office after 6pm," the Tosea newspaper quoted the directive as saying.
The order to get home early also covers the official IRNA news agency and the state-run Iran daily newspaper. The directive did not specify what punishments women would face if they disobeyed the decree. Shirin Ebadi, Iranâ's Nobel Peace Prize winner, said the decree was blatantly discriminatory. "Women should be free to adjust their working hours based on their pace of life," the human rights lawyer said. One woman reporter believed it was part of a plan by President Ahmadinejadâ??s government to turn the clock back on the tentative progress made under moderate former president Mohammad Khatami. Under eight years of Khatamiâ's presidency, enforcement of social restrictions such as dress codes for women were relaxed. Women entered previously male-only domains such as taxi driving and the police. "It is just a start. They will put more limitations on women. They do not want us to be socially active," said a female journalist. She works night shifts at the Iran newspaper. "What about me? I start working at 3pm. This decree means that I will be jobless soon."
---
First Muslim Miss England crowned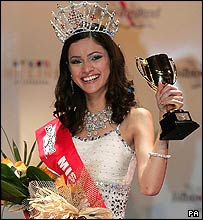 Miss Kohistani was born in Tashkent after her parents fled Afghanistan
A teenager who was born in Uzbekistan has become the first Muslim beauty contestant to be crowned Miss England.
Hammasa Kohistani, 18, said she was "happy to make history" and was looking forward to representing England in the Miss World championships in China


---
Saudi Arabia, Politics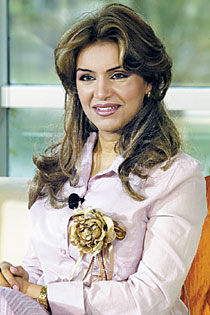 The Saudi activists and press woman, Rania al-Baz, succeeded in leaving Saudi Arabia and to arrive in Paris despite efforts to prevent her from traveling under the pretext that her travel paper documents are incomplete.
The Publication House "Michael Lavon" in France which published her book "Distorted" in France said that she left her country in an illgal way, and was hidden in a goods truck, and traveled to Bahrain and then to Dubai before she could take the plane to Paris.
The publisher added that al-Baz was banned on Tuesday from traveling to France from Jeddah airport under the pretext that her travel papers are not legal before she was notified she is banned from leaving the kingdom for an indefinite time. He stressed that al-Baz is a journalist who does not work against her country, nor Islam, rather for the rights of woman.
The publisher accused the Saudi authorities of trying to silence the journalist who left her children in the kingdom and preferred to defend the rights of the Saudi women.
He indicated to the book "Distorted" in which the Saudi journalist describes how her husband had beaten her violently for her role for attain freedom for woman and her militant role in Saudi Arabia.
It was presumed that Rania al-Baz would have had taken part by the end of last week in a conference in Paris quarters for "No prostitution, no surrender" which demands equality between man and woman among the expatriates circles in France.
Al-Baz who presented several women programs on channel 1 of the Saudi TV had marks, especially on her face, after her husband had beaten her. Her husband who accused her of misconduct was sentenced to imprisonment.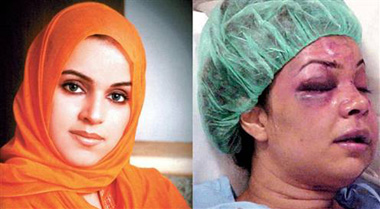 ---
Mazandarani Costume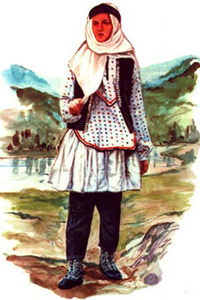 ---
By Janet Larsen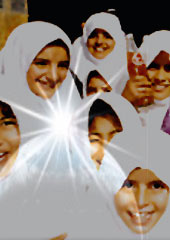 Last May, Janet Larsen traveled to Iran to join representatives from around the globe for an environmental summit. In the last of a three-part series, Larsen describes the beauty of Iran. From the architectural wonders of the city of Esfahan to the welcoming nature of Iran's people, Janet Larsen was exposed to a side of Iran not often seen by Westerners.
Esfahan nesf-e jahan. Esfahan is half the world. This half-rhyme just begins to sum up the grandeur of Esfahan's blue tiled domes and minarets, endless labyrinthine bazaars, fragrant spices, secret gardens and ancient palaces.
---
Gilani Costume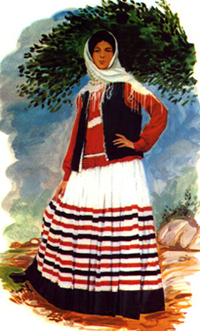 ---
Woman early winner in Afghan poll
KABUL, Afghanistan (AP) -- A 27-year-old woman critic of Afghanistan's powerful warlords has won one of the first seats declared in provisional results from landmark parliamentary elections, a key step in the central Asian nation's transition to democracy. The U.N.-Afghan election body on Thursday reported "serious" cases of fraud, including the stuffing of ballots into boxes after polling day. It excluded 299 polling stations from the vote count but declared the September 18 poll was still credible. It declared unofficial winners for national and provincial assembly seats in two of the country's 34 provinces, Farah and Nimroz, and said most other results would be released in the coming week.
---