Different piecess on this page are sent by: Darius Kadivar, Amil Imani, ShAhin, Paul Sadre:
Nazanin Afshin Jam former Miss Canada and Singer today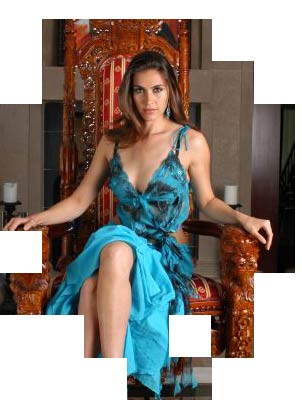 Iran plans to weave world's largest carpet
Reuters
TEHRAN (Reuters) - Iran is seeking to revive its carpet industry by weaving the world's biggest rug, weighing in at 35 tonnes.
The mammoth rug from the spiritual homeland of Persian carpets will cover almost 6,000 square metres and will fetch some $8.2 million, its makers told Reuters on Saturday.
"We will have two working shifts of 1,000 weavers working for 14 months non-stop to deliver the carpet on time," said Karam Reza Haseli, a deputy manager at the state-supported Iranian carpet company.
Work is due to start in three months.
The carpet has been ordered by the Sheikh Zayed mosque that is being built in Abu Dhabi, after Iran scoured its Gulf neighbours for contracts that might help revive business for local wool merchants, dye makers and weavers.
Although hand-woven carpets are normally Iran's top non-oil export, the industry has been hit by cheaper Pakistani, Chinese and Indian copies of traditional Iranian patterns.
Iran is hoping to break its own record for Gargantuan carpets, which it says is currently held by the 4,400 square metre carpet woven for the Sultan Qaboos mosque in Muscat.
Haseli said the quality of the workmanship would be maintained by paying some of the master craftsmen up to $7 a shift, far more than the $1 going-rate in areas near the Afghan border.
"We intend to monopolise the market with expensive delicate carpets and leave the cheap fake carpets market for others to fight for," Haseli said.
Sad-e Sivand?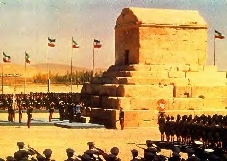 Construction of country's largest tourism complex begins in Shiraz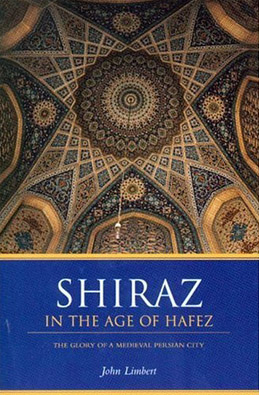 Shiraz, Sept 19, IRNA-Construction work for country's largest tourism complex in the south of Iran, the Persian Gulf Star Tourism Complex, began on Monday in Shiraz.

Governor of Shiraz, Engineer Samad Raja, said at a ceremony on the occasion, "Shiraz City has a very special and high status from the cultural and tourism points of the view in Iran today and has been at the focus of attention ever since remote past as the country's most important trade hub in the south."
Raja added, "According to many merchants and tradesmen Shiraz is the most secure country in Iran for business transactions." He reiterated, "Appropriate climatic conditions and favorable geographic conditions have turned Shiraz into an extraordinarily appropriate city for tourism and that is the reason why tens of thousands of tourists visit this city each year."
Shiraz governor stressed the need for development of tourism industry in the country, particularly in Shiraz, adding, "The main strategy of Shiraz Municipality is leaving investments on the major part of rural development projects up to the private sector, or the people themselves, so that the government would no longer be the sole investor in city's infrastructure development plans."
He added, "The proper ground is now paved for making broader investments in Shiraz and right now in addition to the $400 million allocated to Persian Gulf Star Tourism Complex in Shiraz, we have two $100 million investment proposals for two other rural development plans in this city."
Pointing out that the major tourism and trade projects in Shiraz are executed by foreign consultant engineers and foreign engineering firms, Raja said, "Let us not worry about leaving such projects in foreign firms' hands, since it provides an opportunity for Iranian forms that cooperate with them to gain up-to-date experience." Raja added, "In near future the city's texture would change with the construction of huge tourism and execration skyscrapers, that would further highlight the city's significance as the country's most important tourism pole."
Main investor and manager of the consultant engineering firm in charge of executive affairs of Persian Gulf Star Tourism Complex Seyed Hossein Hosseini, too, said at the ceremony, "Construction of this complex is in line with policies aimed at further development of tourism industry in southern parts of Iran and in Fars Province." He reiterated, "In order to complete this complex we will invest $310 million, seventy eight percent of which would go to its tourism section."
Hosseini added, "The project would create jobs for eleven thousand people and includes construction of two Persian gardens at a 7.5 hectare land, that would be a pleasant atmosphere at disposal of Shiraz citizens and visitors of this city."
He said, "In four hundred thousand square meter tourism area of the Persian Gulf Star Tourism Complex there would be forty-two restaurants, a thirty-two floor five star hotel, an and an indoor outdoor amusement park."
He added, "This complex would also include two 600-seat cinema halls, an Iranian bazaar, and 2,500 shops, all in a 500,000 square meter area in the north of Shiraz.
The Irresistible Shirin Patisserie in Tehran
Jazz saxophonist Darren Motamedy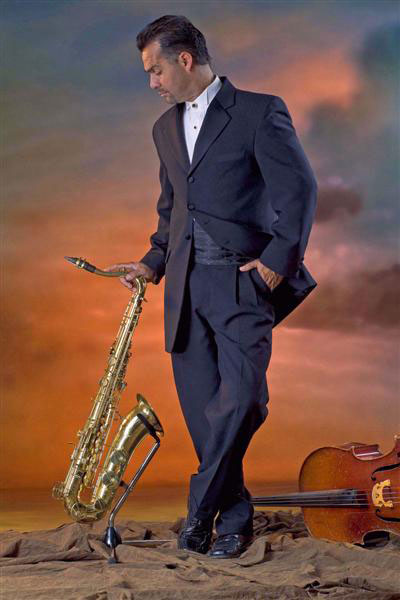 Darren Motamedy was born in 1959 in Los Angeles, California and is of Iranian and German French-Irish decent. It was not until 1968 while living in Taiwan that Motamedy first realized that he was intrigued with music. "One of my classmates offered to play his clarinet for our class during show and tell when I was in the fourth grade," Motamedy reminisces. "He squeaked and squawked, and captivated our entire class's attention with his song. I knew that I wanted to be able to one day play like him."
It was not until 1969 that Darren's family moved from Taiwan to Kent, Washington, a suburb of Seattle, that his dream of playing the clarinet would come true. Darren played in the school band and also studied privately
Motamedy elected to focus his energy playing the saxophone, clarinet, and flute at Central Washington University, a school renowned for its extensive music department. He continued studying the clarinet with one of America's premier clarinetist's, "Raymond Wheeler," and continued to refine his jazz abilities with National Jazz Educator "John Moawad."
Motamedy has thrilled his audiences with his music. His first two CD's while leading, writing, and performing with his group first group "Mottoretti" achieved national success, landing spots on the "AC" charts and the "Jazz" charts as well. In 1995, his solo CD and career were launched with his third album "Dangerously Close". This album won the "Best Jazz Album" of the year category with Seattle Based KUBE radio station. Soon after the release of "Dangerously Close", Motamedy was on the road opening for such acts as "Ce Ce Penniston", "Deneice Williams", and "Big Bad Voodoo Daddy". "Peace" was Motamedy's follow up recording of Holiday Classics, and finally in 1999 Motamedy released "It's All Good". "It's All Good" was a culmination of great songs, excellent production featuring "Kenny G's" rhythm section, phenomenal art and design, and an "enhanced CD" that features an eleven minute video with Motamedy. This CD also won the 1999 "Jazz Album" of the year with the extra bonus of taking home the trophy over jazz greats "Dianne Shuur and Kenny G".
"It's All Good" helped Motamedy to be the ambassador of music to Taiwan during the 2000 Northwest Culture Celebration in Taipei Taiwan.
"The Best of Taste" theme music is just one of eleven new songs that make up Motamedy's 2002 release "Relax Your Mind" features 11 great new songs.. Also featured on this new record is a fantastic rendition of "Yesterday" by the Beattle's and "The World is a Ghetto" by War along with nine other originals by Motamedy. "Relax Your Mind" hit the jazz in February, 2002.
RESTAURANT:Persian delights await at new Forest Avenue
http://pressherald.mainetoday.com/foodhealth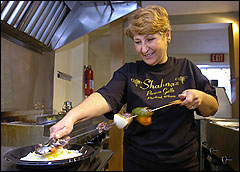 A new Persian restaurant just opened in Portland, apparently the first of its kind north of Boston.
Shahnaz Mahager, owner of Shahnaz Persian Grille at 795 Forest Ave., says her new labor of love is about more than making money. At a time when most of the news coming out of Iran is negative, she wants to introduce Mainers to the more positive aspects of Iranian culture and cuisine.
Human Rights Watch Honors Iranian Journalist and Blogger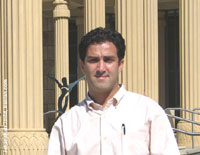 New York, (October 26, 2005) – On November 8, Human Rights Watch will honor Omid Memarian, an Iranian human rights activist who has creatively used the internet to press for a more open and democratic political regime in Iran.
Polo comes back home to Iran
It has been called the Game of kings, but polo is being revived in post-revolutionary Islamic Iran.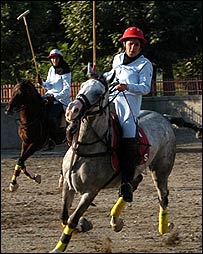 Iran uncovers more of its winemaking past
Archaeologists digging in southern Iran have found a pool and pots they believe were used about 1,800 years ago for large scale wine production,
reinforcing the now-Islamic nation's status as the cradle of wine drinkers.
"We have found an almost intact pool with a canal in the middle of it. This is where the juices from crushed grapes would flow and be collected later in pots for fermentation and turning into wine," said Ali Asadi,
the head of the excavation team. The team, which includes a group of Polish archaeologists, are digging
at a site called Tange Bolaghi, near the southern city of Shiraz - a name also associated with fine wine.
Mr Asadi said the team have also unearthed grape seeds, huge clay pots and remains of other similar pools in the area. "The size of the pots and abundance of grapes in the area suggests wine
could have been produced for commercial purposes at the facility," he said. Iran is already believed to be the country where wine was first made. A
jar containing the remains of 7,000-year-old wine was found about 30 years ago in the kitchen area of a mud-brick building in Hajji Firuz Tepe, a Neolithic village in Iran's Zagros Mountains. The country may have a winemaking heritage that is second to none but alcohol manufacture and consumption has been banned in the country since the 1979 Islamic revolution.
Queen Rainia of Jordan and Shahbanou Farah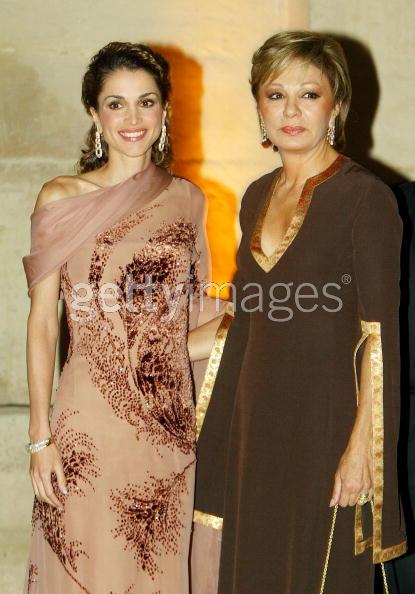 Tjeknavorian Commemorates Mozart in Iran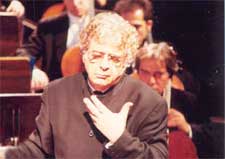 Tjeknavorian Commemorates Mozart in Iran
Tehran 28 September 2005 (CHN) -- Loris Tjeknavorian is appointed by Peter Marboe, secretary of the International Mozart Festival to perform for the 250th anniversary of the great Austrian composer, Mozart, in Tehran.
27th of January 2006 is the 250th birthday of Mozart. Every year his birthday is celebrated with concerts, operas, and special festivals around the world. Wolfgang Amadeus Mozart (January 27, 1756 – December 5, 1791) is among the most significant and enduringly popular composers of European classical music. His enormous output includes works that are widely acknowledged as pinnacles of symphonic, chamber, piano, operatic, and choral music. Mozart himself is universally recognized as a musical genius, having learnt to compose at the age five and showing an encyclopedic grasp of every musical form of his time despite having lived only for 35 years.
For his 2006 birthday, Loris Tjeknavorian, world-renown Iranian musician, has been appointed by Peter Marboe, secretary of the Mozart Foundation and his International Festival, to perform in commemoration of Mozart in Tehran, Iran.
"With the cooperation of Iran- Austria Cultural Center and the Roodaki Center in Iran, we, alongside other countries of the world, will perform a concert in Vahdat Hall for the commemoration of the 250th celebration of this great composer," said Tjeknavorian to CHN.
However, as Tjeknavorian explained, since the birthday of this musician coincides with the mournful days of Imam Hossein (the third Imam of Shiite Muslims)'s martyrdom, the ceremony will be held on the day of Mozart's death, 5th of December, in Iran.
Loris Tjeknavorian was born in Iran in 1937. After studying violin and piano at the Tehran Conservatory of Music, he studied composition at the Vienna Music Academy where, in 1961, he graduated with honors. Shortly after his graduation four of his piano compositions and his ballet Fantastique were published by Doeblinger in Vienna.
From 1961 to 1963 Tjeknavorian taught music theory at the Tehran Conservatory of Music. At the same time, he was appointed director of the National Music Archives in Tehran and was in charge of collecting and researching traditional Iranian folk -music and national instruments. In 1963, back in Austria, Prof. Carl Orff granted him a scholarship, which allowed him to reside in Salzburg and to complete his opera "Rostam and Sohrab".
Tjeknavorian has conducted international orchestras throughout the world: in Austria, UK, USA, Canada, Hungary, Copenhagen, Iran, Finland, USSR, Armenia, Thailand, Hong Kong, South Africa, Denmark, Israel, etc. His own compositions have been performed by major orchestras, including the London Symphony Orchestra, the London Philharmonic Orchestra, the Halle Orchestra, the Philharmonic Orchestra Helsinki, the American Symphony Orchestra in New York, the Tehran Symphony Orchestra, the Johannesburg Symphony Orchestra, the Haifa Symphony Orchestra, the Mexico Symphony Orchestra, the London Percussion Virtuosies, the Strasbourg Percussion Ensemble and English Chamber Orchestra, etc.
From Persia to Memphis: Persian Restaurant
Esfandiar Mirghahari, or S.C. as he is called, has opened Caspian, the first Persian restaurant in Memphis. Caspian offers foods from Mirghahari's birthplace of Iran, which was the center of power for the Persian Empire dating back to the sixth century B.C. At 31, he's too young to remember his country before it became officially known as the Islamic Republic of Iran in 1979, but Mirghahari still identifies with his Persian ancestors. This restaurant is a symbol of that heritage.
Zohreh Rastegar Talk Show Host Washington Radio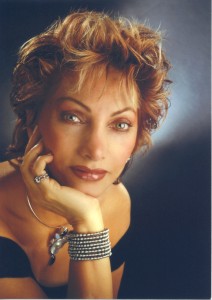 Born in Shiraz, Iran, Zohreh Rastegar was raised in an educated, urbane family in Tehran. Her mother was owner and head mistress of a private school in Tehran before retiring. Her father was an executive at the National Oil Company. He was also a poet and published a book of poetry just prior to his death in December, 2001.
Since elementary school, Zoe loved being on stage, a passion that continued throughout college. She was spokesperson and radio news announcer for Pahlavi University. While in Iran, she also played parts in radio dramas. Her poetry appeared in Iranian publications. She has received awards for writing and public speaking while student at Pahlavi University.
In the 1970s, Zoe moved from Iran to the U.S. as a young bride. While raising three children in the Washington area, she matriculated into local colleges, earning a Master?s degree in English Literature from Washington College in Chestertown, Maryland (1980) and a Master?s in Health Services Administration from George Washington University in D.C. (1999).
Zoe started her television career in 1990 after being an active member of the Iranian community for several years. She produced and hosted three talk shows for Rang-a-Rang, a privately owned television in the Northern Virginia within five years, then left to finish her second Master?s degree.
In May, 2000, she started her own show on Fairfax Public Access cable television. ?Outlook? was a weekly talk show in the Farsi language focusing on Iranian immigrants to the United States and their adaptation into the American culture. The show was aired for two years in Virginia, Maryland and the District. It grew to spotlight the concerns and issues of both first and second generation Iranians and it was well received within the Iranian community.
In October, 2002 Zoe debuted ?Accent? on Fairfax Public Access cable television in Northern Virginia. The weekly talk show in English is geared to a broader audience of Americans and Iranians to promote cultural awareness in a post-September 11th world. ?I feel it is my duty as a communicator to inform and educate not only our host country about Iranian culture and politics, but our own second generation Iranians who are not fluent in Farsi and feel like outsiders,? says Zoe.
Zoe?s goal for ?Accent? is to make a difference by being a positive voice encouraging assimilation of Iranians into American culture without losing touch with their magnificent, proud past. ?We must cherish and celebrate our culture,? she says, ?but not limit ourselves by our prejudices in the name of patriotism.? ?Accent? is an outreach show that transmits the views and heritage of both generations beyond the Iranian community while empowering it locally.
Zoe has also been a vibrant volunteer for the past 25 years, especially in the Iranian community. She served as chairwoman for the Iranian Women?s Society of Washington, D.C. for six consecutive years and a founding member of the Iranian Cultural Society, where she also served as master of ceremonies for special events. She co-founded the Washington Nights of Poetry and founded the McLean Youth Citizenship Award. In addition, she chaired the legislative committee of the Virginia Medical Auxiliary. She is certified as a public speaker by the Capital Speakers Club of D.C. She writes poetry and prose in Farsi as well as in English. Some of her writings have appeared in Iranian publications in the Washington metro area. On March 24,2003 she was one of the panelists at the National Conference for Community and Justice in Washington, DC. This is a program that encourages inclusion, tollerance and stresses the responsibilties of the media as a source of information. She was the guest on KCMO Radio Airing from Kansas Missory commenting on the current issues in the Middle east on April 30/03. She has appeared on CBS morning show, WUSA with Andrea Roan on May 6th and was interviewed by KGAB radio from Cheyenne, Wyoming to comment on the current Middle east issues and role of Iran. Recently she was interviewed on Voice of America about the Iranian Women and their achievements in spite of their limitations and hardships both inside and outside of the country since the Iranian Revolution of 1978
Contact her at:
Zoe Rastegar
P.O. Box 3645
Washington, D.C. 20027
Ramona Rina Amiri
Miss Canada 2005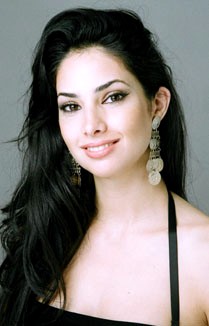 Engineering professor among world's top innovators

Parham Aarabi recognized for the profound impact of his research on the way we live and work

A leading artificial intelligence engineer at the University of Toronto has been named among the world's top 35 innovators under the age of 35 by the Massachusetts Institute of Technology's (MIT) prestigious Technology Review magazine.


Professor Parham Aarabi

Professor Parham Aarabi of the Edward S. Rogers Sr. Department of Electrical and Computer Engineering was chosen by a group of MIT experts in recognition of the profound impact of his research on the way we live and work. Founded in 1899, Technology Review boasts a readership of over one million. Past recipients of this award include Sergei Brin and Jerry Yang, founders of Google and Yahoo respectively, as well as U of T Professor Ted Sargent, who won in 2003.
Aarabi, the Canada Research Chair in Multi-Sensor Information Systems, was singled out for his work on an algorithm that calculates the location of a sound source and then enhances that source while removing noise. His invention could one day filter out extraneous voices in cell-phone conversations or enhance voice control in cars - technology that will revolutionize communications.
"I am honoured to have been selected for the TR35, especially given the high calibre of the other scientists and engineers who were selected this year and in previous years," says Aarabi, founder of U of T's Artificial Perception Lab. "I am especially grateful to the University of Toronto and more specifically to the Edward S. Rogers Department of Electrical and Computer Engineering for enabling and fostering a unique environment for innovative research."
At 29 years old, Aarabi's list of achievements is lengthy: he completed his PhD at Stanford University in just two years and became one of the youngest professors in Canada at 24. At 28, he became one of the youngest tenured professors at the University of Toronto. Aarabi's numerous national and international awards include the Institute of Electrical and Electronics Engineers' Mac Van Valkenburg Early Career Teaching Award and he was recently named one of Ontario's best lecturers by TVOntario. His research, which focuses on intelligent robotics, human-computer interactions and robust speech recognition, has appeared in over 50 peer reviewed publications. Aarabi will be honoured Sept. 28 at the Massachusetts Institute of Technology.
In Cairo after the death of the Shah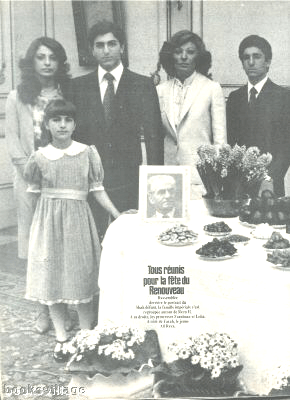 CNN VJ Profiles
By Cliff Johnson

Parisa Khosravi: Senior Vice President and Managing Editor, International Newsgathering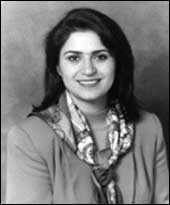 Parisa Khosravi

When Parisa Khosravi started at CNN in 1987, she says she needed the experience more than the money. "As an Iranian who left Iran just before the revolution, news was a big part of my life," she says. "I wanted to be right in the thick of breaking news events since high school." So after completing seven experience-rich internships during her Columbia College education in Chicago, Parisa received a bachelor's degree in journalism and immediately secured a job as a CNN Video Journalist (VJ). Fourteen years later she has an executive office, but says she rarely sees it.
From VJ, Parisa was promoted to Playback, where VJs cued and loaded tape directly for air. She loved having to think ahead of directors. She then was offered a position as an assistant assignment editor at the International Desk, where she gathered news from around the world and provided it to all CNN news entities. "I took pride in elementary work like fonting," she says, "the process of formatting scripts for a teleprompter." Within a year she became a full-fledged Assignment Editor, talking to reporters in the field and deciding what to cover. In her continued rapid ascent, Parisa was eventually promoted to Senior Editor, then Director of Coverage, Vice President and finally -- at least for now -- Senior Vice President and Managing Editor.
When asked about CNN's brand of news, Parisa offers up how many bureaus CNN has around the world that provide comprehensive coverage.
On occasion, Parisa performs field duties. In 1995, she secured an exclusive interview with Iranian President Akbar Hashemi Rafsanjani. Two years later, she produced CNN's live coverage of the 1997 Iranian elections from Tehran. Parisa has received many awards including a 1993 Golden CableACE for CNN's coverage of the Gulf War; a 1992 Peabody Award for CNN's coverage of the attempted coup d'état in the former Soviet Union. She's also won awards for covering Somalia, Bosnia, the Moscow Uprising of 1994 and the 1996 crisis in Zaire and Rwanda.
Iran Prepares to Register Golestan Palace on UNESCO List
CHN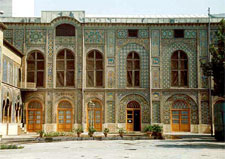 Tehran, 11 October 2005 (CHN) - Golestan Palace will be included in Iran's complimentary recommended list for registration on UNESCO World Heritage List in 2007. Each country gives a complementary list to renew its previous one every 10 years. The international registration of Golesatn palace provides the opportunity for Tehran to be known as a historical, cultural center besides being the Capital of Iran. Tehran has had no registered historical sites so far.
"Due to the regulations of UNESCO, each country can recommend new heritage every decade to be registered on the World Heritage List," said Jalil Golshan, director of Iran's Archaeology Bureau.
The historical context of Yazd, and the historical complex and context of Damqan are other recommendations of Iran for UNESCO World Heritage List.
"The number of registered heritage of each country is important from different aspects," he added, "This number helps countries to increase their cultural status on an international level, on one hand, and the countries can benefit from the financial helps of UNESCO fund for restoration of their sites, on the other hand."
"Benefiting from the knowledge of UNESCO international experts is another opportunity provided by the registration of national heritage," he asserted.
Naser Paouli, director of the registration council of Iran's Cultural Heritage and Tourism Organization, believes that Golestan Palace can be a proper representative of Tehran's cultural heritage among UNESCO's World Heritage.
The effort for registration of Golestan Palace in the World Heritage List paves the way toward registration of other historical monuments.
Architectural styles of different periods can be traced in Golestan Palace. The historical complex was founded in the period of Shah Tahmasp and turned into a government office in Zand and Qajar era.

Beauty Contest ::.. Shermine Shahrivar - Miss Europe 2005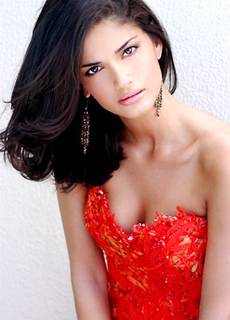 Dark-haired Miss Germany, Shermine Shahrivar, a 22-year-old of Iranian origin won the title of Miss Europe 2005 in Paris.
The 1.74 metre (5ft 10 inch) beauty queen, who has just finished her university studies, speaks German, Farsi, English and French. Her hobbies are horse-riding and swimming.
Among the judges of the contest, beamed live to more than 50 countries, were singer Charles Aznavour and couturier Paco Rabanne.
The other finalists were Miss Armenia, Miss France, Miss Slovakia and Miss England
Sand Festival in Babolsar
Sari, Mazandaran prov, Sept 7, IRNA-The First Sand Statue Festival (September 1-6) ended in the city of Babolsar bordering the Caspian Sea in northern Iran wrapped up its work on Tuesday.