News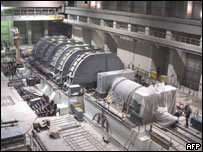 Iran to hear final nuclear offer
US rivals blitz Iowa battleground
Lebanese PM and cabinet resign

US soldier admits Iraq jail abuse

Castro 'intact' after rally fall


Iran to shun Europe nuclear deal
Europeans to Offer Iran Last Chance to End Nuclear Weapons Effort

US rivals back on campaign trail

First generating unit of Iran's Bushehr nuclear power plant ready
Baghdad blogger: 'Elections our only hope'

Bush praises Superman star Reeve

Kerry and Bush to go head-to-head

Exile call prompts Iran protests

Sporadic and violent clashes rock center of Tehran

Haiti struggles for flood relief

Baghdad kidnapping crisis deepens
'Historic' S Asia meeting hailed

French literary icon Sagan dies

Cat Stevens to take legal action

Analysis: Putin's drastic measures

Iranian nuclear plans 'unclear'
Many Beslan victims gravely ill

US 'concern' over Putin measures


Turkey signals U-turn on adultery

Iran faces 'nuclear ultimatum'

Arab journalist attacks radical Islam

Russia to pray for siege victims

High death toll in Russia siege

Clinton hospitalized with chest pains
UN backs Lebanon sovereignty call

Iraq president halts French visit

Appeal for calm after Nepal riots
Russian pupils held in armed siege

Iran Claims Arrest of Nuclear Spies
French hostages plead for lives
Republicans gather to back Bush

Iran Ready to Provide Nuke 'Guarantees'
Kabul tense after weekend bombing

NY protests as Republicans gather
Kremlin's man wins Chechen poll

France responds to hostage crisis

Najaf shows government's weakness

Al-Qaeda undimmed by sanctions

Articles
Don't forget to vote on November 2nd, together we will make a difference.
Features
Hussein Banai
A quick glimpse of the news headlines in any of the world's major presses would surely alarm any Iranian living today, either inside Iran or in the diaspora. The morally-corrupt Islamist ideology of the ruling clergy which has been oppressing Iranians inside the country for more than two and a half decades now appears to threaten the rest of the world through that regime's covert pursuit of nuclear capabilities.



Sent by: Shahrokh
MPG hand delivers letter of protesOn September 23, 2004 The Marze Por Gohar Party, at an event that took place at Beverly Hills Hilton, presented the Sheikh of Qatar a letter of protest. The Chairman, Roozbeh Farahanipour, Director of Foreign Policy, Babak Namdar, Persian Gulf Specialist, Sepehr Aryannia and Oz Asemani personally delivered to Sheikh Hamad Bin Khalifa Al Thani of Qatar, a letter of protest.t to Sheikh of Qatar


E'etelaaf-e Bozorg Bee Zahr-e Ghalam v Zakhm-e Zabaan
Kaazem Vadiee
(Persian)

Bahram Maskanian
We must beware and recognize those who have disguised themselves as friends preventing us from realizing self-sufficiency and the enormous power we possess collectively.

Elmira Dianati
I attended a peace demonstration in San Francisco, and what I saw amazed me.

There was a huge group that was anti-Bush, anti-Israel, anti-Iraq war, pro-Palestine...etc. There was another group that was demonstrating for peace, carrying the Israeli flag, which was anti-Palestine, anti-Al Qaeda, anti-terrorism, pro-Bush...you get the picture.


shirin Tabibzadeh
(Persian)
---
---
Opinion

Cyrus Kadivar
Sent by: Shahrokh

The man sitting in front of me in the quiet Parisian cafe Boulevard Montparnasse seemed lost in thought. Gazing out the window at the deserted streets that August afternoon he tried to recall the day he went to Niavaran Palace where Shapour Bakhtiar, the newly appointed prime minister, was due to present his cabinet to the Shah. He could not recall the exact day but he spoke calmly about the weather being soft, warm and bright on that winter's morning.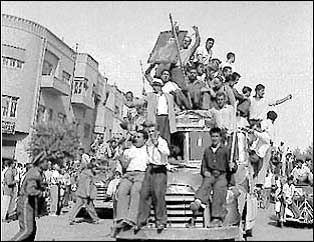 Farhad Yazdei
Telash # 14 has several excellent articles about 28 Mordad, this is one of them.
(Persian)


Sayeh Saeedi Sirjani
Sent by: Shahrokh
(Persian)
---
---
Book Review


Dr. Jalil Doostkhah
(Persian)
---
---
Literature

Shirindokht Nourmanesh
(Persian)


Maxim Gorky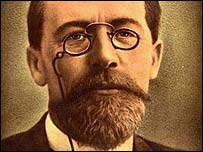 Once he invited me to the village Koutchouk-Koy where he had a tiny strip of land and a white, two-storied house. There while showing me his "estate", he began to speak with animation: "If I had plenty of money, I should build a sanatorium here for invalid village teachers. You know, I would put up a large, bright building--very bright, with large windows and lofty rooms. I would have a fine library, different musical instruments, bees, a vegetable garden, an orchard. ... There would be lectures on agriculture, mythology. ... Teachers ought to know everything, everything, my dear fellow."

by: PIERRE AUGUSTIN CARON DE BEAUMARCHAIS

Pierre Augustin Beaumarchais (1732-99) French dramatist. Originally a watchmaker, he rose to wealth and position among the nobility. His two successful comedies were Le Barbier de Séville (1775), the basis of an opera by Rossini, and Le Mariage de Figaro (1784, was believed to ignite the French Revolution.), the source of an opera by Mozart.
---
---
Articles by: Morteza Aminmansour:
Persian Gulf(Abu Musa, greater Tunb, Lesser Tunb).
by: Morteza Aminmansour

ABU MUSA township is an aggregate of 3 islands and is located in south of HORMOZGAN province 222 km far from BANDAR ABBAS, having hot and humid weather .
***
Morteza Aminmansour
Seattle, WA,2004
Women migrated from Azerbaijan, Iran Kazakhstan, Ukraine, India and Eastern Europe have reported being lured with fraudulent promises of lucrative opportunities, legitimate jobs and then forced into sexual exploitation.
---
---
History

Following the discovery of a sextant in the legendary castle of Alamut in central Iran, experts now believe Hassan Sabbah, the leader of Ismaili sect, has been an astronomer.
Historical documents assert he was a scientist who dabbled in all major science fields of his lifetime, including medicine, architecture and astronomy.

Animalism vs. Marxism
By Howard M. Unger
Every line I have written since 1936 has been written, directly or indirectly, against totalitarianism," quotes George Orwell in the preface to the 1956 Signet Classic edition of Animal Farm. The edition, which sold several millions copies, however, omitted the rest of the sentence: "and for democratic Socialism, as I understand it.?
---
---
Tanz
Ebrahim Nabavi
sent by: Shahrokh

Smile!
Always get married early in the morning. That way, if it doesn't work out, you haven't wasted a whole day.
Mickey Rooney
---
---
Photography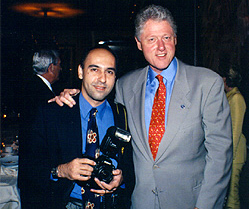 Kaveh Sardari, photographer of celebrities and more........
---
---
Cinema

Sent by: Darius Kadivar


"
By: Amil Imani
The "Bandits" show extraordinary circumstances of the heightened possibilities of human life. The skin shapes in women's prison, which reflect meticulously composed images that threaten to overwhelm the viewer's sensibilities, makes actress Jasmin Tabatabai a personification of the heroine of an action thriller. Her performance makes a compelling passion below her rebellious surface.
---
---





Copyright © Shirin Tabibzadeh, Cupertino, 2000 -2003
Rozanehmagazine is not responsible for the opinion expressed throughout its pages
and/or the content of the Sites to which it is linked.

Political Articles
Iraq Accuses Iranian Embassy of Killing Agents
October 14, 2004
Agence France Presse
AFP
Iraq's national intelligence chief Mohammed al-Shahwani has accused Iran's Baghdad embassy of masterminding an assassination campaign that has seen 18 intelligence agents killed since mid-September.

***
Israel could become pariah state, warns report
Israel is set on a collision course with the EU and could turn into a pariah state, on a par with South Africa during the apartheid years, if the conflict with the Palestinians is not resolved, Israel's foreign ministry has warned
***.
US Ramps Up Military Rhetoric On Iran
In a thinly veiled threat, Secretary of State Colin Powell noted Wednesday that "all nations" reserve the right to use military force to shutdown Iran's drive to build nuclear weapons.
***
Islam apologist Ebadi: France Ban Fuels Extremism
Iranian Nobel prize winner and Islam apologist Shirin Ebadi on Tuesday criticized France's ban on Muslim headscarves as fuel for fundamentalists, while praising Austria and Scandinavian countries for their religious tolerance.

****
Interview: Symposium: Atomic Ayatollahs
Sent by: Reza Bayegan
****
THE IMPORTANT NEWS ABOUT IRAQ THAT HAS GONE UNREPORTED
by Amir Taheri

For the past month or so, while the media have been obsessed with the activities of Moqtada Sadr and his fighters in Najaf, much of the really important news about Iraq has gone largely unreported.
****
Pictures
Iranian.com
****
Nuclear Iran would be a 'nightmare'
By HERB KEINON AND AP

An Iranian nuclear arms buildup would be a "nightmare," German Foreign Minister Joschka Fischer warned Sunday, saying Europe is looking to head off any dangerous confrontation with Tehran.

***
Europe's Iran Fantasy
Europeans are from Venus, Mullahs are from Mars.
by Leon de Winter

ON OCTOBER 22, 2003, the Guardian, a leading British newspaper, carried no fewer than three articles about the remarkable events in Tehran the day before.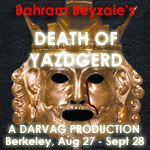 Sheik: Allah sent giant spiders to combat U.S.
WorldNet
An Iraqi sheik claims Allah sent giant spiders to the town of Fallujah to help its residents fend off attacks by U.S. military forces
***

Mullahs' reign of terror in Iran
By: Roya Johnson
sent by: Amil Imani

As a former political prisoner, I have been asked on many occasions what has kept the mullahs' regime in power in Iran for twenty five years. ****
Patriotism Fails Iran,
Sets to Breed Islamic Terror

****

Appeasement: Now, More Than Ever
Reza Bayegan
Just as news was breaking that Iran had sheltered more than half of the hijackers in the 9/11 plot, a group of liberal foreign policy hacks were calling for the "liberalization" of relations between Iran and the United States.
***