EMPRESS Farah Pahlavi, Receives the Anne Morrow Lindbergh Grace and Distinction Award 2005

Report For Rozaneh By Darius KADIVAR
Pictures: Courtesy of (c) Mrs. Patricia White.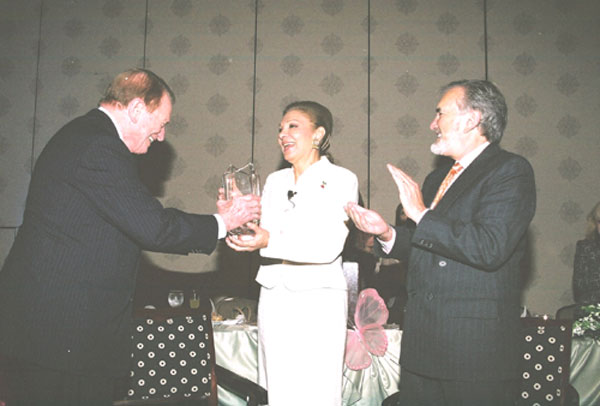 From Left to Right: Ambassador Roy Huffington, Empress, and Dr. Roy Smith


Baylor College of Medicine's Huffington Center on Aging held the 2005 Women's Health Summit on October 11, 2005, at The InterContinental Houston. The theme for this year's Summit was "In Full Bloom: Forever Young" and focused on ways to maintain health and wellness throughout life. The program began with a most informative educational seminar at 10:30 a.m. presented by Dr. Michael Hewitt from the renowned Canyon Ranch, followed by a fundraising luncheon at 12:00 noon.
The Center was extremely honored to present Empress Farah Pahlavi, best selling author, philanthropist and humanitarian with The Anne Morrow Lindbergh Award for Living With Grace and Distinction. Sidney Faust, Maryann Hoffer and Sylvia Sullivan were also be honored with Spirit of Excellence award for their lifelong philanthropic efforts in Houston. As an additional highlight, the Center also honored Beth Moore and Vanessa Sendukas with the Excellence in Bloom award. This was the first year this award had been presented and the Center was pleased to have these two outstanding women as the first-time honorees.
The 2005 Women's Health Summit was attended by 480 people and was a complete sellout. The event set new attendance and fundraising records. Proceeds from this exceptional event will go towards the education and training of the second year physician fellows of the Huffington Center on Aging.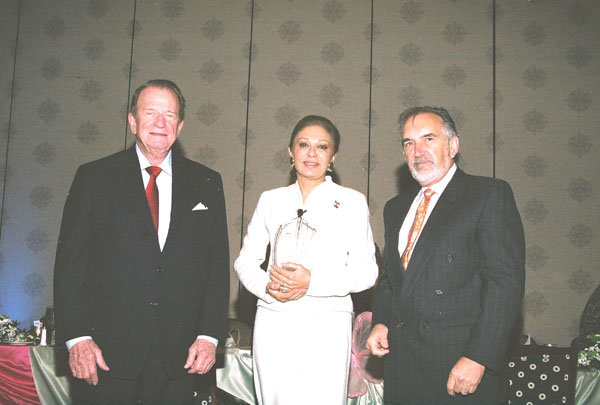 From Left to Right: Ambassador Roy Huffington, Empress, and Dr. Roy Smith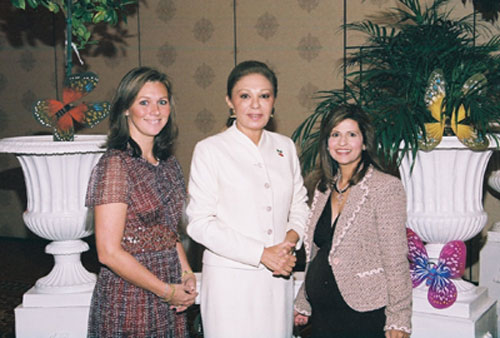 Left to Right: Ms. Donatella Benckenstein, Empress, Ms. Mehrnaz Gill.



Huffington Center on Aging
Baylor College of Medicine
Houston, Texas
2005 Women's Health Summit
Honoring Empress Farah Pahlavi
October 11, 2005
Also read bio Anne Morrow Lindbergh : http://www.charleslindbergh.com/anne/index.asp