Forough Farrokhzad CD
World of Politics
Iran's Revolutionary Fervor Is Now All but Spent
By ELAINE SCIOLINO
TEHRAN, Feb. 1 Twenty-four years ago today, a 78-year-old ayatollah with fierce eyes named Ruhollah Khomeini landed in an Air France plane to make a revolution.

Muslim Women and the Politics of Participation
Imagination as Subversion
by: Azar Nafisi

Shahrzad's famous story goes like this: Once upon a time there were two brothers who each ruled over a different kingdom. One brother, Shahzaman, decided to visit his elder brother. Shahryar. On the way there Shahzaman realized that he had left behind his present for Sharyar, and turned around. Back at his palace Shahzaman found his queen making love to a slave.

Iran & Iraq or Persia & Mesopotamia
a response by: Shahrnoosh Parsipour

World of Literature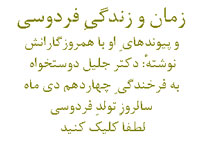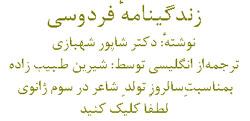 A message to Rostam on
The Tragedy of Rostam and
Sohrab

By: A Five Year Old Boy


Many years ago there was a little lovely boy in a Persian family, living in Isfahan, so-called Half The World. He was a five years old one and his name was NIMA. Little Nima had heard some of the anciant Persian epic narratives from his father Jalil and among them had a special attitude and a deep desire towards The Tragedy of Rostam and Sohrab.

yAd vAreh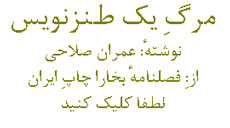 Religion
Mithraism and Christianity
Romans usually called Mithras "Sol Dominus Invictus." Roman writers believed that Mithraism came from Persia and that Mithraic iconography represented Persian mythology. From this beginning modern scholars have traced Mithras in Persian, Mittanian and Indian mythology.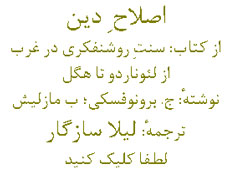 History
The Safavids
From the water of immortality to the legendary source of Fin
The Royal Quarters Of Qazvin, The Caspian, And Isfahan: City Garden
The idea of Persia was reborn in adversity. During the hard centuries after the fall of the Sasanians there was a renaissance in which poetry, painting, textiles, architecture and its attendant gardens entered a golden age. (In Full )

NOMADS IN IRAN
Aryan tribes migrated into the Iranian plateau in the 2d millennium BC. There are over 1.5 million nomads in Iran today. Many of these tribes such as the Kurds, Bakhtiyaris (Bactrians), Lurs, Guilaks, and the Baluchs are descendants of the original invaders who came from Central Asia to settle in the Iranian Plateau.

Short Stories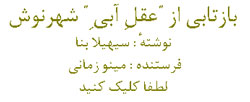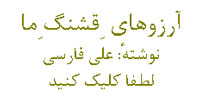 Cinema
Iranian Movies
Iranian film making is enjoying an increase in popularity worldwide because of the quality of films made. Below are descriptions of some recent movies and also videos for sale. As more Iranian films become available for sale we will list them.