Iranian Films, Berkeley
Iranian Cinema at the Pacific Film Archive at UC Berkeley
starting January 14th. Featured films include:
"Bemani (To Stay Alive)" - Dariush Mehrjui
"The Exam (Emtehan)" - Nasser Refaie
"The Deserted Station (Istgah-e matrook)" - Alireza Raisan
"A House Built on Water (Khaneie rouj-e ab)" - Bahman Farmanara
"Iranian Spread(Sofreh Irani)" - Kianoush Ayyari
"Yad-O-Yadegar" - Mostafa Razzagh Karimi, Mojalal Varahram
"I Am Taraneh, 15(Man, Taraneh, panzdah sal daram)" - Rasul
Sadr-Ameli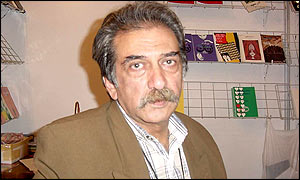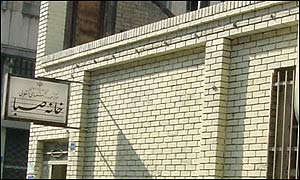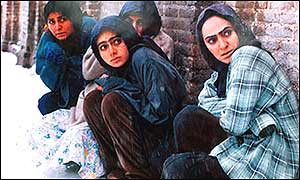 World Weightlifting Cahmpionship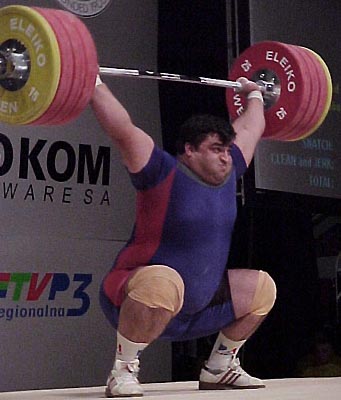 The 2002 World Weightlifting Championships ended with the sweepingsuccess of Olympic champion Hossein Reza Zadeh. The 24-year old Iranian equaled his own total world record from Sydney, 472.5kg, having achieved five impeccable lifts (and renounced the sixth). Besides, with a fantastic 263kg clean and jerk he finally eliminated the world standard unshaken for as long as four years. It is also thanks to Reza Zadeh that in addition to the 15 female world records the only male world record of the Warsaw World Championships was born. The Iranian is an uncontested king of the heaviest category: he is Olympic champion, senior world champion and owner of all the three world records. His dominance is further underlined by the gap of 22.5kg over the runner up and 32.5kg over the third place winner. The Russians' overall weak performance was topped by the elimination of the other Olympic champion in the field: Andrei Chemerkin.



Fereydoon Moshiri's memorial
To honor the memory of Fereydoon Moshiri, On Friday, 25 October 2002, at 10 AM, at the Artists' plot in the city cemetery, Behesht-e Zahra, family, friends and a number of Moshiri's poetry fans all gathered once again to honor the memory of their beloved poet. In the memorial program hosted by Bahar and Babak Moshiri, First Mr Manucher Moshiri came and gave a very nice speech about his brother Feraydoon Moshiri, and then, some dear friends of the poet including Mr Khaanbluki, Mr Abulmaali gave nice speeches on Moshiri's poetry and his character, some read some the poet's poems. Mr Faazel Djamshidi, a singer of Vaziri Orchestra, addressing the poet, sang a traditional Tasnif for the audience




Iran finds first-ever proof of ancient palaces

The find was made in the western city of Hamedan after 11 years of excavation work

Iranian archaeologists have discovered the first cuneiform relic proving the existence of palaces that belonged to the Achamenean kings who ruled ancient Persia 2,500 years ago, officials said Monday.
The find was made in the western city of Hamedan after 11 years of excavation work, officials at the cultural heritage organisation said, cited by the state IRNA news agency.
They said it was the first discovery proving that the Achamenid dynasty, which ruled the region from 553 to 330 BC, had constructed palaces in the area and would provide information on the identity of the ancient kings.