Topics
US Congress reportedly replies to letter by Majlis veterans

Castro collapses during speech

Bulgaria Favors Party of Ex-King

First world congress against death penalty opens
Foreign jazz returns to Iran

Iran media probe to go ahead

Khatami victory soured by police

No win for democracy in Iran

US Congress reportedly replies to letter by Majlis veterans

BBC Monitoring Service
Jun 27, 2001

Text of report from "The Nation's House" column, entitled: "American
Congress replies to the letter sent by the Association of Veteran Majlis
Deputies" published by Iranian newspaper Iran web site on 27 June

We have heard that the American Congress, by sending an informal letter to
Iran's Foreign Ministry, has responded to the letter sent by the
Association of Veteran Majlis Deputies.

According to the news heard by our correspondent, the reply by the
American Congress has not been revealed yet, however, the signatories of
the letter have declared readiness to sit and talk with the Majlis
deputies.

The Association of Veteran Majlis Deputies, by sending a letter to the
American Congress last week, called on the Congress [members] to end
hostility against Iran. The response of some Islamic Majlis deputies to
this letter was negative, so much so that yesterday a central council
member of the Association of Veteran Majlis Deputies, Ali Akbar
Mohtashamipur, denied that the letter represented all members of the
association. He said: The letter was compiled and sent by some members of
the Association of Veteran Majlis Deputies only.

Castro collapses during speech

Cuban President Fidel Castro appeared to collapse on stage on Saturday during a televised speech to thousands of supporters.
Correspondents say Mr Castro - now 74-years-old - seemed to lose strength and become listless.
State television cameras quickly changed their focus away from the president to the crowds, as bodyguards helped Mr Castro away.
He returned several minutes later, assuring the audience he was fine.
"Let me rest, sleep a few hours," the Cuban leader told the crowd.
"Last night I did not sleep at all. I am fine. We will see you tonight."
Foreign Minister Felipe Perez Roque told the crowd, gathered at the town of Cotorro on the outskirts of the capital Havana, that it was just a momentary fall caused by the strong heat.
Bulgaria Favors Party of Ex-King

SOFIA, Bulgaria (AP) June 17- Bulgarians voted in parliamentary elections
Sunday that could bring a former monarch from ex-communist Europe back to
the political stage for the first time.

After five decades in exile, former king Simeon II returned to Bulgaria
early this year to cheering throngs. On Sunday, the 64-year-old did
something he had never done before - voted.

``I voted for democracy,'' Simeon, who was ousted by the communists and
fled the country at age 9, said as he cast his ballot in a Sofia suburb.
``We all have to foster it''

Initially hoping to run for president but barred by the courts because he
has not lived in Bulgaria long enough, Simeon set up his own political
party to run in the parliamentary race.

Riding a wave of antipathy toward the current political elite in the
Balkan nation, Simeon has pledged to raise living standards, bring decency
into public life and to fight corruption.

``I voted for the king because he is our last hope,'' said Dimitar
Stefanov, 30, a coal miner in Pernik, a rust belt town 20 miles west of
Sofia. ``If he fails to get things right, emigration remains my only
option.''

Opinion polls showed the former king's party, National Movement Simeon II,
leading other contenders by a wide margin, but it appeared likely to fall
short of a majority in the 240-seat legislature.

By noon, some 20 percent of the nation's 6.5 million eligible voters had
cast their ballots, the central electoral commission said. Initial
projections were expected later Sunday and final official results
Wednesday.

Visibly touched by the huge crowd of journalists and supporters that
waited outside the polling station, Simeon said he has no desire to
restore Bulgaria's monarchy.

He has refused to say whether he wants to be prime minister, and so far
the courts have barred him from participating in the presidential election
this fall.

Simeon acceded to the throne in 1943, at age 6, after the death of his
father, Boris III. He reigned under regents until 1946, when the
communists called a referendum that abolished the monarchy. The royal
family went into exile, eventually settling in Spain.

Polls have shown strong support for Simeon's party in some of the
country's poorest regions. In Pernik, the number of jobs at Stefanov's
mine has been cut from 1,000 just a year ago to 150, and wages are low.

``We helped the current government take power four years ago, but it
cheated us,'' said Tsvetan Borisov, 49, one of the thousands of miners who
blocked roads in nationwide protests that forced an unpopular Socialist
government to quit in 1997.

The more reform-oriented center-right Union of Democratic Forces won 57
percent of the vote in elections that year and leads a government that has
tamed inflation and improved standing with foreign lenders. The economy
grew 5.8 percent last year.

But the jobless rate 18 percent, the average monthly wage is $100, and
about 70 percent of the population lives at or below the official poverty
line. Simeon has promised job creation programs, pay increases and tax
cuts to spur investment.

Fifty 50 parties and coalitions were running in the elections Sunday, but
only Simeon's party and three others - the Union of Democratic Forces, the
Socialist Party and the Movement for Rights and Freedoms, which is made up
mainly of ethnic Turks.


First world congress against death penalty opens

STRASBOURG, France, June 21 (Reuters) - The first world congress against
the death penalty opened in this eastern French city on Thursday, bringing
together politicians, lawyers, human rights workers and former death row
inmates.
The goal of the congress, organised by a French group opposed to the death
penalty under the auspices of the European Parliament and the Council of
Europe, a 43-member human rights body, is to call for a worldwide
moratorium on executions.

"Nothing can justify the execution of minors or people with mental
disabilities. Death can never be an act of justice," French President
Jacques Chirac wrote in a letter to the congress.

"I am convinced your congress will contribute to raising awareness of and
motivation for this struggle," he added.

Ten days after the U.S. execution of Oklahoma City bomber Timothy McVeigh
and the accompanying media frenzy that shocked Europe, the United States
is the main target of the activists gathered in Strasbourg.

"Because it is the world's leading democracy, the United States is the
main obstacle on the road to abolition of the death penalty," Denys
Robillard, head of Amnesty International France, told the daily Le Monde.

Many of those at the Strasbourg congress hope the international community
can embarrass Washington over its record on capital punishment and
persuade it to ban the practice.

"Today, Americans are starting to question the practice, particularly in
terms of the damage it does to their image abroad," Robillard said.

"Even isolationist Americans are very keen to show that they are the most
accomplished model of the virtues of democracy," said Robert Badinter, the
former French justice minister who got France to strike the death penalty
from its books in 1981.

"That the United States...executes minors and people with mental
disabilities in an unbearable smear on its image," he told the daily Le
Figaro.

Among former inmates due to address the congress is Kerry Max Cook, 45,
who was freed in April 1999 after 20 years on death row in Huntsville,
Texas.

Sentenced to death for the murder of a young woman despite a lack of
conclusive evidence against him, Cook was several times notified of his
execution date but finally walked free after DNA testing further weakened
the case against him.

Other countries, especially China, Iran and Saudi Arabia, will also face
harsh criticism during the three-day congress. Together with the United
States, those countries account for almost 90 percent of executions,
Amnesty International says.

"The case of China is the most worrisome. China alone executes more people
than all other countries that practise the death penalty put together,"
said Badinter.

The highlight of the congress is expected on Friday when a group of
presidents of parliaments from Europe, Asia, Africa and South America will
call for the universal abolition of capital punishment.





Foreign jazz returns to Iran

TEHRAN, June 21 (AFP) - Iranian jazz fans looked forward Thursday to the
first concert by a foreign ensemble to be staged in the country since the
1979 Islamic revolution.
The concert by France's Mathieu Donarier trio, as part of a cultural event
organised by the French embassy, was scheduled for Thursday evening in a
Tehran hall.

The trio, featuring Donarier on saxophone, Manu Codjia on guitar and Joe
Quitzke on drums, marks one more step in the timid return of western music
to Iran.

Imports of western musical instruments such as the piano were banned for
20 years after the revolution, and guitars are still excluded, composer
and music historian Mehran Purmandan told AFP.

Iran media probe to go ahead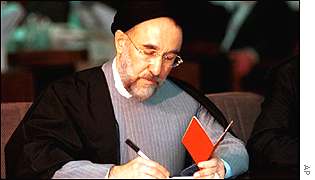 President Khatami's landslide encouraged reformist deputies Iran's supreme leader has ruled that parliament
can investigate the state radio and television monopoly, in a surprise boost to reformers.

The conservative speaker of parliament blocked the investigation on Sunday, causing reformist deputies to storm out.

Cheered by reformist President Mohammed Khatami's recent landslide re-election, they had hoped to gain more oversight of the state media monopoly.

Now it has emerged that the supreme leader Ayatollah Ali Khamenei has backed them, saying on Monday that an "investigation is one of the appropriate means to ensure the healthy activity of these departments".

It is not clear why Ayatollah Khamenei authorised parliament to open the media's books.

The decision represents a defeat for the minority right-wing faction in parliament and the powerful conservative-dominated Council of Guardians, which vets legislation.

Conservative bastion

Reformers want to investigate how the state broadcaster, the Islamic Republic of Iran Broadcasting (IRIB), spends its huge budget.

The IRIB is seen as a bastion of the hardline conservatives and the reformist deputies have long been trying to
make it accountable to parliament.

They say since parliament allocates the budget for the organisation, it has a right to know how the
IRIB monopoly's funds are spent.

There have been allegations of irregularities in IRIB finances and foreign purchases. A spokesman for the IRIB said on Sunday the organisation was accountable only to Ayatollah Khamenei, not to parliament.

Exemption

He pointed out that according to current legislation all institutions under the control of the leader are exempt from parliamentary scrutiny.

After the furore on Sunday, parliamentary speaker Mehdi Karroubi wrote to Ayatollah Khamenei to request clarification on the matter.

The ayatollah's decision to grant parliament oversight of the state media's accounts does not necessarily indicate his support for reform generally. He has intervened in the past to prevent disputes between conservatives and reformers from boiling over into full-scale war.




Khatami victory soured by police

BBC World
Special Report

June 10, 2001

The BBC's John Simpson and two of his colleagues were forcibly arrested by
secret police in Tehran on Saturday night. They were covering a
celebration by President Khatami's supporters.
During an angry altercation, one of the secret policemen dug his finger
into John Simpson's eye, narrowly missing the pupil with his fingernail.

The team were held for three and a half hours at a nearby police-station
before being released. Here is John Simpson's report:

For President Mohammad Khatami, winning his second presidential election
with 78% of the vote, humiliating his nine opponents, and gaining more
votes than he received in 1997, may well turn out to be the easy part.

The events of Saturday evening in central Tehran, after the result of
Friday's election became clear, showed how difficult a path he now has to
tread.

A crowd of several hundred, mostly young, people gathered in a park close
to the television station in Val-I-Asr Avenue to celebrate the victory of
the man who has campaigned on moderation and on widening the degree of
personal freedom in Iran.

Within a couple of hours riot police were out in force to clear them out,
and tear gas was used to disperse them.

'This must be the only country on earth,' commented a leading government
official, 'where the police stop people celebrating the success of the
government.'

The trouble is, President Khatami has not yet succeeded in defeating the
hard-line forces of the country.

The police, reinforced by an often violent and shadowy force known as 'The
Soldiers of the Party of God' whose members support Iran's religious
leader, Ayatollah Khamenei, were determined to stop the pro-Khatami
celebrations turning into an anti-conservative demonstration.

The Soldiers, who form an elite secret police, mingled with the crowds,
taking names, filming them with video cameras and using strong-arm tactics
against foreign journalists who had come to observe the celebration. Three
camera crews, including one from the BBC, were forcibly arrested,
threatened, and held for several hours.

President Khatami and his allies in government have so far shown
themselves unable to control hardline elements like this, which owe their
allegiance to the earlier leaders of the Islamic Revolution.

In his second four-year term, he will have to control or disband groups
like the Soldiers of the Party of God if the people who voted for him in
such large numbers on Friday are not to lose their faith in him.

Greater personal freedom cannot be achieved while such organizations rule
the streets.

No win for democracy in Iran


Editorial

June 10, 2001

For Western observers, it is tempting to interpret Mohammad Khatami's
landslide victory in Iran's presidential election on Friday as a triumph
for democracy and reform. After four years of being stymied by hard-liners
in his efforts to pry open Iran's repressive authoritarian system, Khatami
nevertheless prevailed over nine other candidates and swept to victory on
a wave of public hope for greater freedom in the land of the ayatollahs.
Targeted throughout his first term by political opponents, Khatami became
the darling of the West by invoking the language of liberalism, sprinkling
his discourse with terms such as "civil reform" and "human rights" and
calling for a "dialogue of civilizations." Though such rhetoric indeed
marked a change in atmosphere in Iran, it would be both naive and
strategically dangerous to overlook the threat that Teheran still poses to
the region.

To begin with, Khatami's power is extremely limited, as the dearth of
accomplishments during his first term made all too clear. Major policy
decisions rest with Iran's religious authorities, headed by supreme leader
Ayatollah Ali Khamenei and his coterie of unbending clerical allies. The
clerics control key Iranian government institutions such as the armed
forces, the judicial system, and the police, and they have not hesitated
to fight back against Khatami's piecemeal attempts at change by jailing
activists and closing down pro-reform newspapers. Indeed, it is difficult
to see how Khatami will be able to overcome such obstacles now when he
proved singularly unable to do so in the past.

More importantly, though Khatami has frequently been labeled a "moderate"
by his cheerleaders among the Western media, the term is largely a
misnomer. He is, after all, a product of the system, not a revolutionary,
and his aim is to repair Iran's current system rather than replace it. As
much as Westerners might wish to believe that the struggle between Khatami
and his opponents is a fateful battle between "good guys" and "bad guys,"
in practice it is more akin to one between "bad guys" and "worse guys."

Even under Khatami's rule, Iran continues to be one of the leading
violators of human rights in the world. In early May, the US State
Department said that Iran is "the most active state sponsor of terrorism,"
and it continues to send weapons and aid to Hizbullah terrorists in
southern Lebanon. On the military front, Iran has sought to obtain weapons
of mass destruction with single-minded determination. Western and Israeli
intelligence reports may not agree on the precise timetable, but they all
concur that by the end of the decade, Iran will have the ability to
produce nuclear weapons. Despite an anemic economy and unemployment
approaching 30 percent, Iran continues to invest huge sums in developing
ballistic missile technology. Sometime this year, Iran is expected to
begin deployment of the Shihab-3 missile, which has a range of 1,200
kilometers, enabling it to hit all of Israel as well as American military
forces stationed throughout the Gulf region and the Middle East. It is
also working on longer-range rockets that one day may be able to strike
all of Western Europe and the continental United States. As US President
George W. Bush noted on March 13, "The actions and policies of the
government of Iran continue to threaten the national security, foreign
policy, and economy of the United States."

The same holds especially true for Israel. Though Khatami has indicated
that he would like to see improved relations with the United States, no
such flexibility has been shown when it comes to Israel. In a meeting last
August with Yasser Arafat, Khatami told the Palestinian leader that "all
of Palestine must be liberated." Khatami and Khamenei have both expressed
support for the Palestinian intifada, with Khamenei declaring last
December that "this cancerous tumor of a state [Israel] should be removed
from the region." He further stated that it is "the mission of the Islamic
Republic of Iran to erase Israel from the map of the region." Backing up
those words with action, Iran was recently host to a major anti-Israel
conference in late April, bringing together representatives from various
terrorist groups to stiffen their resolve in waging war against Israel.

It is therefore all the more imperative that the United States continue
with its policy of containing rogue states such as Iran. The US Senate and
House of Representatives are soon to debate a five-year extension to the
1996 Iran-Libya Sanctions Act, which calls for sanctions on foreign
companies investing in Iran and Libya's energy sectors.

Set to expire shortly, the law has had a strong deterrent effect on
Western businessmen, in the process harming the primary source of revenue
for both the ayatollahs and Muammar Gaddafi. An extension of the law would
send a strong signal to Teheran and Tripoli that there is a price to be
paid for continuing to support terrorism and violence. At this delicate
time in the Middle East, that is precisely the message that America needs
to be sending.

Young Iranians prefer plastic surgery to politics

The Telegraph
By Philip Sherwell in Teheran


THE impending election in Iran is likely to be won by the pro-reform
president, but many young voters have lost faith in his ability to deliver
change. Today's hottest status symbol for young Iranians is a nose job.
Maryam, an office secretary from Teheran, has big brown eyes, long
eyelashes and an attractive smile. She was always happy with her features
- with one exception. She said: "My nose was too big, so I saved up some
money and borrowed the rest from my parents to have it done."

After the operation, she proudly walked the city streets - her bandaged
nose on display like a badge of honour. The craze for facial realignment
is the latest sign of how the country's legions of young people - 60 per
cent of the population of 65 million are under 25 - are pursuing their own
lives while reformers and conservative clerics struggle for the soul of
the Islamic republic.

The political confrontation reaches a new peak at Friday's presidential
election, with the incumbent, Mohammed Khatami, heading for a second
landslide win on a pro-reform ticket. His victory is unlikely to change
much.

The economy is stagnant and Islamic hard-liners around Ayatollah Ali
Khamenei, the Supreme Leader and the ultimate source of power in Iran's
theocracy, have blocked most of President Khatami's changes and jailed
many leading reformers.

His support base is centred on the young, many of whom sought refuge from
Teheran's heat and smog last week in mountains north of the city. These
are the children of the post-revolution baby boom which followed calls by
the late Supreme Leader, Ayatollah Ruhollah Khomeini, for Iranians to
produce "soldiers for Islam" amid the war with Iraq.

At one of their favourite mountain haunts, the Cafe of the Seven Pools,
few expected a Khatami victory to change their lives. There was more
enthusiasm for discussing the merits of surgery to reduce the proportions
of the often prominent Persian nose.

In a country where women are required - on pain of the lash - to observe
the rules of hejab in public by covering their hair and wearing loose
clothing to hide the shape of their bodies, facial appearance is all
important. Hence the rush of nose jobs.

A student whose nose was plastered in dressings after an operation said:
"Iranian women have beautiful faces, but big noses. I've read that, in the
West, women have breast jobs. This is the equivalent for us."

Increasing numbers of young men are also opting for the cosmetic surgery.
Reza Barazi, 23, a computer worker, said: "It's the fashion." His friends
said they would follow suit if they could afford to. The procedure costs
about £700 - a sizeable sum in Iran.

The scene at the Cafe of the Seven Pools looks innocent enough by Western
standards: young men and women chatting, sipping soft drinks, as they
relax beside a stream. Nearby, a small group are singing a pre-revolution
love ballad to a guitar.

Such a sight would have been unthinkable until recently. Officially, women
are allowed to be alone only with men who are their husbands or close
relatives, but many at the cafe were with boyfriends. Couples in search of
greater intimacy scrambled to secluded spots up the mountain. Headscarves
were often swept back to reveal more hair than technically allowed (and
for a daring few, replaced by sun hats or baseball caps).

The religious police still play cat-and-mouse with courting couples on the
mountain, and many young men have stories of being carted off to explain
their "inappropriate" behaviour. Such raids are, however, much rarer than
they were before President Khatami came to power in 1997.

This apparent easing of social mores is probably little more than a sop to
the young to fend off discontent over the stalling of the Khatami reform
programme.

For a heady first two years after his election, a newly outspoken media
stretched their wings and a diversity of political and social views was
tolerated. In 1999, however, the conservative fightback started when
Ayatollah Khamenei forbade parliament to discuss a liberal press law.
Hard-liners controlling the judiciary and police have in recent months
overseen scores of arrests of journalists, student leaders and dissenting
clerics.

The past two years have also witnessed an unprecedented brain drain of
gifted Iranians who gave up hope of change as Mr Khatami proved unable -
or unwilling - to take on his influential opponents. Ayatollah Khomeini
remains a dominant political figure, 12 years after his death.

His stern features and Islamic exaltations stare down from towering
murals. Placards have been erected across Teheran to mark tomorrow's
anniversary of his death. There are no strong conservative challengers
among the 10 candidates allowed to compete in the election, and it seems
that the current Supreme Leader is happy to see the President stand again
to head off the risk of popular unrest.

Mr Khatami's campaign is a muted affair compared with the excitement of
1997. His rivals - who include Ali Fallahian, a former intelligence chief
wanted in Germany for his alleged role in the murder of exiled dissidents
- are expected to garner a maximum of eight million of a potential 42
million votes. The big unknown is how the apathy factor will affect
turnout.

Not all Iranians are pleased with Mr Khatami's limited version of Islamic
glasnost. At Teheran's Martyrs' Cemetery, where thousands of victims of
the war with Iraq are buried, an old woman tending her son's grave was
dismissive. "His reforms have given us drug addicts and bad hejabi [loose
women]," she said. "He won't be getting my vote."


Son of ex-Shah criticizes regime

The Orange County Register
By Jeff Collins

Reza Pahlavi, at UCI event, calls for a secular democracy.

May 24, 2001

IRVINE The son of the late Shah of Iran called Wednesday for a new regime
in his homeland that's free from the human- rights abuses associated with
both his father's government and the Islamic revolution that ousted it 22
years ago.

"The ship of freedom has set sail in my homeland," Reza Pahlavi, the
self-proclaimed shah in exile, said during a speech at the University of
California, Irvine. "The winds ... will give birth to a long-awaited
secular democracy in Iran."

The speech, held at the UCI Student Center, was attended by a heavily
Iranian audience of 425. More than 100 watched on a monitor outside the
full auditorium.

Pahlavi, 40, eldest son of the late Mohammad Reza Pahlavi, now lives in
suburban Maryland with his wife and two daughters.

He was trained as a fighter pilot in Texas before his father's ouster. He
earned a political-science degree from the University of Southern
California.

During his speech, Pahlavi expressed his dream to lead a peaceful movement
toward a new referendum "to guarantee freedom and self-determination for
the people of Iran."

He denounced the current Iranian regime as brutal and suppressive and
Iran's reform movement as a fraud.

Political candidates are confined to those selected by the 12-member
Guardian Council, he said. Political opponents "are imprisoned, tortured
and murdered." The press is intimidated.

Western governments, he said, are duped by the "perception of electoral
legitimacy," when, in fact, elections are manipulated the way the former
Soviet Union controlled balloting, he said.

The crowd included supporters and opponents of his theme of democratic
secularism.

Peter Metrahi, 45, who was visiting Southern California from the Bay area,
said many Iranians are comparing the current government with the past
monarchy. "A country like Iran, with its geographic situation, it's very
important to have a king, like Spain or England, to keep the unity," he
said. "I believe it's time to change."

Several Muslims were vehemently opposed to Pahlavi's message.

"His supporters are trying to re-establish the secular state, which is a
move against Islam," said Kaysar Ridha, 20, a third-year UCI student
originally from Iraq. "I feel that his speech is a bunch of fluff. ... He
knows what the people want to hear."

"Most of the people here are supporters of (Pahlavi) directly or
supporters of monarchy," said Javad Mostafavi, editor of a Laguna
Hills-based Persian magazine.

Iran's economy is suffering from a 35 percent unemployment rate and a 40
percent inflation rate, Pahlavi said. "Dramatic change in Iran is
inevitable. The only choice is whether it will occur peacefully."

Demonstrators arrested after Khatami campaign rally

TEHRAN, May 28 (AFP) - An unknown number of people were arrested Monday
after an election campaign rally by President Mohammad Khatami, state
radio reported.
It gave no details of the number arrested but said demonstrators had left
the rally and headed to the interior ministry, where they reportedly
chanted slogans against government officials.

Several hundred young people marched away from Shirudi stadium after
Monday's rally, some carrying pictures of opposition leaders and
journalists jailed by the conservative-dominated courts.

During the rally, supporters of the 57-year-old reformist president
chanted slogans calling for the release of all prisoners of conscience in
Iran, including journalist Akbar Ganji and opposition figure Ezzatollah
Sahabi.

In his campaign speech at Monday's rally, Khatami defended dissidents,
saying: "A democratic regime recognises its opposition."

Khatami faces nine mostly conservative challengers when voters go to the
polls on June 8 and is widely expected to win a second four-year term, but
with a lesser mandate than the 70 percent of the popular vote he got in
1997.

Meanwhile, Iran's armed opposition Mujahedeen also reported the trouble
after the rally, saying in a fax to AFP in Nicosia that "about 60
demonstrators were arrested."

It said that after the rally "a large number students and youths began to
demonstrate in nearby streets and chanted anti-government slogans," such
as "down with the mullahs' regime" and "release all political prisoners."

Reza Pahalvi pays tribute to Iranian women


Prince Reza Pahlavi paid a tribute to the Iranian women and their
persistent struggle for Freedom during a Radio and TV Satellite
transmission broadcasted worldwide.

The Video and Audio transmissions of his speech were made by "Radio Voice
of Iran" (KRSI) and the "National Iranian TV" (NITV) based, both, in Los
Angeles (California) and targeted millions of Iranians located inside and
outside of Iran.

KRSI is the famous dissident Radio which has been able to create numerous
difficulties for the Islamic regime by becoming the Center for dialogue of
the Iranian Political groups with the Iranians living under the rule of
the Mullahs and to coordinate most Protests in the last months.

NITV is the popular Iranian TV which, based on several statements made by
International reporters having visited Iran, has several million of
viewers inside and hundreds of thousands in America, Europe and Asia. .

It was the first time that a Political message of the Prince was shown on
NITV and it nullified the questionable claim of certain journalists, such
as Elaine Sciolino and Jahanshah Javid, trying to diminish the impact of
the regime's opponents by trying to portray that their messages do not
reach a wide audience.

Those familiar with Ms. Sciolino remember her following, in the same
flight, Rouh-Ollah Khomeni to Iran and, later, her favorable commentaries
for Hashemi Rafsandjani and Mohammad Khatami, while acting as Presidents
of the regime. In most her articles Ms. Sciolino has been trying to
convince her American readers that the Islamic Iran is becoming another
Wonderland.

The same sources remember that Jahanshah Javid was, for years, supporting
the Islamic regime and was an active member of the "Aftab TV Network "
which was the Islamic regime's TV in the US before the governmental Jam e
Jam TV starts its broadcast. Similar to his colleagues, Mr. Javid joined
the rank of the so-called moderates and, today, promotes the Islamic
regime by publishing editorials on his website named "Iranian.Com".

Despite the efforts of such fellows, reports are showing the gradual
decomposition of the regime and the increase of the Iranians attentions
for Political messages promoting the Secularism and Real Democracy in Iran.


Along with such Popular trend, the Prince stated in his today's message
that he's addressing "the free-spirited women of Iran - who have never
surrendered after 22 years of confronting inequalities, extortion, or
obscurantismad."


Paying tribute to the Iranian women's resistance, he added: " It is no
wonder that the pages of our long-standing history, from time immemorial,
have repeatedly witnessed your diligence, perseverance and self-sacrifice.
You have not spared any effort in gaining your fundamental rights.

In a not so distant past, before decadence and disgrace was brought to our
society by the theocratic regime, Iranian women had a dignified status.
You women of Iran, shoulder to shoulder to men, and at times, as
forerunners, were striving on the path of honor and grace for your
motherland. From the private sector, to high-ranking military officers, as
ambassadors and ministers, you, as the other half of Iran, and because of
your talents and genius, were working hard to place your nation amongst
the most progressive and prosperous countries of the world.

38 years ago, these efforts, your perseverance and your quests - based
upon a culture which is the birthplace of the most graceful thoughts
-reached a plateau wherein you gained your right to suffrage and became
equal partners with men in determining the future of your nation. You
marked such victories in the annals of your struggles where women in more
than 45 other nations had not yet gained the same suffrage rights...."


Blasting the Theocratic regime, he continued: " A revolution which 22
years ago shook the foundation of our society, and the regime which
grabbed the helms of power, imparted a tremendous blow to your
achievements and proud accomplishments.

The rights of all Iranians have been violated and trampled on during these
years, but the damage to your soul, psyche and to your pride is indeed
unprecedented in our history. This anti-Iranian regime, which resorts to
demagogical slogans, in practice has instituted polygamy, the marriage of
children and stoning in the social laws of a nation which more than 25
centuries ago was the birthplace to the first declaration of human rights.

Today our nation is imprisoned by a clique which boasts about a "civil
society" but in reality, has taken away the most basic right away from you
- namely the right to choose your own garment. The "parochial democracy"
which they propagate, considers your testimony half as valuable as that of
men, in their courts of injustice. Indeed, they know not the difference
between male chauvinism and democracy...."


Messenger of hope, he added: " In these years, we Iranians, both the
current generation and the older one, women and men alike, have gained
numerous yet painful experiences from this dark era.

The true spring of liberty will only come to our Iran when our social laws
are written apart from obscurantism and an archaic psyche, and with full
utilization of women's ideas and with their unconditional participation in
determining their own rights.

Filing away negative mentalities towards the individual rights and
liberties of women, in essence removing the obstacles in the path for
regaining women's lost rights, ought to be one of the priorities of the
Iran of tomorrow - An Iran wherein its government, instituted with a
popular vote, would replace the current anti-woman regime.

I see an Iran in the horizon, where prejudice, has no place in it,
regardless of its shape or form. Equality in front of law necessitates
that no citizen should ever feel isolated or unprotected, nor should he
ever hanker to regain his/her god-given rights. Laws that reduce you
Iranian women to the level of second-class citizens are neither agreeable
with the Iranian spirit nor have any place in our national culture.

In peace and tranquillity, women and men in Iran, ought to be able to
institute laws without the fear of excommunication or the accusation of
"fighting the Almighty" - laws which are compatible with the International
Declaration of Human Rights, laws which are both embedded in our national
culture and are befitting a nation wherein the terms "woman" and "life"
are of the same root.

In the Iran, which I envision, the citizens of the society, regardless of
their status and position, would not oppress their brethren under the
pretense of their gender, race, religion or color. It is an Iran, which
guarantees the judicial safety of the women so its court system, instead
of disregarding and trampling the rights of women, would feel responsible
to safeguard it...."


Emphasizing on women's Natural rights, he called on them by saying: "
Women of Iran!

In these 22 years, no group or crowd has ever felt the torment of
inequality, the pain of privation, and the misery of discrimination like
you have endured it.

Today in no progressive nation - under no government that claims to be a
patron of "civil society" - will the law-making process find a gender
based foundation nor will the inequality between men and women become an
accepted and "legal" rite. A theocratic regime, wherein the individual and
social safety of women, in vital issues, is legally violated, is not
capable of reform.

On the other hand, I envision an Iran where the full participation of you
women in Iran, would redress the pains of inequality and in regaining your
fundamental rights namely, forever removing the obstacles from your path.

I envision a future wherein gender, like religion or creed or political
ideology would never become a gauge for service, competence or capability
- an Iran where not only religion and spirituality are respected but its
contemporary and progressive laws guarantee the individual and social
freedoms of its citizenry.

Such a society is achievable, but in order to get there our beloved Iran
needs a system wherein the populace is NOT regarded as incompetent - in
need of a guardian - wherein our people will decide their own destiny
without the interference of the Supreme Leader, and where in complete
political freedom, in social and economic prosperity the maladies and the
shortcomings are redressed...."


Asking them to persist in their long struggle, he added: " My compatriots,

I invite you to stay the course and just like the past, persist in your
peaceful quests and look beyond the psyche, which deems you as invisible
citizens. It is only then that shoulder-to-shoulder with the other half of
Iran, who knows full well of your agonies, you'll turn into effective
participants in the political, social and economical scenes of the Iran of
tomorrow.

Today, many patriots from all the various layers of the society in Iran,
contact me and with all their sincerity, express their support for a
referendum, a free plebiscite, conducted beyond this anti-Iranian
anti-woman regime.

You free spirited women of Iran should know that many of the political,
religious and military operatives of the regime, with regret and remorse
from their past, are ready to pay their dues to their motherland.

The resistance and diligence you women have shown in confronting the
inhumane laws and the restrictive regulations of these despots in these 22
years, should not only be a model for other freedom lovers but it
reiterates my resolve in believing in a dignified and free Iran of
tomorrow.

With all the agonies you have endured, because I believe in your free
spirited psyche, because I am certain of your perseverance, I see a bright
and fruitful future in the horizon of Iran - a future where with your
effort and resilience - apart from archaic thoughts and inequalities -
take control of our own future and destiny so we could build an Iran more
dignified and more powerful than ever; This will be an Iran which will
utilize the talents and skills of all its citizenry.

My compatriots:

I envision a day where the voice for liberty by women, from the borders of
the Areas river and the Moghan field, to the warm plateau of Zabol and
Zahedan, from the shores of Karoon and Arvand River to the palm-groves of
Ahwaz and Khoram-Shahr to the gardens of Birjand and Neyshaboor and the
heights of Binalood mountains, from the rice fields and forests in Astara
and Gorgan to the desert towns of Yazd and Ardakan, from the slopes of
Alborz, Sahand and Sabalan mountains to the ever Iranian shores of the
Persian Gulf, will embrace every corner of my birthplace so the true
spring of freedom may return to our beloved Iran.

That day is not far because equality is indeed your right,

May the Almighty protect Iran!