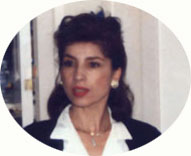 Editor and Web Designer: Shirin Tabibzadeh, Comparative Literature and Computer Sciences.

Associate Editor: Ahou Tabibzadeh, Fine Arts and Audio Video Eng.

Associate Editor: Maryam Tabibzadeh, J.D. (Esq.)
Contributors:
With Our Sincere Gratitude
Afkhami, Mahnaz
Firouzbakhsh, Haydeh
Heravi, Banafsheh
Jalali, Behnaz
Nafici, Azar
Nooh, Nosratollah
Nooriala, Esmail
Malekpour, Nazila
Milani, Abbas
Salemi, Masoud
Tabibnia, Iranj
Welman, Nick

**************************************
Copyright © Shirin Tabibzadeh, Cupertino, 2000
Rozanehmagazine is not responsible for the opinion expressed throughout its pages
and/or the content of the Sites to which it is linked.