Atelier | Anything Goes | Garden | Host | Letters | Links | Varietee | Women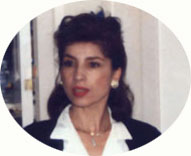 Editor and Web Designer: Shirin Tabibzadeh, Comparative Literature and Computer Sciences.

Associate Editor: Ahou Tabibzadeh, Fine Arts and Audio Video Eng.

Associate Editor: Maryam Tabibzadeh, J.D. (Esq.)
Contributors:
With Our Sincere Gratitude
Ashtiani, Farrokh
Daryaii, Touraj
Fatemi, Afshin
Ghiai, Yves
Mafie, Farhad
Mofidian, Fariborz
Nafisi, Azar
Nekoogar, Ali Asghar
Nooh, Nosratollah
Nooriala, Esmail
Price, Masoume
Rad, Shirindokht
Tabibnia, Iraj

**************************************
Copyright © Shirin Tabibzadeh, Cupertino, 2000
Rozanehmagazine is not responsible for the opinion expressed throughout its pages
and/or the content of the Sites to which it is linked.