OPERA STAR PAVAROTTI TO RETIRE IN 2005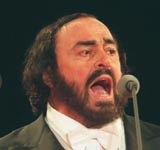 After over 40 years in the business, Luciano Pavarotti has announced he will retire from opera on his 70th birthday – October 12, 2005 – and give up singing forever, even in the shower!.

Agassi out of Wimbledon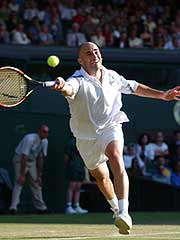 It was a day of shocks at Wimbledon on Wednesday as former champions and American tennis legends Pete Sampras and Andre Agassi, as well as rising star Marat Safin went crashing out of the tournament at the hands of three relative unknowns.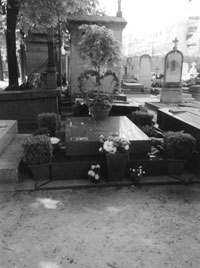 Princess Leila Pahlavi's resting place at Passy Cemetery, Trocadero Square, Paris
Anxious? Learn from the child
There is a pose in yoga, aptly called The Child, that calms anxiety and soothes irritability.
Sit on your heel, bring your forehead to the floor, stretching your spine as far over your head as possible. Close your eyes, let your arms rest behind you, near your feet, with palms face up. Breathe regularly. Hold for 5 minutes.


Princess Caroline voted as the most elegant woman, Princess Marie Chantall of Greece the second most elegant!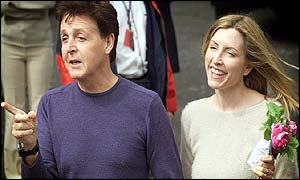 Sir Paul says: Love me do

Church bells have rung out to announce that Sir Paul McCartney and former model Heather Mills have married, in a fairytale castle wedding.
The ceremony took place at Castle Leslie, in Glaslough, County Monaghan, in the Republic of Ireland.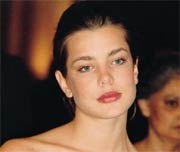 Charlotte Casiraghi
Any Allergy Alert
Knock out an allergy attack with 600 mg. of querceting, which is derived from onions. Taken with vitamin C, it stops histamine release in its tracks.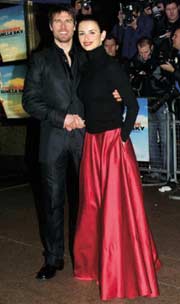 Penelope Cruz and Tom Cruise
Wrinkles and Aging skin
You can fight aging skin and wrinkles with a unique one-two nutritional combo. For starters, make sure your diet and supplement program provides you with 400-2,000 IU of vitamin E daily. Secondly, add 1-3 tablespoons of cold-pressed flaxseed oil to your diet every day.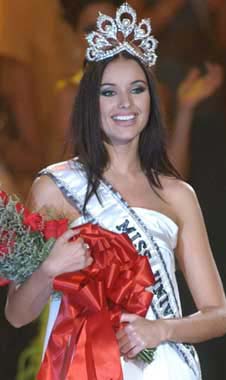 Russia's Oxana Fedorova looks radiant following her win
at the Miss Universe 2002 contest in Puerto Rico on Wednesday.

Saudi Arabian princess Buniah al-Saud will not stand trial for allegedly pushing her maid downstairs in Florida last year. Instead the princess, who faced a possible 15 years in prison if convicted, will enter a written plea of no-contest to a charge of misdemeanor battery and will pay a $1,000 fine. Apparently the princess is free to return to the United States if she wishes. Her Indonesian maid, meanwhile, has reportedly been denied a visa to return to the U.S.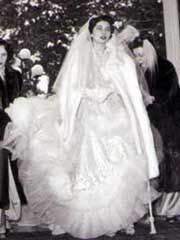 Late Princess Soraya's Personal Effects sell for $6 million
3 JUNE 2002
An auction of jewelry and personal effects belonging to Princess Soraya, the late second wife of the Shah of Iran, has far surpassed expectations, bringing in over six million dollars – more than double the estimated value of the estate. The three-day sale included a bidding war over a the star lot: a Harry Winston platinum ring featuring a 22.37-carat diamond, which sold for $838,350, nearly twice the expected amount.

Auction house Drouot Montaigne attributed the unbelievable sales to "the Soraya effect – the inestimable sentimental value associated with objects which belonged to the princess, especially from the Shah's time." Among the items sold was the princess' Christian Dior wedding gown, along with a luxurious mink cape she wore on the day of her 1951 nuptials, purchased by the French fashion house which designed it for just over $4,000.

Though the princess' spectacular jewelry collection – including a ruby brooch and earrings from Van Cleef & Arpels and a sapphire Bulgari necklace – sold for millions, oriental rugs were also snatched up for higher-than-expected amounts. One silk and wool piece went for $69,885, nearly sixteen times the estimated bid. "The rugs were mostly picked up by Iranian expatriates wanting a souvenir linked to Soraya, since she was their empress," said an auction house representative.

Other luxury goods sold included 1985 Rolls-Royce Silver Spur, which went for over $59,000, quadruple its catalogue price.

Princess Soraya Esfandiari-Bakhtiari became empress of Iran in 1951, aged just 16, but was divorced by the Shah seven years later after she was unable to bear him an heir. The Iranian-born beauty, known as one of the most glamorous women of her day, lived as a queen in exile for the last three decades, until her death in Paris last year aged 69.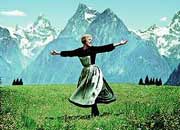 British songbird Julie Andrews, 66, has become an enthusiastic supporter of a pioneering vocal restoration research programme, hoping that it could one day help her sing again.

The actress and singer, whose voice thrilled audiences around the world in classic musicals such as The Sound Of Music and Mary Poppins, lost her ability to sing following a 1997 operation for non-cancerous throat nodules.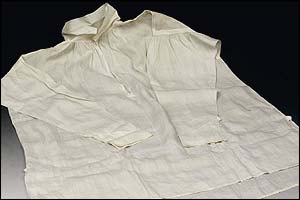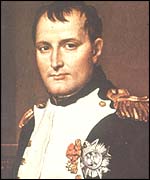 Napoleon's shirt on sale for charity

A linen shirt belonging to Napoleon is expected to fetch more than £30,000 ($44,000) when it is auctioned in London.
The shirt was found in the emperor's carriage, after the battle of Waterloo and is being sold to raise money for homeless people in Munich.
When Napoleon was defeated at the hands of Wellington and Blucher in July 1815 his carriage was captured by a Prussion major, and the shirt was among the contents.
It bears a discreet imperial monogram, and was neatly repaired by the emperor's seamstress, according to the Sotheby's auction house.
Both the carriage and the items inside were sold to the British Government, and later acquired by a British businessman, who put them on display in Piccadilly.
Wardrobe inventory
The current owner is a leading figure in Germany's male fashion world, Rudolph Moshammer, who established the homeless charity, Light for the Homeless (Licht fur Obdachlose).
Mr. Moshammer opened a boutique in Munich's most expensive street, the Maximilianstrasse, in 1967, and is well-known figure in Germany.
An inventory of Napoleon's wardrobe made in 1811 lists nine dozen such shirts.
Four dozen were lost in the retreat from Moscow in 1812 and, by the time of his exile in St Helena, Napoleon had 87 left.
Each shirt was intended to last six years.