From the net:

President Bush Reaches Out to Iranians on Radio
Associated Press

WASHINGTON -- In a novel radio broadcast, President Bush offers the Iranian people friendship and calls on their government to embrace democracy.

White knuckles
The Economist

Whatever happens in the short term, religious rule is doomed in Iran. For over five years a game of arm-wrestling has been taking place in Iran. One arm belongs to Ayatollah Ali Khamenei, the fierce conservative who is the country's supreme leader. The other belongs to Muhammad Khatami, a cleric of democratic outlook who is its elected president.


The Real War, Faster, please!
December 11, 2002
National Review Online
Michael Ledeen
Slowly but surely the world is beginning to acknowledge the true import of the events taking place in Iran. The Washington Post has run two excellent editorials, as good as anything I have seen, plus a fine, thoughtful piece by Fred Hiatt.



Interview with the Iranian wife of one of the former US. hostages in Iran and the current US Ambassador to Mauritania
by: Shirin Tabibzadeh
In this issue of Rozaneh, we are pleased to have an interview with Mrs. Parvaneh Limbert. Born and raised in Iran, Parvaneh is married to a senior US diplomat, Dr. John Limbert, the US ambassador to Mauritania. Dr.Limbert was one of the 52 US diplomats held hostage by the Islamic regime in 1979. (In Full)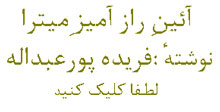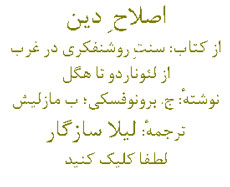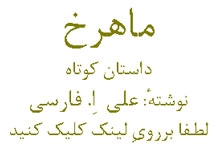 The Winged White Horse
By: Pari Mansouri
Translated from the Persian Book
Of Children's short stories,
"The Winged White Horse"

Echoes of Paradise
The Mongol Interlude
From Teymur to Babur
For more than eight centuries after the fall of the capital, Ctesiphon, in 637, Persia existed not as a nation but as a subject territory of the Islamic Empire, a territory whose administrative language, as throughout the empire, was Arabic. Yet Persia survived. (In Full)

Chehel Sotoon Palace
The Pavilion with Forty Columns
This building - now a veritable museum of Persian painting and ceramics-was a pleasure pavilion used for the king's entertainments and receptions. It stands inside a vast royal park, but relatively near the enclosure, and was built by Shah Abbas II round an earlier building erected by Shah Abbas I. (In Full)

The Sorrows of Young Werther
by:Johann Wolfgang von Goethe
My heart's immense and ardent feeling for living Nature, which overwhelmed me with so great a joy and made the world about me a very paradise, has now become an unbearable torment, a demon that goes with me everywhere, torturing me. (In Full)