Iran: Religion and Love
Ladane Nasser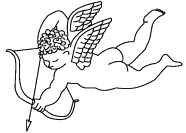 For Iran's young population, celebrating a solemn religious holiday while also gearing up for the excitement of Valentine's Day created an enthralling cultural dichotomy on the streets of Tehran last week.


Bonfire of the Pieties
Islam prohibits neither images of Muhammad nor jokes about religion.
BY AMIR TAHERI

"The Muslim Fury," one newspaper headline screamed. "The Rage of Islam Sweeps Europe," said another. "The clash of civilizations is coming," warned one commentator.

Devoted and Defiant
Babak Dehghanpisheh and Christopher Dickey
Born to a blacksmith, educated as a revolutionary, trained as a killer and derided by rivals as a mystical fanatic, Iranian President Mahmoud Ahmadinejad is easily cast as the personification of everything there is to fear about a nuclear Iran. But he may be worse than that—not because of how he looks to the outside world, but because of what he represents inside his country.

President Bush Delivers State of the Union Address
February 01, 2006
The White House
President's Remarks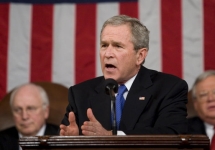 Tonight, let me speak directly to the citizens of Iran: America respects you, and we respect your country. We respect your right to choose your own future and win your own freedom. And our nation hopes one day to be the closest of friends with a free and democratic Iran. (Applause.)

By: Farhad Mafie
Many foxes will grow grey, but few grow good" B. Franklin


January 28, 2006
The Washington Post
Michael McFaul and Abbas Milani

In response to Tehran's foolish decision to restart its nuclear enrichment program, the U.N. Security Council finally got serious about dealing with the Iranian threat.

Prepare yourself for the Unthinkable: War Against Iran May be a Necessity
Gerard Baker

The unimaginable but ultimately inescapable truth is that we are going to have to get ready for war with Iran. Being of a free-speaking, free-thinking disposition, we generally find in the ......

Iranian Mojahedin Accepts Defeat - Rejects Armed Struggle
Iran Press Service
IPS

LONDON -- "The Mojahedeen Khalq Organisation (MKO) rejects armed struggle and commits itself only to non-violent means of struggle (against Iran), the Baghdad-based Organisation has reportedly decided, after more than two decades of futile armed struggle aimed at toppling the Islamic Republic.


LONDON -- "The Mojahedeen Khalq Organisation (MKO) rejects armed struggle and commits itself only to non-violent means of struggle (against Iran), the Baghdad-based Organisation has reportedly decided, after more than two decades of futile armed struggle aimed at toppling the Islamic Republic.

By Eli Lake


Good article, please read

Now would be a good time for the peace community to sober up and find a conscience. After failing numerous moral tests after September 11, 2001, the academic left, the anti-war agitators have an opportunity with Iran.

M. Azad, the famous poet and translator died from cancer on January 16th, 2006
God bless his soul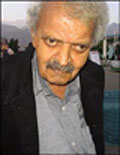 A Carnival of Iran Absurdities
January 17, 2006
The Straits Times
Amir Taheri
Treating the issue of Iran's alleged nuclear ambition as a hot potato, the European trio of Britain, Germany and France have decided to pass it on to the International Atomic Energy Agency and from there to the U.N. Security Council.

Sex, Drugs and HIV: No Strangers to Iran


Doctors and patients together try to raise awareness and save lives
TEHRAN -- On the outside, things look pretty good for Abdullah and his wife Zoreh. They've been happily married for five years and just had their first child, Ali Reza, now six months old.

Iran's Nuclear Decision Starts Shock Wave
The Wall Street Journal

After breaking the seals on its once-secret nuclear facility at Natanz, Iran has now set the stage for a long-threatened showdown with Europe and the U.S.

Link to Reza Pahlavi interview with Foz News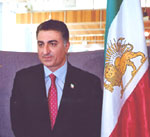 C'MON! 2005 WASN'T SO BAD AFTER ALL
by Amir Taheri

Tired of reading bad news for a whole year? Well, here is some relief: 2005, designated by doomsayers as annus horriblis, is drawing to a close as one of the best years of the new century so far.

Ignorance, the Greatest Threat Facing America
By: Amil Imani
The intention of this article is to provoke a much needed debate on the nature of a phenomenon called "Islamic Terrorism." Most people in America assume that the phenomenon called "Islamic Terrorism" started after the September 11, 2001 attack on the World Trade Center in New York City.

January 07, 2006
The Chicago Tribune
Marvin Zonis
Since the election of new President Mahmoud Ahmadinejad in June, Iran's leaders have taken to making unusually frank statements committing their country to mastering the entire nuclear fuel cycle, thus giving them the potential to divert enriched uranium or plutonium for constructing nuclear weapons. Here is a sampling:

Waiting for an Explosion in Iran

Safa Haeri

By stating his wish to see Ariel Sharon, "the criminal of Sabra and Shatilla dead and joining his ancestors", the news Iranian President Mahmoud Ahmadinejad demonstrated that not only he is genuine

January 06, 2006
Pierre Heumann

Israeli Prime Minister Ariel Sharon lies on his deathbed, and alongside him perhaps the hope of peace in the Middle East. Iran's rabble-rousing President Mahmoud Ahmadinejad threatens the fragile situation -- potentially leading to a coflict that would engulf more than just the region.

WELL-HEELED IRANIANS FALL BY THE WAYSIDE
by Amir Taheri


They are well-heeled, sophisticated and full of energy. And, yet, since last August they have faced a growing sense of boredom because, for the first time in years, they have plenty of time on their hands with nothing to do.

Domestic Threats to Iranian Stability: Khuzistan and Baluchistan Print Mail


By Michael Rubin


The Islamic Republic of Iran is facing a new wave of domestic violence, with multiple bombings in the provinces of Khuzistan and Baluchistan in the past six months.

U.S. makes its case with laptop clues

By William J. Broad and David E. Sanger The New York Times
In mid-July, senior U.S. intelligence officials called the leaders of the international atomic inspection agency to the top of a skyscraper overlooking the Danube in Vienna and unveiled the contents of what they said was a stolen Iranian laptop computer

For Jews, there have always been two Irans
By: Dr. Abbas Milani
PALO ALTO, California The Bible is full of praise for Persia (today's much-maligned Iran) and for its rulers. In the Book of Ezra, God speaks through the proclamations of Cyrus, the king of Persia, who declares, "The Lord God of Heaven hath given me all the kingdoms of the earth, and he has charged me to build him a house in Jerusalem."

Rage without a cause
A policy of appeasement will not ensure peaceful co-habitation in Europe's multi-ethnic cosmopolitan community
By: Iqbal Latif
Chirac has played its foreign policy of 'pacification' partly to keep its 5 million immigrant population mollified. In the first disturbing assertion that a European country and its capital can be brought to a halt by the massed forces of Islamist ....

United States Releases 2005 International Religious Freedom Report

"Countries of Particular Concern" include China, Iran, Saudi Arabia, Sudan
The U.S. Department of State released the seventh Annual Report on International Religious Freedom, which examines the status of religious freedom around the world.

European cities on guard for French-style violence
By Erik Kirschbaum

BERLIN (Reuters) - Images of French ghettos in flames are causing increasing discomfort across Europe and have raised fears the violence could spread across borders.

The U.S. Department of State released the seventh Annual Report on International Religious Freedom, which examines the status of religious freedom around the world.
A group of students from the Teheran University writes to the Nobel Prize winner Harold Printer

Harold Pinter won the Nobel Prize for literature for this year (2005). In his speeches that he delivered at various places, including Turin University , he lashed out at the American foreign policy. He gave those speeches after he had undergone a.....

Bush's Great Middle East Gamble
The Weekly Standard
Reuel Marc Gerecht

Since 9/11, President Bush and this most convulsive region of the Muslim world have become Siamese twins, inseparably connected in Iraq. If the Iraqi experiment takes--and we will certainly know whether a new democratic Iraq is alive and kicking by the en.....

Regime Change

Abbas Milani
The clerical cabal that rules Iran is pushing its captive population ever closer to the precipice. President Ahmadinejad's declaration that Israel should be "wiped out" has dramatically enhanced Iran's isolation. The regime's best hope is that China's insatiable hunger for energy will lead Beijing to use its veto power to thwart a possible U.N. sanction.

Bush Calls Iran and Syria 'Outlaw Regimes'
Reuters
Caren Bohan

President George W. Bush on Friday called Iran and Syria "outlaw regimes" and said countries that support terrorism are just as guilty of murder as those who commit the violence. "We're determined to deny radical groups the support and sanctuary of outlaw regimes. State sponsors like Syria and Iran have a

October 28, 2005
New York Post
Amir Taheri
The new president of the Islamic Republic, Mahmoud Ahmadinejad, has radically changed a key aspect of Iran's regional policy by committing his administration to the destruction of Israel. In a speech Wednesday, Ahmadinejad .....

.
Blair Hints at Military Action after Iran's 'Disgraceful' Taunt
October 28, 2005
Times
Philip Webster
Tony Blair gave warning last night that the West might have to take military action against Iran after worldwide condemnation of its President's call for Israel to be "wiped off the map".


A few letters to Michael Ledeen on AEI Conference
The individuals who are the panelists at AEI's event on October 26, 2005, "The Unknown Iran; Another Case for Federalism?"are not representatives of Azerbaijanis, Kurds, Baluchis, and Arabs. Some of the panelists support extremist views that are not .......