Sections
---
---
---
---
Other pieces/articles in this issue
Book Review
>>>Stalin, the court of the red Tzar
>>>Jamshid and the lost mountain of light
>>>Eurabia: The Euro-Arab Axisf
Here and there
>>>Renowned Iranian physician passes away in Virginia
>>>Googoosh recovering from back operation
>>>Funny comic animation of the first NowRuz
>>>Music CD from bay area artist Soroush
>>>Rosatam and Sohrab puppet opera in Tehran
>>>Some wonderful animation by Iranians inside Iran
>>>Website for helping children - victims of war
>>>and more
History
>>>Jiroft Lived on Developed Agriculture 5000 Years Ago, Iran"
>>>Mazandaran's site back to 11,000 years ago opens to public
Literature
>>>Legacy of an 'American great'
>>>The Lottery Ticket
>>>Shooting an Elephant
Opinion
>>>Taghyeer-e regim yek zarorat-e ejtenab napazir
>>>Anha ke az Ayandeh mitarsand
Women
>>>March 8th, International Woman's Day
>>>International Symposium March 8: Eliminating Violence Against Women in Muslim Societies
>>>Kuwait to discuss women's votes
>>>Young in the Arab World: Bahrain
>>>Ellen MacArthur, Britain's newest world record holder
>>>Ebadi Seeks Iran Solitary Confinement Ban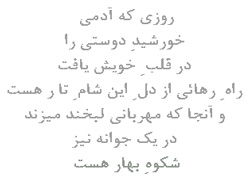 ---
Vincent Van-Gogh - Listen, look and enjoy - Sent by P.M. Sadre
Your Poem: The Drops of Crystal, by: Nikoo S Khansari
Features
Articles in Persian
_______________________

By: Dr. Jalil Doostkhah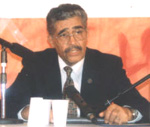 ______________________________
Also from Dr. Doostkhah:

An interview by: Erfan Ghanei Fard
---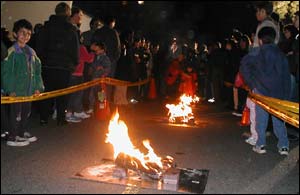 ---

Akhbar-e Rouz
---

By: Dr. Dariush Homayoon

---


---

Country Reports on Human Rights Practices
---

By: Dr. Houshang Nahavandi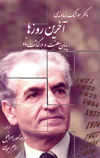 ---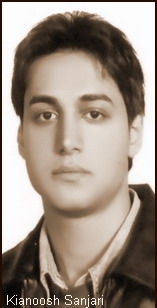 ---
---

By Sadaf Kiani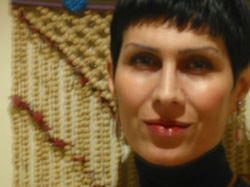 ---
---

Articles in English
---
---

Reza Bayegan
Today I finished teaching my American literature course. For the whole academic year my mind kept bouncing between Fennimore's Cooper's Last of the Mohicans and the last hopes of preserving our country's endangered civilization.

---
Religious mourning casts pall on Iran's once carefree ski slopes
Robert Tait in Dizin
The Guardian
It would have made for a jarring sight at any place of leisure. But the large black banners mourning the death of the Prophet Muhammad and his grandson Hasan were cause for particular dismay among the small army of skiing enthusiasts expecting a day of care-free enjoyment on Iran's slopes. The proclamations signified that the Islamic authorities

---
ATOMIC IRAN: Simply Crazy, or Crazy Like a Fox?
By Kam Zarrabi, Intellectual Discourse
Iran-bashing; the most popular beer-parlor game these days.
Mere words cannot fully describe the character of Jerome R. Corsi, the author of the new book, ATOMIC IRAN, published by Cumberland House Publishing, Nashville Tennessee. The reader might plug Mr. Corsi's name in any internet search engine and watch what surfaces.


---
YEARNING FOR FREEDOM
'Iran Liberty Walk' calls for regime change
Philly to D.C. travelers will urge Iranians to protest election
Sent by: P.M. Sadre

"Atomic Iran" author Jerome Corsi will lead a 128-mile walk from Philadelphia to Washington, D.C., to help promote peaceful, democratic change in Iran and call on Iranians to protest their June 17 "sham" election.
---
Zahra Kazemi's Legacy: Standing up to the Mullahs
The US Alliance for Democratic Iran
USADI
Alas, it had to be Zahra Kazemi's life to again bring the world's attention to the barbaric treatment Iranians, particularly women, get from Iran's ruling regime. Still, it is very quiet out there. There was no condemnation and no serious international response to hold Tehran to account for its murderous conduct in light of new appalling revelations.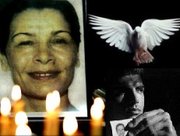 ---
Soon in the Theaters : " The Keeper : The Legend of Omar Khayyam "

When I first met film director producer Kayvan Mashayekh nearly two years ago it was in the early summer of 2003. He was transiting into Paris before heading on a trip to Turkey to meet potential film production companies and crew members before going to Bukhara and Samarkand, Uzbekistan to start shooting his first location scouting of what was to be an epic film set in 11th century Persia on the life and times of the famed epicurian Poet Omar Khayyam.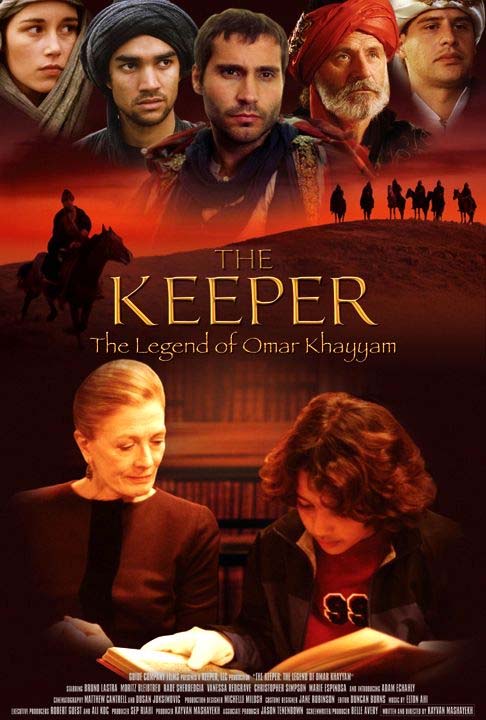 ---
Shame on ABC: An Iranian Student Responds to ABC's Nightline report by Bob Woodruff
Sent by: Shahrokh

The other night ABC's Nightline broadcast an interview from inside of Iran. I received a number of emails about the broadcast. I did not see it, but my readers follow the events in Iran closely they told me they were amazed at the questions in the interview and the naivete or deceit of the interviewer, Bob Woodruff. They were concerned that the American public was given a false understanding of what is happening in Iran. Many said the broadcast appeared to be shameful propaganda for the Iranian regime.
---

by: Reza Bayegan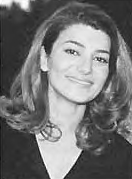 Today, 27 March is the 35th birthday of Iran's Princess Leila Pahlavi who died in June 2001 in London. Her death was by and large due to the pain of an exile that had become unbearable to her. Accordingly, the coincidence of her birthday with the days of Iran's greatest national celebration, marking the beginning of spring could not have been more felicitous. This beautiful Princess renewed in our hearts a passion for the country she could not live without.
---
Iranian Now-Ruz (New Year), the Nissanu and the 365 Day Year
By: Dr. Kaveh Farrokh

To investigate the origins of the Iranian Nowruz (literally New day, New Year), one is compelled to go back a great deal in time, well beyond 3000 years in fact. The date of today's Nowruz may have its origins in the Babylonian Lunar Year, known as the Nisannu.

---
By: Amil Imani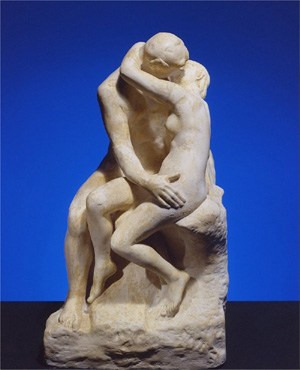 Moments and memories are incredibly shaping in my head and strangely moving right in front of my eyes. I am trying to visualize the future and the past. I feel I have become a little kid again. This is the same feeling I had every time Nowruz was approaching back in Iran. In this second, I am not contemplating about anything, except my beloved one, and with my stillness, I am trying to put my focus, on bringing Shirin back to life. Back to the same scene and underground passages of our childhood. I appear to be shivering, numbed, suffocated, in the midst of darkness of the overcrowded, past memory.
---
---
Remembering Dr. Leonardo Alishan
the talented, down to earth, almost genius writer, teacher, poet, literary critics of Armenian Iranian origin who lost his life in a horrific house fire in Salt Lake City, Utah in January 2005.
Life is not the same without "Nardo", his friends say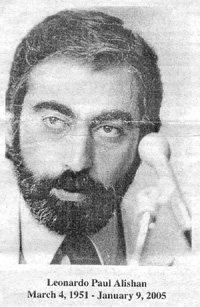 I met Dr. Alishan only once, years ago, at a friend's house in Salt Lake City, Utah. I had heard quite a bit about him and had read some of his works. When he entered the room, I was surprised to see a very young man, quite slim who did not fit the popular image of a university professor. He was down to earth, but obviously very smart. His friends, most of them young men from Kurdistan, teased him about different subjects, including his mild Armenian accent. They laughingly harassed him with Armenian jokes which had no adverse impact on his cheerful spirits. He knew how to respond; one by one, with his sharp comments and to the point counter-attacks. The tragic news of his passing shocked me and I felt a terrible loss, for I had a lot of respect for him and loved his sensitive, in-depth, and vast knowledge.
God bless his beautiful sensitive soul>>>Shirin
---
---
A review on Sandra Mackey's " THE IRANIANS: PERSIA, ISLAM, AND THE SOUL OF A NATION"
By: Pastor Mark Dankof
Sent by: Dr. Farrokh Kaveh

When the Arab armies challenged Sassanian Persia, no great feudal lords in command of their own armies came forth to defend the empire against the Arabs as they had once defended it against Rome and Byzantium. The explanation was that they no longer claimed a stake in the political system. In the latter years of the Sassanian era, an increasingly imperial court presiding over a bureaucracy commanded by minor aristocrats undercut the position, authority, and income of the regional kings who had pledged their allegiance to the King of Kings in return for just rule.
---
The World's current economic and political atmosphere has reached a highly explosive state, almost at a point of no return. We, the people of the world need to unite more than ever before to defuse the time bomb of our own making: dictatorships, environmental degradation, poverty and our world's massive human rights and economic plunder of people with no voice.
---------
Building Temples Of Peace And Freedom


My dear fellow Americans, the current social and political events are clear indications of America's social and political maturity, motivation and readiness to develop and maintain a true democratic system of government; but this democratic effort has been effectively stifled by the ruling elite. United States of America's parliamentary dictatorship governing system has been masquerading itself as a washed-up democracy long enough. It's time now for America to try real democracy.
---
THE IRANIAN-AMERICAN COMMUNITY CELEBRATES THE SECOND ANNAUAL
PERSIAN PARADE DAY

The second Persian Parade Day, expected to draw tens of thousands of participants and spectators will be held in New York City in commemoration of the Nowruz, the Persian New Year, along Madison Avenue at 41stStreet on Sunday March 20, 2005.
---
Babak and Friends - A first NoRooz
The cartoon is about a little boy named Babak who is caught between two cultures and is trying to understand the beauty of Persian culture through celebrating Norooz. Amoo Norooz and Haji Firooz are there to help him through this life-changing process. They take him on an epic stroll through the halls of Persepolis in his dream, and teach him about his great heritage. Our stars include Oscar Nominee Shohreh Aghdashloo (House of Sand and Fog), legendary Iranian actor Parviz Sayyad, Catherine Bell (lead star in CBS Show JAG) and Ali Pourtash. We also have Pop Icon Andy doing an original Norooz song especially for this movie. The animation is 30 minutes, produced in both Farsi and English. Set to beautiful classical Persian music, the cartoon is the first of its kind, high-quality and an instant classic, with a universal theme showcasing the human spirit.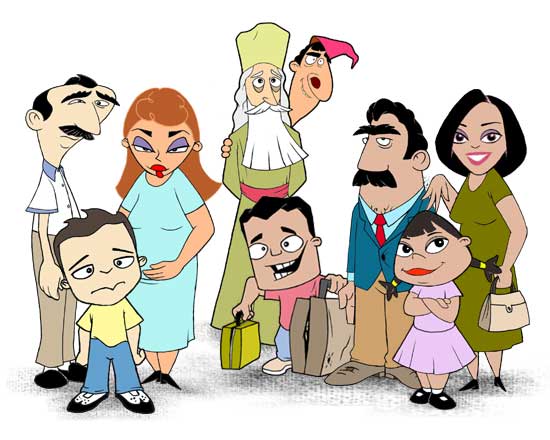 ---
The death of a great man, of His Great Prince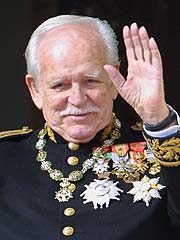 Prince Alber, the new ruler of Monaco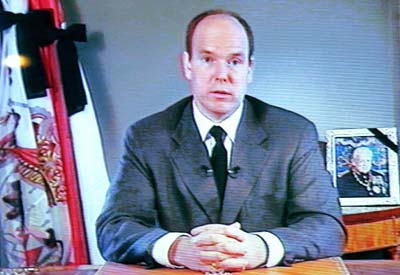 Monaco's new ruler, Prince Albert, has spoken publicly about the tragic loss of his father last week. The 47-year-old gave a televised address commending Prince Rainier, just as it emerged his sister Stephanie would receive only one percent of the late monarch's estate.
The will stipulates that Rainier's two eldest children, Albert and Caroline, are to be allocated around £950 million each, while Stephanie, who is known for her turbulent love life, receives a relatively modest £17 million.
But for the moment the people of Monaco are more concerned with mourning their former leader, who is currently lying in state in the Royal Palace chapel. Their grief was reflected in Prince Albert's address, which made no mention of politics or his own role as Sovereign.
"Today is the time for prayer and of reflection for the memory of His Great Prince, who passionately loved his country and his people," he said. "Today we are all orphans of this great man, and the profound sadness and mourning we feel brings our hearts closer together and binds our community like never before."
Royals and politicians from all over the world are expected to make their way to Monaco over the next few days ahead of the funeral on Friday. The Grimaldi family is meanwhile hoping that Princess Caroline's husband, Ernst of Hanover, will make a speedy recovery. The 51-year-old prince fell into a coma last week after suffering an acute pancreatic infection, but latest reports say his condition is improving.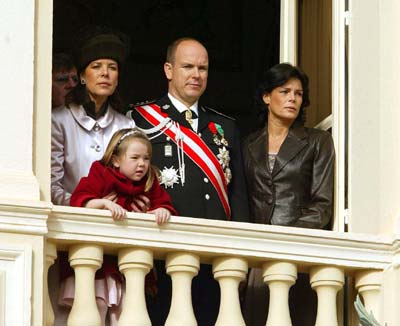 ---
By: Darus Kadivar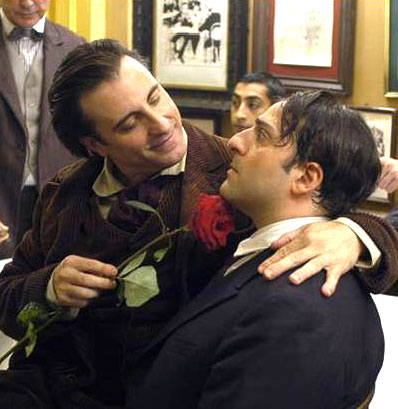 ---
More on Cinema
Miss Europe: Iranian German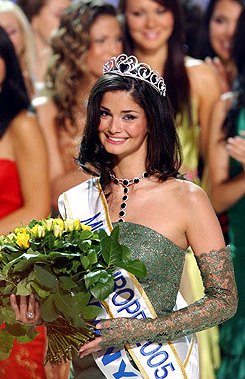 Dark-haired Miss Germany, Shahrivar Shermine, a 22-year-old of Iranian origin won the title of Miss Europe 2005 in Paris.
This beauty queen, who has just finished her university studies, speaks German, Farsi, English and French. Her hobbies are horse-riding and swimming.
The other finalists were Miss Armenia, Miss France, Miss Slovakia and Miss England.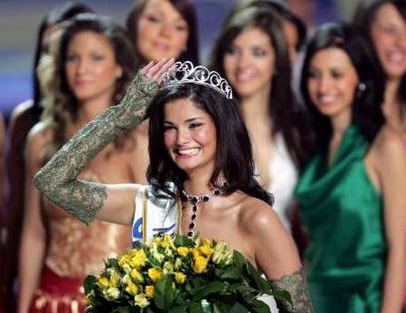 Copyright © Shirin Tabibzadeh, Cupertino, 2000 -2005
Rozanehmagazine is not responsible for the opinion expressed throughout its pages
and/or the content of the Sites to which it is linked.
News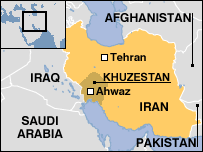 Iran's Southern Khuzestan Province Sliding into Chaos
It is election time again, mullahs ease social restrictions

200 Arab agents arrested in Ahvaz
Bush warns Israel over West Bank
Iran denies contact with Israel
Charles and Camilla married at last!
Pope buried in St Peter's crypt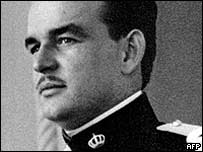 Monaco's Prince Rainier dies, 81
Kurd leader named Iraq president
Iran bans parliamentary reporter
Blair sets 5 May as election date
Pope's body laid out in Vatican
Syria to quit Lebanon 'in April'
Hundreds defy Egypt protest ban
Rainier's son takes over regency
Indian Ocean quake causes panic
Knesset rejects Gaza referendum
Mid-East peace song is broadcast
Hashemian fires Iran past Japan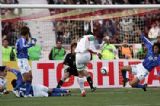 Arab summit to renew Israel offer
Kyrgyzstan leader condemns 'coup'
Pakistan mulls nuclear handover
Prince Rainier health 'worrying'

Iranian-Americans Celebrate Persian New Year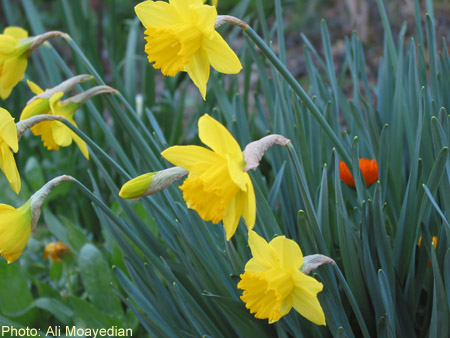 More Articles
Europe's Catastrophic 'Intelligence Failure'
Shaheen Fatemi
Sent by: P.M. Sadre
This week the governments of Austria and France have received Mr.
Bush and Muhammad
Mehdi Mozaffari
What President Bush is doing for the democratization of the Middle East has no other historical equivalent than what Prophet Muhammad did in the 7th century (A.D.) when he came forth with a new religion: Islam.

Doctor Reveals What Happened to Kazemi

Arne Ruth and Haideh Daragahi
Dr. Shahram Azam, an unassuming, intense man in his late 30s, had barely started his emergency-room shift when he admitted a female patient on a stretcher from Tehran's Evin prison at 12:15 a.m.
Europe's Double Standard: Elections in Zimbabwe and Iran

Shaheen Fatemi
Recently Secretary of State Condoleezza Rice placed the governments of Zimbabwe and Iran among the six most repressive regimes in the world. However, she neglected to mention one major difference between the two. Zimbabwe, unlike Iran, is poor, has no oil.
Illegitimate Regime and Fraudulent Elections
Shaheen Fatemi
In spite of the long 2-week New Year holiday in Iran, the political pot continues to boil.
A Day We Will Never Forget

Potkin Azarmehr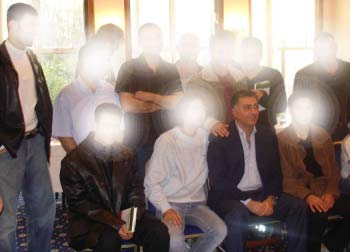 All Iranians love their New Year, Nowrooz. Literally meaning New Day, is a celebration of the first day of the spring.
Atomic clock ticks down to fallout with Iran
Simon Tisdall

The Guardian
Iran and the western powers are on a collision course as the clock ticks towards crucial talks in Paris next week about Tehran's nuclear programme.
Whose Side is Europe On?
Shaheen Fatemi
In March 14, 2005 issue of the Financial Times, under the heading of 'Europe's leading role in the spread of democracy,' Mr. Javier Solana, (High Representative for European Union's Foreign Policy) asserts that 'the point of politics is to change things'.

The Eurofaustians
The Center for Security Policy

"The advance of hope in the Middle East...requires new thinking in the capitals of great democracies - including Washington, D.C.
Nuclear Musical Chairs
Henry Sokolski
With Secretary of State Condoleeza Rice's announcement last Friday that Washington would drop its objections to Iran's World Trade Organization membership,....
Appeasement, Peace and Honor
Shaheen Fatemi
In an article published in the International Herald Tribune of March 8, 2005, Ray Takeyh, a Senior Fellow at the Council on Foreign Relations is recommending that:
Reza Pahlavi's Speech at Harvard Business School
rezapahlavi.org

I am especially pleased to be joining you today, on the 8th of March, an international day devoted to honoring women.

'Majority of Iranians Want to Emigrate'
By Arrangement with ADNKI / Italy
TEHRAN -- The dream of many young Iranians is to leave the country, and half consider themselves secular. These surprising find

Who Should Apologize to Whom?
Amir Taheri
Audio of Clinton at Davos
Where is the country that Bill Clinton, a former president of the United States, feels ideologically most at home?
The Empire's War With Iran and the U. S. Constitution

Pastor Mark Dankof - Staff
Seymour Hersh's expose for The New Yorker on the Pentagon's usurpation of the CIA?s past turf in covert operations dovetails with two other recent pieces of analysis to produce a frightening picture of the American Empire's latest moves against Iran
The Cedar Revolution
The Wall Street Journal
Amir Taheri
BEIRUT -- Since the liberation of Iraq, those interested in seeing the Middle East brought into the democratic mainstream have been asking: .......
Wall Street Journal
The Europeans are being disingenuous again. Sure, they "oppose" Iran's nuclear ambitions. But they have also made the calculation that they can live with a nuclear Iran just as they currently live with a nuclear North Korea.
Flirting youths outrage Iranian hard-liners
CNN
Outraged by scenes of young boys and girls using Shiite Islam's most sacred mourning day as an opportunity to flirt in public, Iran's religious hard-liners are calling on authorities to stamp out such "vulgar displays."

The Stakes with Iran. They're massive.
Sent by: Ramin Davoodi
MOSCOW (Reuters) - Russian President Vladimir Putin has given Iran a boost in its face-off with the United States over its nuclear programme, saying he is convinced the Islamic Republic is not trying to build atomic weapons.